Toronto Company to Introduce Five-Suit Poker Deck Called WILD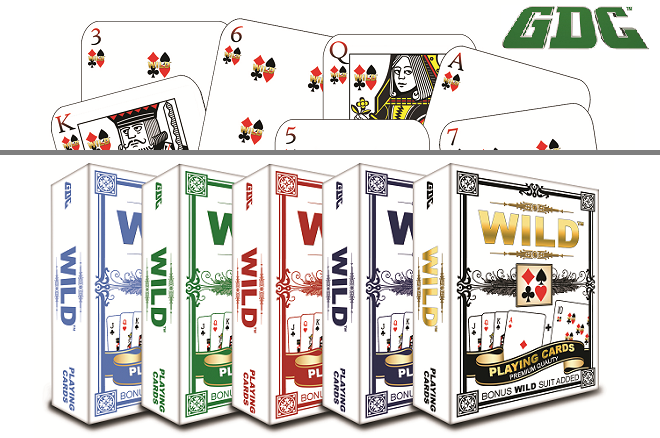 GDC Gaming & Entertainment Ltd. wants to add a twist to the game we already love, promising even more excitement at the poker table. It's an idea that disrupts the very foundation of the game. The four suits of spades, hearts, diamonds, clubs that are the quintessential symbols of poker would see a fifth suit in their ranks — an innovation GDC calls WILD.
Based in Toronto, Ontario, GDC is a private corporation with a background in board games, card games, mobile apps, and 3D puzzles. They've conceived, developed, and launched dozens of products in the gaming and entertainment industry, and their latest concept seeks to break into the gambling market.
GDC has created a WILD deck of cards that contains the usual 52 cards we're used to seeing, as well as an additional 13 cards of a fifth suit that are called WILD. This would make flushes more difficult to attain, resulting in flushes ranking above full house. It would also add a new possible hand that poker doesn't currently have: five of a kind, which would rank just under royal flush.
A deck of cards with five suits is not a new idea. There have been cards on the market that would make it possible to have a dedicated wild suit for as long as poker has existed. To get a quick rundown of the alternative decks of the past, let's take a bullet train through more than 80 years of card-game history.
As the game of bridge grew in popularity in the 1930s, a set of rules were written that added a fifth invulnerable suit that was green. Many companies produced a deck to suit the rules and the new variant of the game was fairly widely played.
There was also a fifth suit called royals, some with grey-blue crowns for the pips and others with light blue or dark green crowns. Then came decks with a fifth suit of eagles, marked by pips of green eagles. There were also decks with green pips that looked like chess rook pieces for a suit called castles. And there were decks with a suit called five stars, marked by gold, five-pointed stars.
Five Crowns is a deck with yellow stars as the fifth suit. With three jokers but no aces or twos, the deck is made up of 58 cards. It is currently in production, as is Stardeck which is made up of 65 cards. The fifth suit is marked by red and black stars.
The Estate deck is a 62-card pack of cards with a fifth suit called waves, marked by two green side-by-side ovals. The royals (jack, queen, and king) are replaced by man and woman, and the jokers are replaced by a pope and a president.
So, of course, our first question for Vatche Torossian, President of GDC Gaming & Entertainment, was to inquire what is different about their WILD deck. Torossian acknowledged that he is aware of the history of many different five-suit decks, but explained that WILD is different because of the fifth suit not being a star or eagle or crown, but a combination of the other four suits grouped together in a bunch. But the real difference, he asserted, is the branding they are creating behind WILD.
GDC has created much more than just a deck of cards. The cards would be used in their proprietary casino table games like WILD Pai Gow Poker, WILD In-Between Poker, and WILD Tic-a-Tac Poker. Aside from the casino games, GDC would also be looking to get their decks into poker rooms and even into online poker.
Torossian explained that their first goal is to work with the Ontario Lottery and Gaming Corporation (OLG) to put the WILD deck in OLG casinos. "I think if OLG approves it, the other provinces will follow," he said. After OLG, the target is Nevada.
The vision doesn't stop there. Torossian wants to see WILD become the new standard in poker. "Our goal is to be THE deck of cards that will be used with all the major poker tours."
"At the Global Gaming Expo (G2E) last year, the gaming commissions were all excited about the WILD concept," Torossian said. "The appeal is that players don't have to learn a game from scratch, we're just putting a little twist in a game they already know."
Torossian says 2016 will be when we start to see WILD available. The WILD deck of cards will be launched into retail globally, the WILD poker games and other WILD games will start to appear in casinos in the fall of 2016, and online versions of WILD will appear around the same time. Mobile game versions are expected to be available in the spring and summer of 2016, and Torossian also expects that some poker tours and poker rooms will start using WILD in 2016.
Editor's note: This article previously described the fifth suit as a suit that acted as wild cards, but it does not. The wording has been revised to reflect that the WILD suit is not designed to be used as wild cards.
Get all the latest PokerNews Canada updates on your social media outlets. Follow us on Twitter and like us on Facebook!