A Last-Minute Gift Guide: What to Buy a Poker Player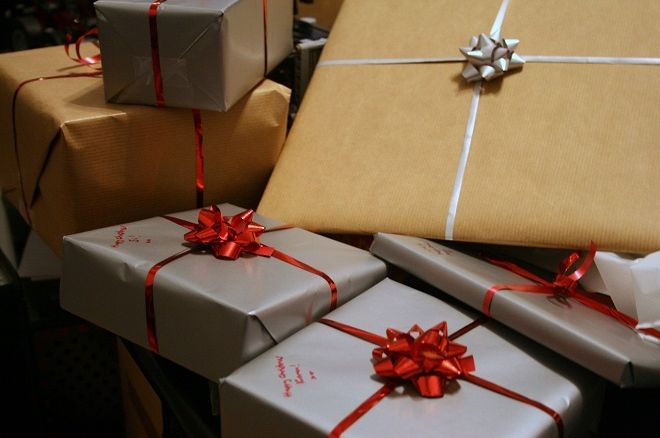 With Christmas fast approaching, it's time again to find those last-minute gifts for all the people in our lives that we haven't gotten around to picking up yet. If you have a poker player on your list, there are a whole host of options to choose from, specific to the game. Whether it's supplies and accessories for the home game player, toys to make the life of the traveling live player easier, or things a player needs to build the perfect online grind station, the perfect present is available for all kinds of players.
Home Game Supplies
Poker Tables
Poker Tables Canada is based in Vancouver, B.C. and offers a range of poker tables to cover nearly all budgets and needs.
The Ultimate Poker Table Jr, at $559, is an excellent budget table that folds away for easy storage when not in use. With eight-player capacity, complete with built-in cup holders, it's plenty big enough for most home games.
The Nighthawk Round Poker Table, at $929 adds elegance to a compact eight-player round design, making it ideal for smaller spaces.
The Helmsley Poker Table, priced at $1,479, is a modern luxury convertible poker/dining table. Move from dinner to poker at a moment's notice with the included dining top, which turns this poker table into a six-person dining table.
Poker Chip Sets
300 Piece Clay Wheat Chip Set. Priced at $94.99, this 300-piece chip set comes complete with dealer button, two decks of cards, and five dice in an acrylic case. Featuring a distinctive wheat pattern, this is the perfect chip set for a prairie home game.
300 Piece Laser Graphic Ultimate Poker Chip Set. At $79.99, this 300-piece set includes two decks of cards, a dealer button, and dice packaged in a clear acrylic case. Laser-printed graphics include tournament chip denominations, making stack counting easy.
Texas Hold 'Em Poker Combo Pack 1. This great value combo contains everything you need for a mobile home game including chips, cards, shuffler, dealer button, and table felt for the low price of $81.99.
Playing Cards
Live Game Accessories
Wireless Headphones
Bose Soundlink II. At $299.99, the Soundlink II is an over-ear wireless headphone with mic that pairs with up to two devices allowing the live player to listen to music on a tablet while staying connected to their phone.
Skullcandy Uproar. At $69.99, the Uproar is an over-ear bargain wireless headphone with on-board mic that lets players stay connected to their devices without breaking the bank.
Skullcandy Smokin' Buds 2. Another bargain entry at $79.99, these elegant black ear-buds are perfect for the player looking for a less obtrusive sound option.
Portable Power
REV Portable Chargers. Available in multiple sizes, the 16,000mAh unit provides up to eight device charges on a single charge. At $119.99, this is the perfect accessory to ensure you always stay charged at the tables.
Lifesaver II 4,500mAh. Priced at only $24.95, the Lifesaver II's slimline design fits easily into a pocket for a quick charge in under an hour.
Dynex 2,200mAh Portable Battery Pack. At $8.99, the Dynex is easily the cheapest way to keep your devices powered at the tables. Styled as a thin tube, it fits almost anywhere, making storage till you need it a breeze.
Online Grinder Accessories
Miscellaneous
Moorman's Book of Poker. One of the most celebrated poker books of 2015, Moorman's Book of Poker is unusual in that its focus is online tournaments. Moorman analyses hands played by co-author Byron Jacobs in low and mid-stakes tournaments, providing insights into situations the average recreational player is likely to face.
Jonathan Little's Excelling at No-Limit Hold 'Em. Little's book is a collection of chapter's from different authors in the poker world, including PokerNews' own Chad Holloway, Chris Moneymaker, Phil Hellmuth, and an afterword by Mike Sexton. Each contributor writes about some aspect of no-limit hold 'em from their own perspective.
A Poker Player's Guide to Mixed Games by Ken Lo. If Texas hold 'em is getting a little boring for you, Ken Lo's book on mixed games can put variety in your game. With sections covering all the games in HORSE, 8-Game, 10-Game, and 12-Game mixes, this book is your go-to guide for non-hold'em strategies.
The Grand. Most poker buffs know the movie Rounders, but fewer are aware of this quirky 2007 comedy starring Woody Harrelson and featuring an array of well known poker players in cameo roles. With a cast that includes Arrested Development's David Cross, Dennis Farina, and Werner Herzog in an inspired performance as "The German," along with many others, The Grand is a satirical look at the tournament poker world.
Get all the latest PokerNews Canada updates on your social media outlets. Follow us on Twitter and like us on Facebook!