DeepStacks Poker Tour Championship Sets New Alberta Record with $1.2M Main Event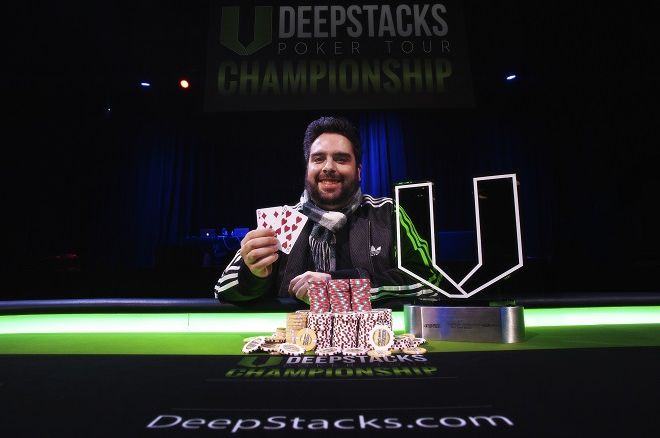 As the DeepStacks Poker Tour wrapped up Season 2, Grey Eagle Resort & Casino in Calgary played host to Alberta's largest tournament in history, with the Main Event boasting a prize pool of more than $1.2 million. The entire 11-day festival paid out a whopping $1,873,166 with a total of 2,578 entries across 10 events.
Rodney Ramalho took down the $2,500 buy-in Main Event with a $500,000 guarantee, which was more than doubled after two starting days and more than seven hours of late registration on each day. Patz McMillan was the runner up after a chop for $189,000 each, leaving $20,000 and the trophy for the eventual winner.
The DeepStacks Poker Tour Championship series kicked off with Event 1 — a $550 buy-in no-limit hold'em tournament with two starting days. Players began the tournament with 20,000 in chips and 40-minute blind levels. Between two starting days, there were a total of 529 entries creating a prize pool of $251,275. This smashed the $100,000 guarantee and set great expectations for the remainder of the series.
Kevin Lee from New Westminister, B.C. took home the trophy and $42,515 after a heads-up deal was made with Parmveer Dhami from Kelowna, B.C. Lee has had an impressive year, as all five of his cashes were final-table appearances — two wins, two second-place finishes, and an eighth-place cash. You might remember his most recent win just last month at the PlayNow Poker Championship in Winnipeg where he took home $38,413 and the trophy. Lee's biggest cash this year was a runner-up finish in the $565 '$100K Maker' in Las Vegas at Planet Hollywood at the Phamous Poker Series where he earned $66,171 for his efforts.
Event 2 was the $200 no-limit hold'em turbo event with 110 entries and a prize pool of $19,508. With 15,000 in chips and 15-minute blinds, Ryan Southworth was able to take this event down fairly quickly after a five-way deal was made. Southworth took home $5,000 and the remaining four players chopped up the rest of the money.
They played for the trophy and Southworth came out on top, giving him bragging rights to go along with first-place money. The runner-up was Jeff Widney after a hard-fought heads-up battle. Southworth has had a successful year and is no stranger to the DeepStacks Poker Tour after finishing in third place in Calgary in April in the Main Event for $36,800 and then going deep in the DeepStacks Edmonton Main Event later that month.
Steve Zhang took home the win and $9,490 in Event 3 — the always-fun pot-limit Omaha tournament. The buy-in for this event was $300, attracting 138 entries and building a prize pool of $35,397. Players were given a stack of 15,000 and 30-minute blind levels, with plenty of time to reenter within the first eight levels. This tournament attracted a stacked field, with notable players fighting for the trophy and bragging rights. This included runner-up Todd Fletcher, Bernard Taing, Jeff Babante, Ryan Comely, Calen McNeil, Scot Munro, and Brandon Lang.
Fletcher logged two final-table appearances this series, but could not close out against Zhang, who has had a great year as well. He was the runner-up in this same event in Calgary back in March and finally booked the win this time, which came after another win this summer in the Calgary Classic pot-limit Omaha event for $4,100.
Event 4 was another two-day event — a $330 buy-in and $50,000 guaranteed, which was easily more than doubled, resulting in a prize pool of $127,965 and a total of 449 entries. Players were given a stack of 15,000 to work with and 30-minute blinds for Day 1 and players came back to 40-minute levels on Day 2.
First place was $25,720 and went to Vanessa Kade after she impressively came back from 2.5 big blinds and proceeded to hold on to the chip lead for the entire final table, eventually defeating Jerry Tria heads up after a deal was made. This final table was a tough one, as the entire lineup was full of notable players from Alberta and British Columbia. This included Diane Nguyen, Sam Tsehai, Jag Johal, Joel Bullock, Dane Alisasis, Todd Fletcher, and Kevin Martin.
Kade, a professional poker player from Kelowna, B.C., has quickly become a familiar face within the Calgary poker community and has played across Canada as well as Las Vegas and Macau. She has had much success this year, including a runner-up finish at the Deerfoot Summer Stack Series in Calgary and a deep run in the popular Monster Stack event at the World Series of Poker in Las Vegas. Look for Kade in future series, as she is most definitely one to watch.
The next event in this series was the $200 no-limit hold'em bounty, attracting 146 entries and building a prize pool of $18,360. Matthew Kanewski came out on top and took home $4,725 for his efforts after defeating Frank Longnotti heads up. Another stacked lineup in this tournament included cashes from Nikola Isaeu, Ian Modder, Dane Alisasis, Ryan Cairns, John Foley, Mohsen Shafizadeh, Jeremy Lee, and Chris Back. This cash was the first for Kanewski and runner-up Longnotti, which goes to show how effective this series has been in attracting players with all levels of experience.
The DeepStacks Quickie was the next event, with a $300 buy-in and a prize pool of 60,610 after 244 entries. This was a unique event with 25,000 in chips but "quick" blind levels at 20 minutes. Francois Sauve from Montreal was the first-place finisher for $14,260 after he defeated Calgary's own Willie Hernandez in a fun heads-up battle. Sauve is predominantly an online player and has achieved Supernova Elite on PokerStars in both 2014 and 2015. His rail erupted after he won and they all jumped into his photo to celebrate his first live tournament win. Online phenom, Ian 'ModzillPL' Modder, also rounded out the final table — he has multiple Sunday Million final tables under his belt and has chopped it twice.
The final tournament before the start of the Main Event was the $400 six-max no-limit hold'em event, which attracted 189 entries and built up a prize pool of $64,638. DeepStacks Championship Player of the Series Sal Haji took this event down after a heads-up chop with Dan Idema. They rolled one hand for the trophy and Haji took home the trophy and bragging rights. This came only a few days before Haji final-tabled the Main Event on Monday and came in fifth place. Haji came in third place at DeepStacks Edmonton in October for back-to-back final tables, in addition to his win in this event, and took first place in the bounty event this summer at Casino Yellowhead's Klondike Classic. There is no doubt that Haji will be back in 2016 to try and take down one of these Main Events.
While the Main Event was running, David Cochrane took down Event 9 — a $300 no-limit hold'em turbo event with 62 entries and a prize pool of $16,198. First prize in this event was $4,860 and a DeepStacks Poker Tour trophy. Cochrane and Edgar Martinez made a deal heads up and played for the trophy. This was a first-time cash for Cochrane as well, who enjoyed the win and opted to take his photo with the fantastic staff at Grey Eagle Casino.
The final event in this series was the Last Chance $440 no-limit hold'em bounty. This attracted a prize pool of $40,320 with 144 entries and awarded $100 per knockout, which is a favourite throughout many of these series. The winner of this event was Dilesh 'D' Saini from Calgary after defeating Senthuran Vijayratnam from Ontario. Third place was none other than poker legend Gerry 'Cash' Carter, with Cory Foss and Michael 'The Grinder' Mizrachi rounding out the final table. This cash was the second for 'D', and rumor has it he jumped into this tournament at the last minute and he went on to take it down.
The Main Event completed on Monday with epic bragging rights going to Rodney Ramalho from Montreal, who took down Alberta's largest tournament in history with a total prize pool of $1,238,895 with $234,150 for first place. Ramalho deafeated Vancouver's Patz McMillan, who was fighting to make history by becoming the first woman to win a DeepStacks Main Event. They made a deal heads up and played for the remaining $20,000, the trophy, and major bragging rights.
After a hard-fought battle, McMillan eventually fell to Ramalho and a winner was crowned. This win did not come easily, as the final table was completely stacked with the likes of Fred Mowatt, Zariyan Qayyum, Sal Haji, Chris Symesko, Benny Chen, Ashkan Razavi, Sean Trenhold, and Ronald Lauzon. The top three prizes were at least six figures and everyone could feel the pressure building as they played down to a winner.
This Main Event paid a total of 72 spots and attracted a total of 567 entries across two starting days. The bubble was burst in dramatic fashion as Vanessa Kade eliminated Martin Malone after turning a one-outer to make quad threes after Martin Malone flopped a set of tens. Eliminations were steady after this until two tables remained and came back for a third day of play. Ramalho recently won a tournament in Montreal for $14,000 but is no stranger to the game as he has also has results in Las Vegas, Niagara Falls, and Barcelona.
The DeepStacks Poker Tour Championship Series was a huge success and could not have been possible without the support of the players and staff. The Grey Eagle Resort & Casino would like to thank everyone who participated in the success of this event and invites everyone to come back to the next series in March 2016.
The next festival in Alberta will be at the end of January at Casino Edmonton for the Annual Alberta Poker Championship for a week of events. Buy-ins range from $200 to $1,100 for the Main Event and will spread both no-limit hold'em and pot-limit Omaha.
Photo courtesy of DSPT Live.
Get all the latest PokerNews Canada updates on your social media outlets. Follow us on Twitter and like us on Facebook!