An Open Letter to Alberta's Minister of Finance Joe Ceci in Support of Regulated eGaming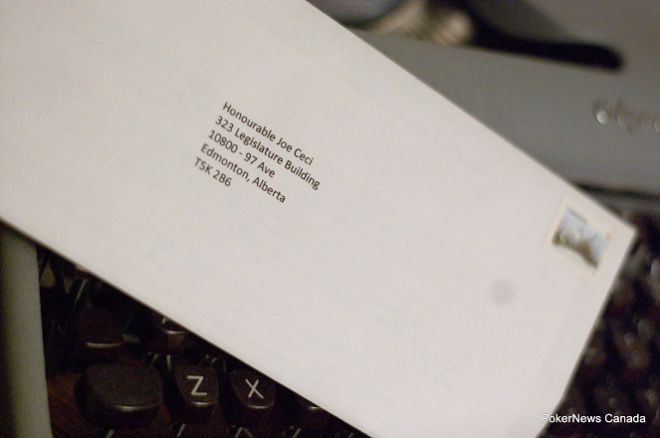 This is an open letter to the Honourable Joe Ceci, M.L.A. for Calgary-Fort, Minister of Finance in Alberta. Part of his portfolio includes the Alberta Gaming and Liquor Commission (AGLC) which regulates the gaming industry in the province.
Dear Minister Joe Ceci,
I have a $90 million offer for you. With the challenges you'll be facing this term as Minister of Finance in a heavily oil-dependent province during a period of poor market value, I can only imagine how difficult it will be to try to replace some of that vanished revenue.
To make up the difference, you'll undoubtedly be looking to increase revenue from existing streams, but what if Alberta had a brand new, previously untapped source of revenue to add to the coffers?
The figure of $90 million reflects the revenue recorded by the B.C. Lottery Corporation for eGaming in FY 2013/14. While $90 million isn't going to come anywhere near replacing lost oil revenues, it's a large enough figure that you can't entirely brush it aside without a close look, isn't it?
I am aware that the AGLC falls under the Ministry of Finance, so I trust that you are already primed on this subject. Earlier this year, before the Progressive Conservative Party of Alberta saw their demise, they seemed to be eager to join the eGaming industry. AGLC was actively pursuing the implementation of a turn-key operator. There was a deadline of the end of February for applications and language like "fast-track" was being used. After the election, your press secretary Carolyn Gregson told reporters that the idea had been shelved. Let's take it off the shelf!
With your background in social work, I can imagine that your first thought — and justifiably so — is of the social risk of eGaming. This is an incredibly important consideration. It is also one of the biggest reasons why Alberta needs to get into regulated eGaming.
Consider that 97 per cent of players gamble responsibly — a figure I would guess might closely match the portion of alcohol consumers who drink responsibly. But that remaining three percent needs to be the focus and they would greatly benefit from AGLC-regulated eGaming.
Just as with prohibitions of other kinds of activities and substances, it doesn't make them disappear. Whether AGLC regulates and offers eGaming to Albertans or not, it already exists on desktops and in palms across the province. But the operators currently offering their eGaming services to Albertans are not bound by Alberta's responsible gambling program GameSense. If AGLC was offering the platform itself, it could implement all of its valuable tools to minimize the social cost of eGaming.
There has also been concern expressed that introducing a government-run eGaming site would bring hordes of new gamblers to their screens. However, Quebec's independent report on eGaming found that public participation in gambling was up barely 0.1% in the two years since they launched their platform.
Recent estimates cite Albertans spending as much as $150 million on unregulated eGaming each year going to international operators with no benefit to the province. This industry already exists in Alberta. Isn't it time AGLC participates in it and repatriates some of those dollars?
B.C., Manitoba, Quebec, and Ontario all have successful provincially owned and regulated eGaming platforms. PlayNow, PlayOLG, and Espacejeux are giving the residents of their respective provinces trustworthy, responsible gaming where the proceeds benefit their own communities. The precedent has already been set and the model established.
Of course, there are alternatives to the established model as well. Last year, Loto-Quebec stated interest in licensing and regulating existing private operators. Rather than running a new provincial eGaming platform, AGLC could allow carefully-scrutinized companies to offer their services to Albertans in a legal and licensed way while reaping the benefits through taxation and licensing fees as well as safer eGaming products.
While the addition of $90 million in new revenue pales in comparison to the figures provincial budgets work with, I believe this is also the socially responsible thing to do. AGLC needs to regulate this market to protect its consumers. Online gaming is a social reality; it's time to get involved. To borrow a line from our new Prime Minister, "...because it's 2015."
Yours sincerely,
Lane Anderson
Senior Editor of PokerNews (Canada)