PokerStars' KidPoker Documentary Makes Public Debut Tonight on TSN
Tonight, December 1, the world broadcast premiere of the PokerStars documentary KidPoker will make its debut in Canada on TSN4 at 8:30 p.m. ET.
Last week, PokerNews Canada had the privilege of attending the advanced screening of the full-length film at the beautiful TIFF Bell Lightbox theatre in Toronto. Among family and friends of the famous poker celebrity himself, fans had the chance to sit back and get a glimpse behind the scenes of Daniel "KidPoker" Negreanu.
If you are a fan of poker and the professionals in the industry, then you know all about the success Negreanu has achieved. You probably also know that if anyone's life is an open book in the poker world, it's his. His outspokenness and willingness to share what he thinks is probably one of the main reasons he has become so popular with his fans. And, yes, also the reason he is unpopular with others.
Going into the theatre, many presumed that they already knew everything there was to know about the poker superstar. By the end of the evening, most had gotten much more than they expected from the experience.
Produced by Gary Davis and Francine Watson, KidPoker isn't just the story of Daniel Negreanu the poker player, but it reveals the brother, son, and industry leader among his peers.
Watson started the evening off with an introduction to the film, explaining how the project had shifted course mid-production. "Initially, we were putting together this short web clip about Daniel but soon we realized that there was so much more of a story to tell. We had a lot of it covered, but still thought that we needed more. So I thought we would send the crew back to Vegas again to do another interview with Daniel. There was still something missing at that point. Daniel's family is clearly very important to him, so in the summer we made the trip here to Toronto to talk to Mike Negreanu and spent a couple of days filming here in the city that's clearly very dear to Daniel. We spoke to a lot of his closest colleagues and friends and at that point was when we realized our 10-minute video for the internet is actually going to be a feature-length documentary."
His wins have been televised. His name is known around the world. But what hasn't been told before in much depth is the story behind the poker pro. Although this is a film based on the career of Daniel Negreanu, being a PokerStars production, it quickly turns into a story of love and family, hitting hard with emotion once you see how the bond between two brothers only gets stronger with time.
The film takes you inside the Negreanu home with family feasts and backyard barbeques where two of his closest friends growing up are often seen, the Farkash brothers Oren and Regev.
It's Mike Negreanu who steals the audience's heart from the beginning as he speaks of his kid brother with pride and love. Mike shares the story of how a kid from Toronto, his little brother, became the best in the world at something Mike believed he could do all along.
As revealed in the movie trailer, his longtime friend Jennifer Harman played a big part in telling his story on screen. Both being young compared to the average Vegas poker player at the time, they bonded right away and Jen became a friend and, in many ways, an advisor to Negreanu in the early days. Knowing Daniel since the beginning and being close all these years, Jennifer had the best insight for the film when it came to his starting out in Vegas.
The story of KidPoker needed to showcase his success and there was no shortage of well-known poker pros to take part in its telling. Along with Jennifer Harman, Doyle Brunson, Antonio Esfandiari, John Duthie, Maria Ho, Vanessa Selbst, Jason Mercier, and Phil Hellmuth were featured in the film.
Growing up, the Negreanus were a very close family. Daniel's mother Annie and father Constantin came to Canada with nothing. The two worked hard to raise the two sons they cherished so deeply.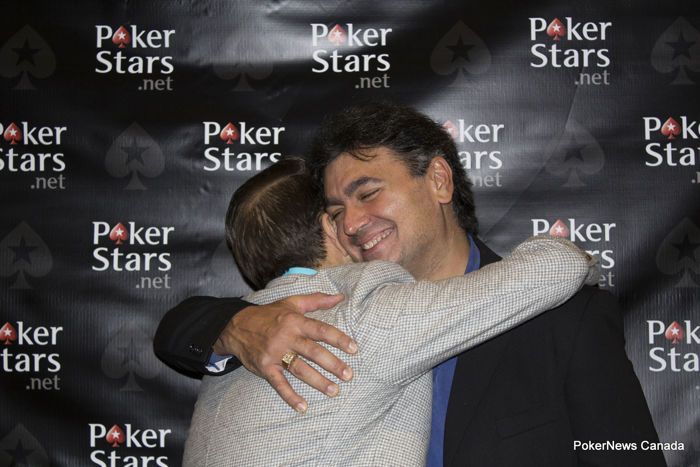 We had the chance to talk to Mike a couple of days after he had seen the film at the premiere screening in Toronto.
"My brother is just like my Dad. My Dad was always the one laughing and joking with people, making others smile. Daniel is the same way. He actually wanted to become an actor before he found poker. So entertaining people was just something that came natural to him. Growing up he was always joking around with everyone, being the life of the party. Today, he's still that same kid I knew growing up.
"It was never a surprise to any of us that he became as successful as he did. We all knew that if he wanted to do something, he could. So when he started playing poker and he was good at it, we knew that he could be successful. Yeah, sure, he may have been a little bit brash early on, but I think as you get older you become more aware of your surroundings and how to relate to people and get your point across.
"I've seen him become more comfortable and assertive with his beliefs. I think it probably is a coming-of-age thing. When you're good at something, you have to be able to be confident about yourself to be successful. He's always going to be opinionated and say what he thinks.
"I think he gets it a lot from my father — outspoken and the centre of attention. Not in a way selfish way, but in a way to make others laugh and feel good. Whereas with me, I got my father's compassionate side. We worked together, I followed in his trade. We spent so much time together, knew each other's friends. But as for Daniel, he was still young when our Dad died at just 65. He missed out on so much time with him and being able to experience for long what it was like to have our Dad as a friend and father like I did. It was hardest not long after he had died. Daniel had gone back to Vegas to start over and in a sense it was a rebuilding for all of us. Not just his career but our family too. A short while after, my Mom went there more so for her peace of mind that he wasn't going to be alone.
"My sense to want to protect him, to worry about him, is instilled in me. Knowing where he is, as long as I get that phone call once in awhile letting me know he's okay."
Many in the poker community have seen footage of Annie Negreanu bringing her son lunch from beyond the roped-off tournament area. So when she slipped into a coma, later dying just before Daniel made it back home to see her, an entire community of people mourned alongside him.
After losing his mom, he went through a period in his life where he didn't seem to be the same entertainer on television. Those close to him saw how difficult it was and it seemed his heart just wasn't in it anymore.
It was November 2009 when Annie passed away after 10 long months in hospital. In 2010, Negreanu's non-supporters saying things like "he's washed up" and "he's done" only pushed and motivated him to work harder. As time passed and he began to come to terms with the loss of his mom, just as he had done so many times before, KidPoker proved the doubters wrong.
Over the next year and into 2012, he became more focused than ever. He seemed to have found more purpose in his career and community and took on his role as an industry leader while focusing on finding himself once again.
By 2013, he was tearing up the felt again with his new mix of old school and new generation poker, landing himself the title World Series of Poker Player of the Year for a second time in his career.
He was then nominated into the Poker Hall of Fame in 2014. Daniel "KidPoker" Negreanu isn't a kid anymore. He helps lead an industry which has seen plenty of turmoil since he first started out. He has taken his role and responsibility to better serve his community very seriously and acts as an example to a younger generation of players to flourish and dream big.
KidPoker isn't just the story of a kid from Canada who tried his luck at Vegas and won. It's the story of a father who worked hard to provide a better life for his family, a mother whose love and affection spilled over to all who were blessed enough to have known her, and brothers who through incredible support and love have an unbreakable bond.
Be sure not to miss tonight's world television broadcast premiere. Watch in Canada on TSN4 at 8:30 pm ET.
Get all the latest PokerNews Canada updates on your social media outlets. Follow us on Twitter and like us on Facebook!