Five Canadian Victories in First Half of 2016 PCA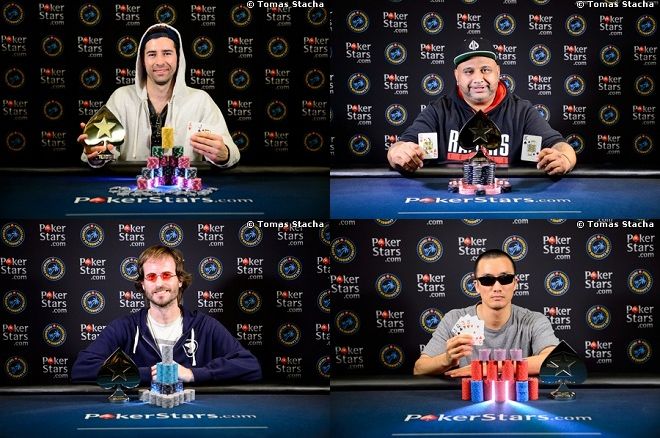 At the start of each new year, the poker world launches into action with PokerStars Caribbean Adventure (PCA) at the beautiful Atlantis Resort in The Bahamas. It's the post-holiday reunion event that brings poker players from around the world to play a great series put on by PokerStars.
There are a staggering 104 tournaments on the schedule this year (compared to 35 in 2015) with tournament entries costing as little as $120 all the way to $100,000 and everywhere in between. With the broad range of buy-ins and game types, there is really something for every kind of poker player.
With the series well into the latter half, we took a look at the results thus far to point out some of the best Canadian finishes up to the halfway mark.
It all began on January 6, 2016, with the highest-priced event of them all: the $100,000 Super High Roller. There were 58 entries to the event to create a prize pool of $5,626,000 being paid to the top eight finishers. It was American Bryn Kenney who took the top prize of $1,687,800, but our Canadian Daniel Dvoress cashed in as well, earning $286,920 for seventh place, showing that he plans on carrying 2015's momentum into the new year to establish himself among the top players in the world.
The first golden spade trophy to be earned by a Canadian came in Event #4: $300 NL Turbo Single Re-Entry. The tournament received 121 entries and Canadian Grant Ellis beat fellow Canadian Justin Ouimette heads up for the trophy and top prize of $7,920. Ouimette settled for $5,340 in second place.
In Event #5: $5,000 NL Turbo "Win the Button", American Mike Gorodinsky won the top prize of $46,640 after coming out on top of the 26 players. Canadian Morris Kadylo was the best finisher from our country, coming third for $20,500.
When it came time for Event #7: $2,000 NL 8-Handed Turbo, a Canadian was the second-best of 95 entries. Francois Billard earned $34,000 when he fell to Russia's Gleb Tremzin in their heads-up duel.
The second Canadian victory was earned by one of our nation's best. Mike Leah won Event #12: $10,000 NL Hyper Turbo "$100K Survivor" to collect an even $100,000 after he came out the best of 21 entries.
As part of the PCA series, one of the events is the Latin America Poker Tour Bahamas Main Event with a $2,200 buy-in. After Day 1, Canadian Tyler Hurman held the chip lead and he ultimately finished 19th for $11,960 — the best cash of his poker-playing life.
The tournament saw 851 entries and was won by Georgios Sotiropoulos for an impressive $308,220. Two well-known Canadians were on the final table as well. The top result came from Will Molson in fifth for $78,080 while Lucas Greenwood finished ninth for $22,920.
Another runner-up Canadian result came in Event #17: $300 PLO Hi/Lo which saw 42 players take to the felt to play the split-pot, four-card game. While it was won by Kevin Falk from Switzerland, Canadian Michael MacHugh finished second-best for $2,560.
More near-wins came in Event #19: $600 NL Turbo Single Re-Entry when Canadians came second and third out of 47 entries. The trophy was collected by Poland's Mateusz Wozniak while Sylvie Lamoureux and Jonathan Bussieres finished in the next two spots for $5,800 and $3,700, respectively.
Not to break the pattern, second place was earned by a Canadian in Event #25: $2,000 NL Hyper Turbo as well. The 60 players created a prize pool of $116,400 and the largest piece of it was earned by Ivan Soshnikov from Russia. But Ami Barer put in a great performance as well, scooping up $25,260 for second.
The third Canadian win came in Event #28: $1,000 NL Turbo "$500 Bounties". There were 135 players and Murah Khan got through 134 of them to clinch the victory and $15,990. A Canadian came in third place too. Hung Le collected $7,020 for his deep run.
The very next tournament saw the fourth trophy to be destined for Canada. Event #29: $300 PLO was played by 82 people and Andrew Fair proved to be the best of them, earning the golden spade for his mantle and $5,880.
A deep Canadian run was found in Event #30: $5,000 NL Turbo where 42 players battled for a piece of the $218,250 in prizes. It was Portugal's Joao Vieira who won $74,210 for first, but Canadian Morris Kadylo managed a third-place result worth $32,740 which was his second third-place result of the series after doing the same in Event #5.
Mike Leah found another score in another "Survivor" event. Event #37: $5,000 NL Hyper Turbo "$50,000 Survivor" received 41 entries and was won by American Aaron Sacks. Mike Leah scooped up $36,251 after coming fourth.
The second-most expensive event on the schedule was Event #38: $50,000 One Day High Roller which saw a total of 80 entries pay the steep price of admission, putting $3,860,000 in the prize pool. Ireland's Steve O'Dwyer won the most when he chopped it heads-up with American Connor Drinan to earn $945,495 and $870,625, respectively.
Daniel Dvoress returned for another cash after also collecting a payout in the $100,000 Super High Roller. He managed sixth this time, earning $235,460. Timothy Adams also found a min-cash for $96,500 in 11th place.
The fifth Canadian victory was in Event #39: $1,000 PLO 8-Handed. Out of the 32 players, Ambrose Ng was the last one standing to earn himself $10,540.
Another runner-up result for a Canadian followed in Event #43: $600 NL Turbo. The 81 players were trying to get a piece of $42,120 and the U.K.'s Krishna Nagaraju got the biggest chunk. Right behind him, though, was Canadian Jean Leblond earning $8,240 for second.
The final Canadian result in the first half of PCA was another from Mike Leah. He finished third in Event #44: $2,000 PLO Turbo for $40,422 while American Ankush Mandavia collected $45,272 for first.
With plenty more great tournaments to come, including the conclusion of the $5,300 Main Event and the $25,000 High Roller, there are lots of chances for Canadians to scoop up more of those golden spade trophies and some big prizes.
PokerNews Canada will be back with another report on the results when the series concludes on January 14.
Photos courtesy of the PCA Blog.
Get all the latest PokerNews Canada updates on your social media outlets. Follow us on Twitter and like us on Facebook!