Four Events with Four-Figure Buy-ins Raise the Stakes for Calgary's Winter Super Stack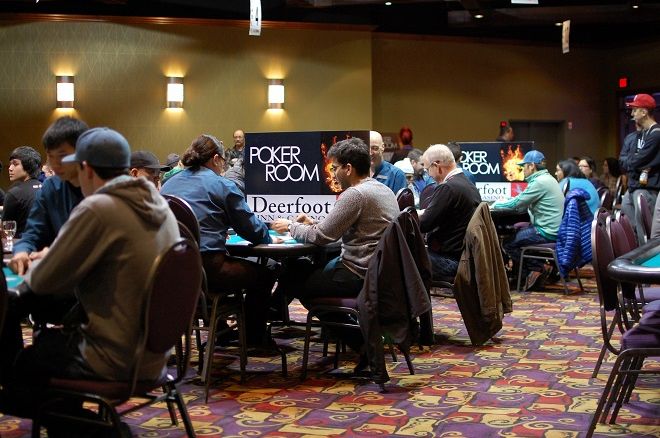 The annual Winter Super Stack at Deerfoot Inn & Casino is two weeks away and it's set to be the best one yet.
The series stands out as one of the best offered in Calgary, Alberta each year. This year, it got even more more exciting with the addition of a $5,000 High Roller.
While there is a thriving poker community in Alberta that supports the many tournament series on offer locally, this is an event that players from across the country make a point of trying to attend as well. And now, with four tournaments with four-figure buy-ins, the poker trip becomes even more enticing.
The larger buy-ins should attract some of Canada's best players to hit up the 15-event series, and Americans should definitely be considering the trek to take advantage of their strong dollar.
The Main Event of the schedule promises a prize pool of at least $200,000, but it climbed all the way to $340,480 last year. There will be three starting flights from February 12 to 14 which will feed a single Day 2 and then the final table will conclude on Day 3.
For a $1,500 buy-in, entrants get 30,000 chips and one-hour levels, and if it isn't their lucky day, reentry is available until late registration closes after Level 6.
There are also two heads-up tournaments with $1,100 buy-ins. First is the heads-up pot-limit Omaha event on February 7. The other is heads-up no-limit hold'em on February 9 and 10. It's rare to find heads-up poker offered in a live venue, but the unique format lets challengers engage in exciting mano-a-mano poker combat until a winner is decided.
The fourth four-figure event is the new one on the schedule for 2016. Deerfoot Inn & Casino have added a $5,000 High Roller due to popular request by members of the local community, and this is the one tournament in particular that should be the extra draw needed to get some of Canadian poker's big names to drop by for the series.
With incredibly low vig ($4,800+$200), entrants receive 50,000 chips and 40-minute levels to compete with the best. Starting day will be on February 15, overlapping with Main Event Day 2. But players deep in the Main Event will still be able to register the High Roller the following day with registration open right up until the end of Level 3 on High Roller Day 2 on February 16.
For more details, visit Deerfoot Inn & Casino's website.
Get all the latest PokerNews Canada updates on your social media outlets. Follow us on Twitter and like us on Facebook!