PokerStars Addresses Concerns About Whether a Bot Was Heads-Up in a TCOOP Event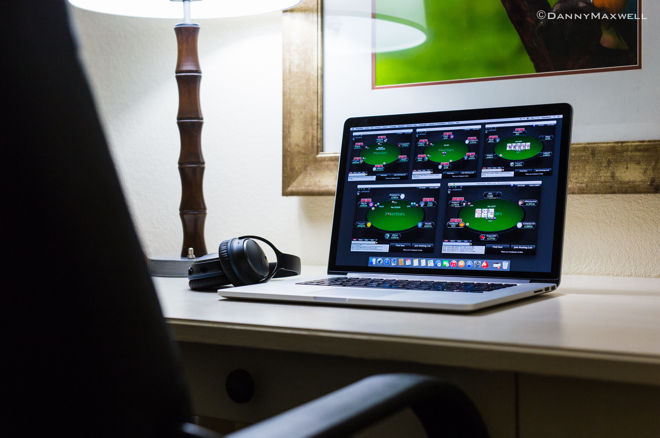 Eyebrows were raised involving a recent event on PokerStars that occurred late on the second day during this year's Turbo Championship of Online Poker (TCOOP) when many questioned whether the runner-up was a human player or a bot.
After investigating the situation, PokerStars ruled that the player was indeed human and not powered by artificial intelligence. Here's how the situation unfolded.
When the TCOOP-08: $82 NL Hold'em [Turbo, Big Antes, Optional Re-Entry], $200K Gtd was down to just two players, a PokerStars representative with the screenname "HostMatthieM" was invited into chat to help potentially facilitate a deal between the final two players — Finland's "LuckboxStami" and Russia's "IvanHaldi".
"LuckboxStami" requested the PokerStars host to present the figures with $4,000 left to play if agreed to by both players. The host quickly came back with figures that would have awarded "LuckboxStami" $40,393.85 and "IvanHaldi" $39,450.15 with each the chance at winning more money and a TCOOP bracelet if they beat the other.
This is where things got interesting, as "LuckboxStami" immediately accepted the deal by typing into the chat box, "I agree." His opponent, however, was silent. The host then asked for a moment to find someone that spoke Russian, but "IvanHaldi" still didn't respond after this.
The PokerStars host then asked for additional time to attempt to engage "IvanHaldi" in a private chat, and also had no luck, despite the player also actively playing in another tournament on the site.
By this point, "LuckboxStami" suggested a few times to resume play and mentioned to the PokerStars host that, "You should call him to see if he is alive."
Eventually, that is just what happened after the PokerStars host mentioned he asked a Russian colleague to trying calling, however, PokerStars also had no luck with getting him to answer the telephone on the number he registered with on the site.
The Finnish player said, "Let's play if he don't answer. My hourly rate is taking a big hit in this tournament. You can check if he is a human later."
After the first suggestion that the player may have been a bot, "LuckboxStami" followed up by stating, "Seems obvious he is not human. Maybe PokerStars security will do something about it later."
By the time almost an hour went by with PokerStars' attempts to get in touch with the player still proving unsuccessful. The PokerStars host mentioned that they were going out of their way to do something due to the big money involved and stated that, "Given the payouts and the money involved, I have tried everything possible to make this deal possible."
Some more conversation took place before play resumed with "LuckboxStami" asking that PokerStars look into the situation further as to whether this is a human player or not. Last year's pot-limit Omaha Russian bot scandal was also referenced, with "LuckboxStami" stating, "Seems super fishy to me. Hope [PokerStars security] do it better than with the Omaha bots."
While the scandal last year was certainly serious, it is believed to be one of the main reasons for PokerStars tightening up its policies regarding third-party software, along with the fact that PokerStars is working more and more to combat bots and other prohibited third-party tools.
PokerStars "HostMatthieM" assured "LuckboxStami" it would be looked into, and later Head of PokerStars Public Relations Michael Josem shared with the poker community that it's standard practice for the site to look closely at the play that took place in its major tournaments.
The PokerStars host also implied the player was likely human by mentioning, "But only human players can tick the deal option as far as I know." This was not eventually one of the reasons provided by PokerStars after its investigation why it believed the player was indeed a human one.
While the issue was certainly noticed by the players watching the lack of action taking place during the hour a deal was attempted, the poker community at large began to take notice when TwoPlusTwo poster "StevenVA" created a thread that included the entire chat transcript.
Reactions to this post were mixed, with some players feeling it was likely it was a human player and others thinking it was a bot. There were also plenty of posters that were unsure what to think and looking forward to a response to the situation by PokerStars.
TwoPlusTwo poster "Tutejszy" was one unsure what to think and looking forward to a PokerStars response when posting, "Wow, all of that just doesn't make sense, honestly. First of all, why would a bot choose to make a deal? Even if that's some programming error (a bizarre one, if I might add, as you would have to specifically request bot to do that), wouldn't the bot owner monitor the action once bot hits [the final table]? It's not like 48K is pennies for anyone. Or at least give a phone number he can access (even from a burner) in case someone decides to check up on the account? And then there's a bustout hand, which does make sense for a human (commit yourself without shoving to increase fold equity), but bots usually aren't programmed that way.
"For sure a very strange situation, and I hope that Stars will release some sort of statement once they conclude their investigation."
Another TwoPlusTwo poster Talal "raidalot" Shakerchi brought up another recent issue stating that, "[The] villain might have to make 70 min video." This is in reference to some players being recently contacted by PokerStars to record of video of their play to prove they are not bots.
After its initial investigation was completed, PokerStars did respond, with Josem outlining five key reasons they believe the player is human based upon the site's bot protection tools. Josem also pointed out that they do not have an explanation yet on why the player wasn't responding to the many attempts to get in touch, and that investigations on this account will continue.
Hello Players,

At the conclusion of our major tournaments, PokerStars regularly reviews accounts to ensure that they played in accordance with our rules. As is our routine practice, PokerStars has investigated this account for possible use of prohibited software and we are confident that the tournament was not played by a bot, and that the gameplay decisions were made by a human being.

We have made that judgment based upon our bot-detection tools, which broadly include:

a) Scanning for prohibited third party software running in conjunction with the PokerStars client.

b) Collecting detailed information of how each player interacts with the PokerStars client on a fundamental technical level. This includes, but is not limited to:
- the manner in which hardware and third party software is used to input actions
- the usage of various client features
- chat at the tables (or lack thereof)

c) Recording hand histories for analysis. This allows the review of aspects such as:
- volume of games played
- consistency in gameplay decisions
- anomalies in gameplay decisions
- presence of human errors

d) Maintaining detailed records of each player's sessions, including:
- the start and end time of each session
- the duration of each session
- the number and duration of breaks in between sessions

e) Conducting real-time Turing tests during play, such as CAPTCHAs which prompt players to type in a random word, and other proprietary tests which are designed to be imperceptible to humans.

Currently, we don't have an explanation for why the player didn't join in discussions for a deal, and, in accordance with our normal reviews, our investigations will continue until we are comfortable with the activity on this account.

Sincerely,

Michael Josem
PokerStars Communications Team
At the end of the day, the lack of a deal worked out for "LuckboxStami" despite him joking that the pause was causing a big hit in his hourly rate. Instead of collecting $40,394 with a chance at another $4,000 for the win, he won the tournament outright for a larger $48,042.
Get all the latest PokerNews Canada updates on your social media outlets. Follow us on Twitter and like us on Facebook!