The Sunday Briefing: 'CTG13' Turns $11 Into $24K in Sunday Storm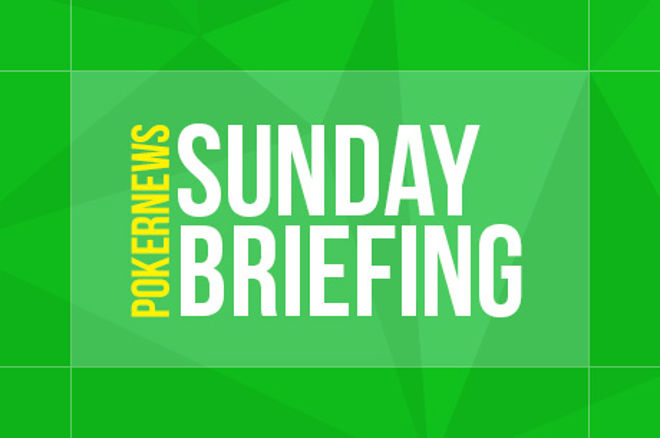 With millions of dollars paid out to poker players around the world, the week's biggest and best online tournaments are found every Sunday on sites like Full Tilt, PokerStars, 888poker, and partypoker.
There were plenty of final-table appearances by players based in Canada this week, and two of them were wins. 'CTG13' won PokerStars' Sunday Storm while American expat 'AceSpades11' won the Sunday Supersonic on the same site from within our borders. Also, 'LCfish' finished seventh in two of 888poker's three Sunday majors. Here's a detailed look at how Canadians fared this Sunday:
Sunday Majors on 888poker
The $120,000 Mega Deep
The premiere Sunday tournament on 888poker boasts a guarantee of $120,000 for a $215 buy-in. The 766 players created a prize pool of $153,200. The top spot went to Brazil's 'mr.salgado' for $21,069.78 after a three-way deal.
Two players representing the maple leaf made the final table, but they were the first two eliminated once seated. '123_THC' finished ninth for $1,991.60 and 'marioallin' was eliminated in eighth for $3,370.40.
The $150,000 Whale
Not a weekly tournament, 'The $150,000 Whale' offers a bi-weekly high roller with a $600 buy-in for 888poker's players. A total of 309 players bought a stack and battled for a piece of the $174,585 on the line.
'AQW100' from Sweden nabbed the top prize of $33,782.19 while, again, two Canada-based players were among the final nine. 'LCfish' earned $5,935.89 for seventh place while Samuel 'samuelbt' Tsehai went on to pocket $9,951.34 for fifth.
$100,000 Sunday Challenge
With a more affordable buy-in of just $90, the '$100,000 Sunday Challenge' is commonly the most popular tournament of the day on 888poker. With 811 players and 467 rebuys, the prize pool swelled to a little more than the guarantee at $108,532.
The top prize of $19,644.29 went to Romania's 'duduki07' while a single player from Canada hit the final table, finishing in seventh. It was 'LCfish' who had also finished seventh in The $150,000 Whale. This time, he earned $3,418.75.
Sunday Majors on PokerStars
Sunday Kickoff
The biggest tournaments of the day get started on PokerStars every week with the $109 'Sunday Kickoff' with a $150,000 prize pool guarantee. With 1,882 people paying the buy-in, the guarantee was surpassed with $188,200 eventually being the sum they were playing for.
The win was earned by Germany's 'kraftatze' for $30,112. With the early start time in Canadian time zones (8 a.m. ET), it isn't uncommon to see a lack of maple leaves in the results, and this week was no exception with no Canadians on the final table.
Sunday Warm-Up
The $215 'Sunday Warm-Up' heats up the action with a $425,000 guarantee, but the 2,554 entries pushed past that to settle at $510,800 to play for. Players battled to try to earn the top payout of $80,706.69, but the only one successful in doing so was Malta's 'PIPI tapis!'.
A lone maple leaf flew at the final table — one by the name of Kenny 'LoneHixx' Hicks. Eighth place earned the Canada-based American $7,406.60.
Sunday Rebuy
The $109 'Sunday Rebuy' saw entries come to a total of 648 with 900 rebuys and 543 add-ons to top the $180,000 guarantee by nearly $30,000. Costa Rican 'BBOY3110' earned the top prize of $39,519.90. No Canadians made the final table.
Sunday Storm
Moving on to the lowest-priced tournament that could be considered a Sunday major, the $11 'Sunday Storm' is the best value you'll find in online poker. Despite the tiny buy-in, the prize pool guarantee is set at $300,000, and it passed it this week to settle at $314,560.
It was a Canadian that recorded the top finish. 'CTG13' scooped up $23,837.81 after a three-way deal. Two other Canadians were on the final table as well. 'HR_Dub' finished eighth for $2,201.92 and 'Patrabbit' finished sixth for $4,718.40.
Sunday Million
The most jaw-dropping tournament in online poker is the only one that guarantees a million dollars in prizes. This week, the $215 'Sunday Million' received 6,051 entries to put $1,210,200 up for grabs.
It all ended after a four-way deal and 'darluna' of Colombia claimed the win and $159,483.14. One player from within our borders made the final table. 'Eat_U_Up_ha' managed a sixth-place finish for $38,726.40.
Sunday 500
The price of admission is set at $530 for the 'Sunday 500', and there were 645 players who bought a virtual seat and chips this week. The $250,000 guarantee was surpassed when the total came to $322,500 to play for.
Mexico's 'Setherson2' won the first-place payout of $59,178.75 and Michael 'spidey_85' Carter was the one Canadian at the final table, earning $10,320 for finishing seventh. Despite having a fairly low profile, Carter is in the PokerStars VIP Club Hall of Fame for having earned more than 5,000,000 lifetime VPPs.
Sunday 2nd Chance
It's all in the name. The 'Sunday 2nd Chance' gives tournament hopefuls one last regular $215 tournament to try to lock up a profitable day with a $175,000 guaranteed prize pool. When the 1,083 entries played down to a final table, two players within Canada still had chips.
Israel's 'Raistj' made a heads-up deal that saw him collect $36,575.98 after he came out on top. Canadian 'UncleNate9' finished eighth for $4,332 while Canada-based U.K. player Chris 'Moorman1' Moorman — the most winningest online tournament player in the world — finished third for $21,010.20.
Sunday Supersonic
The Sunday majors conclude on PokerStars with the $215 'Sunday Supersonic' — a six-max hyper-speed tournament with a $250,000 guarantee. In less than two hours, 1,230 players were reduced to one.
Canada-based American 'AceSpades11' won $43,430.67 for the win while Canada's current top Global Poker Index-ranked live tournament player Mike 'Timex' McDonald also made a final-table appearance, finishing eighth for $4,537.47.
Sunday Majors on partypoker
Heavyweight: The Main Event
The headlining Sunday major in partypoker's lineup is the $109 'Heavyweight: The Main Event' with $150,000 guaranteed. This week, it received 1,571 entries to close at $157,100 to play for.
The Netherland's 'BOOMALOOM' came out on top, scooping up $28,278, while Canada's 'seniorfarmer72' finished as the runner-up to collect $20,423. Another player from within our nation, 'SnipeDonkey' also made the final table, finishing in eighth place for $3,534.75.
High Roller: $150,000 Gtd
In the higher-priced tournament of the day, the buy-in is set at $530 and the guarantee sits at $150,000. With 317 entries, the prize pool settled at $158,500.
Incredibly, Netherland's 'BOOMALOOM' won the second Sunday major on partypoker as well. He earned $25,173.91 after winning the site's only other Sunday major on the same day. The top Canadian finish came from 'ipuntstacks2' who came third for $14,740.50.
Sunday Majors on Full Tilt
Sunday Brawl
With 415 entrants for the first big tournament of the day on Full Tilt, the $100 'Sunday Brawl' offered a guaranteed prize pool of $40,000, falling just short of the guarantee, and each elimination also earned players $50. When the final table of nine was set, no Canada-based players had a seat.
'Fox_MEF' from Brazil was the winner, earning $6,849.61 including the bounties from 11 knockouts.
Sunday Major
This week, the 'Sunday Major' drew 269 players at a $250 buy-in each. Out of the 36 players who collected a payout in the tournament, it was a player from Russia, 'midnightGuest', who took the top spot, earning $12,629.42.
The runner-up was American Mark 'dipthrong' Herm playing within Canada. He earned $9,401.55 for finishing second-best. Another player from within Canada, 'leoc00', finished fifth to collect $3,760.62.
That's it for this week. If you don't already have an account on all of these sites, make sure you download through our links and use our bonus codes to take advantage of the most lucrative promotions you can find. Good luck; see you in next week's headlines!
Get all the latest PokerNews Canada updates on your social media outlets. Follow us on Twitter and like us on Facebook!