Mediarex Entertainment Launches HoldemX: Texas Hold'em on Steroids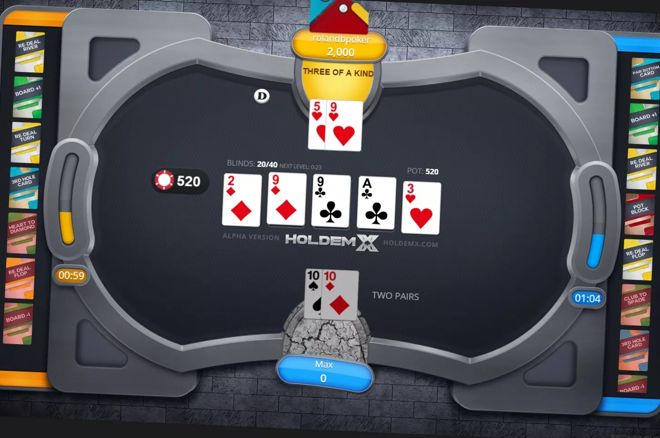 On Tuesday, Feb. 2, Alex Dreyfus, CEO of Mediarex Sports & Entertainment, announced the alpha version of HoldemX, "a whole new poker game that tries to build a bridge between poker and eSports."
Built to entice poker players and video gamers, HoldemX is a reinterpretation of Texas hold'em that has been openly inspired by other popular games like Magic: The Gathering, Hearthstone, and Uno.
"What we are launching today is not a new format or a poker variant, it's a whole new game," Dreyfus told PokerNews on Tuesday. "There are hundreds of millions of people who know how to play poker out there, and many of them do not play anymore because they got bored and because they are no longer excited by Texas hold'em. With HoldemX, we are going to spice up the game and offer something new, engaging, and fun that will bring that excitement back.
"With HoldemX we are also going to target a whole new demographic."
"With HoldemX, we are also going to target a whole new demographic that has been largely untouched by the poker industry as we want to engage the new generation of video game players who haven't been into poker yet."
To achieve this ambitious goal, Dreyfus and his team devoted the last nine months to the development of a complex, multi-layered play experience that incorporates a strategic layer to normal gameplay, adopting the fast-paced game rhythm of pure turn-based strategy games within a "poker" environment.
In the Alpha version of the game, HoldemX players get to engage in heads-up battles where the regular 52-card deck used is a so-called "Discovery Deck."
"The Discovery Deck keeps things simple, with only 15 cards designed partially as an educational experience to give players a chance to play around with the fundamental mechanisms of the game before flooding the platform with multiple deck options, special cards, and other features," Dreyfus continued. "Later on, we will introduce additional xDecks — including branded ones to tie in pop culture, media, and video gaming interests."
HoldemX Aims to Bring the Fun Back to Poker
Talking about the inception of the game, one of his team's main goals was to create a new product that could bring elements of fun and entertainment back in poker.
"Poker went to the extreme, where everything is about money, and it looks like the industry somehow forgot that poker is first a foremost a fun game, not a gambling one," Dreyfus said. "Now that competitors like Hearthstone are shaking the industry, we need to be able to offer something new, something that can bring more drama and excitement to a skill game like poker — and this is exactly what HoldemX does."
"Hearthstone is not about money: it is about fun, special effects, and skills."
What it does not, however, is bring money to the table. At least during the first months, HoldemX will not offer any form of real-money play — even if, by Dreyfus' own admission, something may change as the game's popularity grows.
"The absence of the money element is not a problem at all," Dreyfus said when asked whether he believed that the lack of a financial reward for players couldn't undermine the development and the popularity of the new game. "Ninety percent of those who play poker today don't play for money. Us, who work in the poker industry, we often forget to think about this, but how many people play every day at Zynga Poker or at the social version of WSOP poker? There are millions of people who play poker only for the fun of it — and today we are simply not keeping them in mind when we work with poker."
In this sense, Dreyfus seems to believe that HodemX is not going to compete with poker, but is instead going to expand the industry and bring it to explore a whole new market.
"HoldemX is not a threat and it would be a mistake to see this game like one," he said. "Today, poker's biggest threat is an amazing and exciting game like Hearthstone — and the way this game attracted a huge number of poker players testifies that.
"Hearthstone is not about money: it is about fun, special effects, and skills. Players like Daniel Negreanu or Bertrand "ElkY" Grospellier openly admit to playing it all the time even if they don't get any money out of it. They do it for the pleasure, the fun, and the excitement of playing something new. And this is a model we think we can reproduce with HoldemX."
A Game to Bring Millennials to the Casino?
The launch of the social platform, however, is only the first part of a complex strategy that may one day lead to HoldemX being played at brick-and-mortar casinos around the world and right from all the most popular poker clients.
"We based our platform on a real-money one, which will allow us — if we want to do so — to shift it into a real-money product or to license that product to real-money operators," Dreyfus shared. "We believe online operators should embrace HoldemX and distribute it the same way they do with other games like slots or roulette, and simply make it part of their offer.
"This way, HoldemX would become content for their players. By offering HoldemX games, the online operators would be able to become part of exciting online and live experiences. Once the Global Poker League kicks off, we will organize live HoldemX events and give people the opportunity to participate in exciting challenges right inside The Cube."
"We believe we have a unique proposition and we are investing millions into this project."
And that's not it, the French entrepreneur also shared that many casinos are interested in bringing a game like HoldemX to the casino floor.
"I demonstrated the game to some of the leading casinos in Las Vegas and they told me that they want to have this game on the casino floor in order to target the new generation of millennials as this is the kind of new product that could bring new people in."
One thing that Dreyfus doesn't hide, however, is one big risk that is tightly connected to the success of his creation: the fact that somebody else will like the concept enough to reproduce it in-house — similarly to what happened to the lottery sit-and-go's after the launch of the Espresso games by Winamax.
"It's a possible scenario, but back in October we filed a patent application in the US for HoldemX as a metagame and I believe we will get it approved in the same way it happened to Rush Poker in the past," Dreyfus went on to explain. "We believe we have a unique proposition and we are investing millions into this project. We have the narrative, we will have the events, and we will have great experiences built around it — and this is why I believe it makes more sense for other companies to work with us rather than to compete against us. Also, right after the GPL Draft, we will start to stream live games on Twitch.tv to educate people, show the full potential of the game, and start building on it."
"I Hope People Will Help Us to Make It a Great Game"
"I was able to get a test run of HoldemX prior to its launch," PokerNews Editor-in-Chief Donnie Peters said. "I enjoyed playing, and specifically liked the additional levels of thought that were introduced. I'm not going to predict that HoldemX will be a total game changer, but I will say that its introduction is a positive one and should spark new interest."
Expanding on the game, Peters added also that he liked "the creativity and innovation of HoldemX. As someone who has never played Hearthstone, but understands the concept having played Magic: The Gathering when I was younger, the adaptation of such ideas to poker is an exciting one. I am supportive of the initiative behind such a creative idea like HoldemX and believe the industry is a better place with individuals like Alex Dreyfus looking to push the game forward."
"I would be extremely happy if HoldemX could have the support of the players community."
Peters seems to not be the only one who decided to speak in favor of the game, as Dreyfus explained that part of the poker community has already expressed support for HoldemX.
"Philipp Gruissem has publicly stated that he was willing to get any type of challenges for 5K at HoldemX," Dreyfus said. "Additionally, all of the other players who have seen the game during the development phase liked the idea and enjoyed the fact that we have been able to bring in something new, something that will challenge them into rethinking the poker strategy they already master so well to excel at this game.
"Six months from now, I would be extremely happy if HoldemX could have the support of the players community. I would like to see people developing a strategy to become better at it, writing articles about it, and even have some healthy arguments on forums. I would love people to jump to HoldemX now that we are in the Alpha phase and help us to make it a great game by sending us their feedback and by telling us what to add (or to take out) to make it a better game than than it is today."
You can try the Alpha version of HoldemX for free on this page. Also, you can leave your impressions and feedback about the game at feedback.holdemx.com.
Get all the latest PokerNews Canada updates on your social media outlets. Follow us on Twitter and like us on Facebook!