Ren Thackham's Short Film Lady Luck is Poker Meets Alice in Wonderland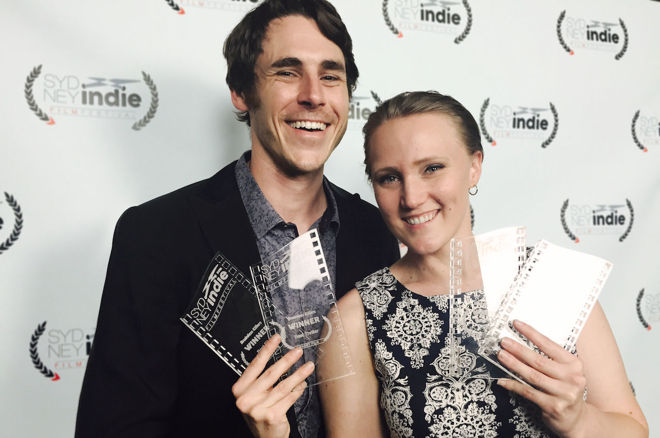 During the 2016 Aussie Millions, PokerNews had the opportunity to check out a short film called Lady Luck by 31-year-old Australian filmmaker Ren Thackham.
The 18-minute film is a fantasy trip mirroring the moves of a player playing in an underground poker game. Think Alice in Wonderland meets poker. For instance, when a player is dealt pocket kings, a real pair of cowboys — provided by Grahame Ware Jr., the Horse Master of Lord of the Rings and Pirates of the Caribbean — show up on screen, while Lady Luck herself is a smoking hot embodiment of the allure of the thrill. There's even a gigantic crocodile in there.
Thackham, who grew up on Bribie Island, studied film at Raindance Film School in London, and followed that up by attending the New York Film Academy in Sydney where she earned his diploma of Screen and Media. Lady Luck was her graduation film, which at the time won New York Film Academy Best Film.
The film, which is available online and in full below, recently had a screening in the VMAX screen at Event Cinemas. PokerNews caught up with Thackham to talk a little about Lady Luck.
PokerNews: What is your poker experience?
Thackham: When I wrote Lady Luck, I had never played poker before in my life. The first draft had the players holding four cards each, that's how little I knew about it. The concept transcends poker, Lady Luck is a player in any chance game. I wanted to explore what it felt like to chase the thrill of winning by having a character literally chase Lady Luck through a high-stakes game.
My best friend, Danny Bolt, is a very good actor, he loved the concept of the film but had played poker and could see that the script, as is, would be laughed out of poker circles. So he took me to my first ever game, a freeroll poker night in Kings Cross on a Tuesday night.
I picked up the rules of the game pretty quickly and realized the technical problems with my script, but realized I needed a lot more research before I really got poker. I busted out just after the halftime break but stayed to watch Danny Bolt win the tournament. He handed me his $150 prize and told me it's the first contribution to the budget. The movie gods had spoken.
Over the next three months I played live poker every night, it went beyond research. I was hooked. Sometimes I would find a 3 p.m. game and 9 p.m. game and play two tournaments in a day. I was invited to home games from time to time too. I started making it to the final table more and more often until one night, I won my first tournament. A Kings Poker freeroll in Maroubra, that is when I realized what I was writing about and picked up the script again. Realizing my first draft was rubbish I rewrote it from scratch. Now I had real experience to draw on, writing the hands was a breeze.
Can you describe the concept of the film?
Each player is a generalized ball of poker personality wrapped up and enhanced, all from my own experience. If you have every been to Star City casino on a weeknight, you've met the magician in some fashion, many players had aspects of the scarecrow and when you're on tilt, it feels like everyone is chasing you like in the mental hospital.
The film is of course layered with poker puns and references, the cowboys, silver bullets, representing a full house, being trapped, even the fish in the fridge etc. But these are flourishes added to the later drafts. I was just having fun with the fantasy elements after being indoctrinated into the culture and language of poker.
The concept, to the best of my ability, was catching the feelings, the essence, the fun, the thrill, the tilt, the mystery of what is around the corner, the elusive Lady Luck and packing a short film full of that, the poker is solid, but hopefully the ride is familiar, even if portrayed in an unusual way.
When and why did you decide to undertake this film project?
I had studied film internationally and made a lot of short films, and all through New York Film Academy I was itching to capture something people can relate to, even if it's a niche. It wasn't the plan to become a poker player myself, that was just a perk.
Can you describe the process of making this short film?
The usual way, once the script is finished, I cast the characters, sourced the locations, booked a shooting schedule, found a five-meter saltwater crocodile… all pretty standard.
How was the film funded?
Poker mostly. I cast the film throughout the process of writing it and we had more and more research assignments as a cast and crew. It wasn't a requirement, but everyone made donations to the film fund if they won. tipped all my winnings in, so did Danny Bolt and a couple others.
How did Grahme Ware Jnr. Become involved?
He's a legend, the Horse Master of Lord of the Rings and Pirates of the Caribbean just to name a couple of projects. He liked the script, saw some of my work and believed in me, it was a huge compliment. We shot the whole scarecrow sequence on Grahame's property over two days, and I'm pleased to say he was impressed with the finished product when he saw it for the first time on the VMAX Screen.
Tell us a little about the dealer in the film. He's a bit unconventional in that he talks a lot.
That's Frangie, he's a seasoned poker player in real life and was studying at New York Film Academy while I was casting this film. His passion for poker rubbed off on me, which is what inspired the first draft, before I had even played.
This isn't an easily accessible film for people that don't know their way around a poker table, and as the game, the stakes and the style of the film are all pretty unconventional already, I felt I could get away with a dealer that explains some of the hands for the non-players in the audience to follow along. As I only started playing very recently, I know what it's like to not know how the game works.
I've had mixed feedback, some players think he's funny, non-players tell me they wouldn't have understood the film without him. I'm interested in feedback though.
How did the screening in the VMAX screen at Event Cinemas on George Street go?
Really great, I'm really pleased. There were producers in the audience who have offered me opportunities on a couple of feature films as a result. I couldn't have asked for more. The soundtrack is the EP from a band called 'Suns of the Universe' and they were there blown away to hear their tracks from VMAX speakers.
What was the atmosphere like?
Buzzing. I made a speech covering the success the film has enjoyed before it screened as so many people were there who were involved in the making of it. It was a proud moment.
How did people respond?
Lady Luck isn't like a lot of short films, it was an ambitious script with all the crazy goings on so a lot of people were surprised by it. I was stopped all through the after party with really great feedback. Most of the questions started with 'How did you get...'. Which is a credit to my producing skills, Lady Luck has opened doors for me as a director and helped me get other projects off the ground. This film was a turning point in my career and is still my proudest work.
Check out the short film for yourself:
Get all the latest PokerNews Canada updates on your social media outlets. Follow us on Twitter and like us on Facebook!