Winter Super Stack Has Hot Start; Davey Singh Wins Event #1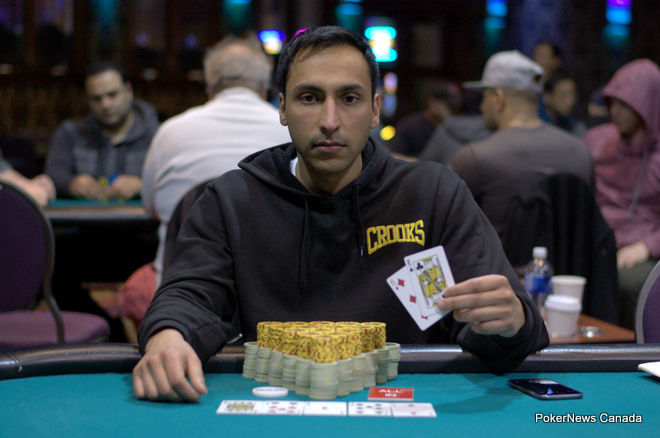 With $184,775 in prizes and 389 entries, Event #1: $550 Mega Stack launched the Winter Super Stack series over the moon. The turnout exceeded the expectations of the event organizers.
The 15-tournament Winter Super Stack is back at Deerfoot Inn & Casino in Calgary, Alberta, and it began with the multi-day $550 tournament with a guaranteed $100,000 prize pool. That guarantee was very nearly met on Day 1b of the event with the busiest starting flight still to come.
The first opportunity to play came on Thursday, February 4, with the first cards being dealt at 2 p.m. When registration closed, 82 entries had begun the tournament tally. With the schedule dictating that the field be reduced to the top 10 percent before pausing play for the day, it was almost 15 hours later that eight players counted out their stacks to return for Sunday's Day 2. Cindy Kerslake had the most chips by a long shot. She finished Day 1a with 686,500 chips while Ryan Comely was second-best with 558,000. None of the other six players even crossed the 200,000 mark, making it a very top-heavy finish.
Friday's Day 1b added another 118 entries, taking the tournament total to an even 200. Again, it took just under 15 hours for the field to be reduced to the top 10 percent. The 12 players to survive the day were led by Jasdeep Manhas with 498,000.
The final starting flight was expected to be the largest, but nobody guessed it would be as large as it was. A total of 189 entries passed through registration, making the grand total 389. The prize pool was calculated to be $184,775 with a min-cash of $1,300 and a top prize of $40,000.
Despite being the largest day, it ended about half an hour earlier than either of the other two. The surviving 19 players on Day 1c were led by Davey Singh who made a late-day surge to accumulate an astounding 831,000 chips, making him the largest stack going into Day 2.
The 39 players who returned to the felt on Sunday were all in the money by default of having made it through to Day 2. They were eliminated quickly with more than half of them collecting their payout before the first break of the day.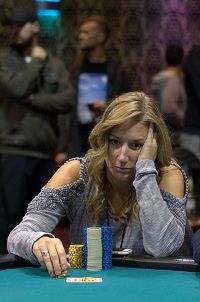 By the time the final table of nine players was set, Julien Lord was the chip leader with about 2,200,000, followed by Singh with 1,680,000. The third-best stack was Phil Sousa with 1,310,000.
Amazingly, just a few levels earlier, Sousa was down to less than a small blind's worth of chips. He was very nearly eliminated in a coin-flip hand but was left with 8,000 in chips. He folded the next hand, taking him down to 6,000 after paying the ante. Then he started getting it in, wanting to bust so he could make it to late registration for the $330 tournament playing on the other side of the room. But he went on a string of double-ups that saw him eventually make the final table third in chips.
Sousa ultimately finished in fifth place for $11,000 after he found himself in a tricky spot against Singh. On a flop of



, Sousa check-called Singh's bet of 150,000, going to a turn of

. Sousa check-called another bet — 250,000 this time. The river card was the

and Sousa checked again. Singh pushed all in and Sousa made the tournament-ending call. Singh flipped over


for a full house and Sousa mucked his cards as his chips were swept away.
After Lord lost an all-in-preflop hand with


to Hugh Armstrong's


, he finished in fourth place for $14,500.
The final three included Kerslake as the chip leader, followed by Armstrong, and Singh trailed. They played a few hands before going on break and then quickly agreed to a deal that saw all three of them lock up second-place money of $25,000 each. An additional $8,500 remained on the table for the winner.
Armstrong was the next to go, getting it in with


to Singh's


and completely missing the king-high board.
Heads-up play began with Kerslake and Singh very evenly matched. Appropriately, these two players were the top two stacks coming into the start of the day and were also the final two remaining. Singh, who was the overwhelming chip leader when play resumed for Day 2, went wire to wire to finish the day as the best as well when he beat Kerslake and collected the top prize of $33,500.
The defining moment came when back-and-forth raising ended in Singh pushing all in and Kerslake making the big call with


. She was head of Singh's


— a 72% favourite according to the PokerNews Poker Odds Calculator.
Kerslake called out for a ten before the dealer slid out the flop, wanting to strengthen her hand. She was still ahead on the



flop, but she called out for a ten again before the turn. The dealer flipped

on the table, giving Kerslake her set, but now Singh had picked up a flush draw. The river was the

and Singh completed the spade flush. Once the two big stacks were counted, Kerslake was left with just 800,000 chips to Singh's 8,900,000.
A few minutes later, Kerslake desperately got her chips in the middle holding


but wasn't able to overcome Singh's


. She collected $25,000 for the runner-up result and Singh earned $33,500.
Winter Super Stack Event #1: $550 Mega Stack Final-Table Results
| Finish | Player | Prize |
| --- | --- | --- |
| 1 | Davey Singh | $33,500 |
| 2 | Cindy Kerslake | $25,000 |
| 3 | Hugh Armstrong | $25,000 |
| 4 | Julien Lord | $14,500 |
| 5 | Phil Sousa | $11,000 |
| 6 | Francis Fan | $8,300 |
| 7 | Laurence Louie | $6,100 |
| 8 | Kris Santos | $4,500 |
| 9 | Ryan Comely | $3,450 |
Some of the other notable players to pick up a cash in the event included Ryan Cairns (13th — $2,350), Angie Gelinas (15th — $2,200), Bash Ramahi (19th — $1,975), Mike Smith (20th — $1,850), Raymond Chen (23rd — $1,750), Jody Fayant (25th — $1,650), Sinan Tawfik (30th — $1,550), and Todd Hunter (39th — $1,300).
Almost as important as the prize money are the points players are chasing. The player with the most points across the series will win a World Series of Poker Main Event seat worth $10,000 USD and a brand new Toyota Camry. You can head to this page to see how those points are calculated.
As of the end of Sunday, with the conclusion of the first five events, here's how the points race is looking in the top 10 spots:
| Position | Player | Points |
| --- | --- | --- |
| 1 | 240 | Davey Singh |
| 2 | 211 | Mike Smith |
| 3 | 176 | Stephane Bisson |
| 4 | 173.71 | James Sikora |
| 5 | 168 | Cindy Kerslake |
| 6 | 160 | Brian Lee |
| 7 | 154 | Shak Kazemipur |
| 8 | 130.9 | Chris Hedderson |
| 9 | 123.2 | Tony Comely |
| 10 | 120 | Hugh Armstrong |
There's still plenty more action to come with the $1,100 heads-up hold'em, the $1,500 Main Event, and the $5,000 High Roller, as well as many other tournaments. Head to DeerfootInn.com for details.
Get all the latest PokerNews Canada updates on your social media outlets. Follow us on Twitter and like us on Facebook!