PokerNews Canada Review: Duel by PokerStars Open to Beta Testing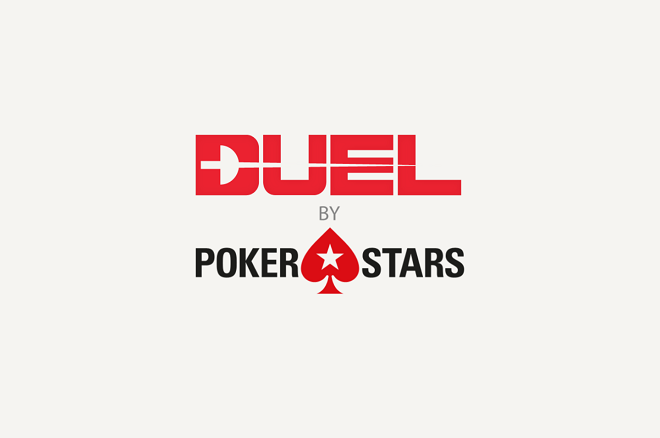 The latest creation from PokerStars has been released to Canadian players for beta testing. Their new mobile game Duel recently found its way into our hands and we have hardly set it down since.
Thursday morning, all of us at PokerNews Canada received an email with an "exclusive invitation" to beta test Duel by PokerStars. We're not sure how widely this email was sent or how many countries were involved, but if you visit www.pokerstars.com/duel from your mobile device, you should be able to download the app.
As part of a select group of PokerStars players, the Duel by PokerStars beta is available for you to play now.
Duel is a complete standalone app that doesn't interact with (or require) the general PokerStars app at all. You sign in with your PokerStars ID and your real money and play money balances are available in the Duel app. This game is exclusive to mobile devices. Tablets are also excluded from Duel.
The first time you open the app, a quick tutorial shows you how the game works. It's easy to learn and intriguing enough that you'll be eager to jump into your first match right away.
Duel is a turn-based one-on-one poker game. For the first match, you can get started right away by challenging a random stranger or add a friend and play against them. You can either play for 250 play-money chips or $1 of real money. The play-money match awards 450 to the winner and the real-money match pays $1.84.
Aside from the fact that a real American dollar is on the line, the real-money match is different from the play-money one in that you have 20 hands to play until a winner is decided, and each hand is played with 500 chips each. In play money, 10 hands are played with 300 chips each. In both cases, the blinds are 10/20.
The premise of the game is that each of the 10 hands (20 if playing for real money) are played independently from the others, and the aggregate number of chips won when all 10 hands conclude determines the winner.
All of the hands are played simultaneously with both players always starting with 300 chips each (500 if playing for real money). The player who accepts the challenge starts the game by choosing their preflop action from the button in half of the hands. Then they wait until their opponent begins doing the same for the other half of the hands.
As soon as an action is complete in a hand, the other player is then able to choose their action, and play swaps back and forth until someone folds or until they're ready for a showdown. If a hand requires a showdown, the hand is held until all play is complete in the other hands and the showdown runs out at the end.
Aside from what we've already described as a very unique format, the standout feature of the game is that players have a time clock of four days to finish the match. People who are used to having half a dozen ongoing games of Words With Friends or Trivia Crack on their phone at all times will recognize that PokerStars is emulating those incredibly successful social games. There's no need to sit down and play a match through all at once. Play your turn in a couple of hands whenever you have a moment in the elevator, waiting in the drive-thru, or sitting in a meeting (attempt at your own discretion), and continue playing later.
One of our favourite features is the replay button. Playing 20 hands or more simultaneously with possibly days between moves can sound like a headache if you're trying to imagine how to remember the preflop action when you're faced with an all-in raise on the turn, but there's a replay button that lets you review all of the action in that hand so far.
There are also stars you can earn by completing achievements like the one called "Crush Souls" which is unlocked when you win a match with at least twice as many chips as your opponent. Combined with the graphics that show your win and loss record, average points earned, average hands won, current win streak, and best hand, this tab makes the game feel more like other social gaming apps we're used to.
There is no doubt that this game is not designed for serious poker grinders to include in their income-generating repertoire. This game was designed for fun. Many design choices target recreational players like the mobile-only platform, the low stakes (it is rumoured that the max stakes will be $5 when the game is fully released), the slower turn-based play, the friending feature, the chat option being limited to friends (nobody wants to be blasted by angry tilt-monkeys), and the simplicity of the fold, check, call, and raise buttons.
Despite the simplicity of the game, advanced poker players can appreciate that it still allows plenty of depth in strategy. We're used to heads-up play happening very quickly, but with a whole day to think about what that check-raise might mean, prepare to get into some great levelling wars. Also, an icon in the top right corner lets you review the pot size in all of the hands so you can bet just the right amount on your last hand to force a game-changing decision.
All of us at PokerNews Canada have been having fun challenging each other to match after match, some for real money and some for play chips. And fun seems to be the whole point of this new app. Pros are never going to earn any significant money from the app, and PokerStars isn't going to significantly add to their riches by raking eight cents per real-money buy-in when the match can take days to complete. But this game could introduce many new players to online poker for the first time, and they may eventually migrate to PokerStars' other games and the larger community. This is also the perfect platform to invite a non-poker-playing person to check out and see if we can get them hooked on the game.
We aren't looking for the uninstall button yet. It's too much fun to test our skills head-to-head with friends, boast when we win, and blame bad luck when we lose.
For a better look at how the game plays out, check out this video made by a player from New Zealand:
Get all the latest PokerNews Canada updates on your social media outlets. Follow us on Twitter and like us on Facebook!