An Inside Look at the Global Poker League, Part 1: Aware of Needed Improvements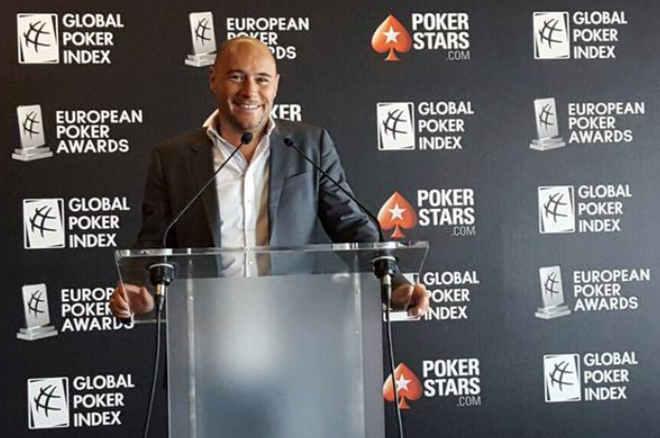 The Global Poker League (GPL) is in its relative infancy with just four weeks of action under its belt and the fifth week currently running. With one month of running time in the books, PokerNews talked with Mediarex Sports & Entertainment CEO Alexandre Dreyfus, whose company owns the GPL, The Hendon Mob, and the Global Poker Index (GPI).
In Part 1, Dreyfus opened up about his vision, discussed the draft, and talked improvements to the league.
It's All Finally Happening
Dreyfus began by explaining to us that in his mind the GPL is embarking on something the poker world has never seen before.
"What people need to understand is that GPL is a project that took two years to get off from the ground and every single aspect of it is new, including doing a draft, doing a league, doing team play, and doing the daily live streams with commentary for online play," shared Dreyfus. "Everything we have done has never been done before."
Although the claim made by Dreyfus that this is all new, one could argue many of these aspects have been done before. There have been league formats with things such as the Premier League, Poker Superstars Invitational, and the Epic Poker League, and with those in mind, we followed up with Dreyfus.
"As far as I know, there was never a real organization that set up a year-long season with daily and weekly content including live streams with the player being paid to play with no buy-in and being promoted as a league and not just another poker tournament," Dreyfus responded. "If you want to look at the Premier League, Poker Superstars Invitational, and Epic Poker League, what we do and what has been done by these guys in the past is a totally different world.
"Because of the technology, what we do right now would have never worked 10 years ago. That is the reality. In terms of what we do when compared to what has been done in league formats, I don't see any similarities. What we are doing is a storyline and narrative. Every day, every week, you can talk about 'Hey, I just saw what happened yesterday,' and when you follow sports or entertainment content the marketing goal is to create a habit. And a habit is something you do every day or every week.
"What we aim to do with the GPL is for you to be hooked to watch GPL whether its one, two, or five matches per week, every week. Then you can talk about that with your friends or you can read about that on PokerNews or PokerListings. Our success in two, three, or five years will be our ability to create a rendezvous like any other sport where friends will say, 'Did you see what happened yesterday?' It's not done by far."
Dreyfus expanded about some of the leagues in the past stating that, "The Premier League was matches over two-to-four days once, twice, or three times per year, but there was no storyline. Every single event was independent of each other. Poker Superstars Invitational I don't remember, since I was probably not born when it happened, and the Epic Poker League is the same story [as the Premier League]. We are talking about a buy-in event where it is just a bunch of individuals."
Next, there have been team-play events before such as Dream Team Poker or the World Cup of Poker. In regards to those, Dreyfus shared that while it is true that team play in poker is nothing new, that the GPL takes it to a new dimension primarily by attempting to provide a better fan experience and a longterm storyline.
"The World Cup of Poker was a promotion of PokerStars and there was not a legitimacy of the choice of players," Dreyfus said. "And neither was Dream Team Poker. Meaning that the manager or team captain was chosen with no idea why and that guy was just choosing his friends with no legitimate story behind it. To participate in the World Cup of Poker, you had to play in a freeroll on PokerStars and then you represent your country.
"I'm sorry that is not how we see what we are doing. We have a model which collects every live poker result in the world. On top of that, we have the GPI rankings. If the formula good or bad if irrelevant. It gives a picture of who are the best poker players in the world. The fact that someone is first or fifth or the other way around is irrelevant to the big picture. You have an authority and concept that tells you that we have the 1,000 best poker players over the past three years. Then you choose the best poker players from that group of 1,000. That's why we did the draft."
The GPL Draft
As for the draft, which was certainly an exciting part of the GPL process and really played into the lead up of the league, Dreyfus pointed to its importance in helping develop a narrative of the league. If we're going to think of the GPL as a book, the draft was the first chapter or two.
"There was a real logic, storyline, and narrative," he said. "With all the best poker players that played the WSOP, WPT, EPT, etc. coming to be part of a pool of players. We had 203 sign up and these players become draftable. They are picked up by the team managers to win."
"The fact that there was other team events in the past, yes, we haven't invented poker. Guess what? On GPL we also play with cards. Again, this is irrelevant as you can't compare the Dream Team Poker that was a primary kind of thing that lasted one and a half years with a global scale of 12 teams that are branded. The GPL focus is not an event for players, it's an event for fans and spectators. Our goal is to shift from a player and customer experience to a fan experience. Our goal is not to compete with the World Series of Poker or the World Poker Tour. This is not our job. Our job is to create content and a framework and platform where the best poker players play, as you can see on Twitch right now, get into their heads, and build a story over the weeks and over the months."
It appears as well, that the same differences can be applied to the GPI World Cup where eight teams are competing over the course of just two days without a draft and without the longterm storyline Dreyfus repeatedly pointed to regarding the GPL.
While poker streaming is relatively new, the GPL wasn't the spawn of this new phenomenon. But, Dreyfus explained how GPL brings a new dimension to live-poker streaming due to the access of multiple players broadcasting poker at the same table.
"What I meant [about poker streaming being new] is that the fact it is the first time ever — nobody can claim otherwise — that you are in the head of the players commenting their hands [during GPL play]," Dreyfus explained. "Usually when you watch Jason Somerville on Twitch, you have Jason Somerville's head. In our case, you have Olivier Busquet and Thomas Marchese with access to both their commentaries, both their brains, and both their hole cards at the same time. This has never been done before in the world."
With the gears now cranking, the GPL is in motion. As with any new project, mistakes will be made along the way. With those mistakes, it's important to understand the challenges one faces and to learn in order to grow. Constant improvement in any venture is paramount to success. As one way to highlight this, Dreyfus pointed to the draft.
"We learned while working with the draft, for example, that we had a lot pressure and stress," Dreyfus said. "I do not think there were any significant mistakes with the draft other than it was too slow. During the rounds we should have made a three-minute countdown. That is one of the things I will improve next year. Next year we will have much more data and statistics on the players. We did not do it this year for the simple reason we got 203 players that signed the GPL contract, and we just didn't have the resources to set up that many profiles."
Another mistake Dreyfus pointed to that he hopes the GPL can learn from also pertains to the draft, saying not enough content was able to be provided because of too many players.
"Our success was actually an issue with getting too many players, and we were not able to provide enough content on the live stream," Dreyfus admitted. "Next year is going to be different, as we are going to have less players because they are already drafted and it will be a better experience as well."
Following the eSports Model
Dreyfus compares the beginning of online play to that of the origins of eSports, which continue to grow immensely in popularity. He also continually shared that as a small company, mistakes will be made, however, unlike a decade ago those mistakes may be magnified due to social media.
"The first day we did a rehearsal was the day before the GPL," he said. "We are not PokerStars or the World Series of Poker, we are just a small company trying to do something that has never been done. If you look at any eSports event 10 years ago when it started, it is very similar to what we do. The only difference between what GPL has done and what someone tried to do 10 years ago is that we are very much exposed, as it is 2016 with Twitter, social media, forums, and other platforms. If we were to make mistakes 10 years ago, nobody would say anything. We have to accept making some mistakes and be caught making some mistakes.
"To be fair, I didn't have any say in the draft process. Everyone had their own strategy as we have seen with Celina Lin drafting very local for the Hong Kong Stars. Some others went with a more global strategy, including Chris Moneymaker stealing a player in Jonathan Duhamel from the Montreal Nationals. Everyone set their strategy with two goals: one being to win, and another was to create stories and create marketing power."
Dreyfus also shared with us that the selection Bryn Kenney made of his brother Tyler Kenney as a wildcard for the New York Rounders may have received approval from his teammates.
"Bryn Kenney decided he wanted to take his brother and I believe he asked all his team members before selecting," Dreyfus said. "Having two brothers is a story we can market."
Among the perceived problems some noted about the draft were while it was taking place rule changes occurred regarding wildcard picks.
"We got much more players [than expected] that signed up to the draft pool," Dreyfus began. "We got 203 players and the quality of that pool was very high. Which was good, but it became an issue. So two weeks before the draft we added one player per team, which was an additional cost to the team. We had a model where we had 12 teams of five players go to 12 teams of six players. That was absolutely not expected or planned, but we believe it was needed because I didn't want to waste the pool of talent and players that said, 'You know what guys? This is a leap of faith, I want to be part of it.' So I didn't want to disappoint the players that wanted to be part of it.
"Then during the draft, it wasn't that we changed one rule — managers actually wanted to take players that were not part of the pool, and I declined that. We have 203 players that committed and signed to be a part of it. It would be an insult to them to actually take players that are not part of that pool. So we asked that the first picks be part of the pool and not part of the wildcard pick."
After focusing on the draft, we wanted to know what else Dreyfus believed needed improvement.
Aware of Needed Improvements
"Everything needs improvement," Dreyfus proclaimed. "We are four weeks old which is technically just 12 days old for a project that is going to last 10 years or more. You want me to list the hundreds of things we can do better? It would be very easy, but irrelevant. When I said we can improve the draft, that's because the draft is done and I believe it could have been done a bit faster. We wanted to have more statistics about the players when they were picked and wanted a scoreboard or statistic's board where you see all the pictures of the players and their information. The problem to do that is we needed to have 203 screens to be ready which wasn't possible. That is the kind of thing we want to improve and we need more technology and resources.
"Some of the things we can improve concerning the GPL include the quality of the live stream, having more commentaries, trying to improve the fact that our players' Skype has different quality by instead of talking to the computer they can talk into a mic. This means we would have to send 72 mics to different places in the world. So there are a lot of logistics issues, but again we are just discovering that. When you think about it, we have been very lucky because after four weeks old the players have been there on time and we never had any disconnections what-so-ever."
These were not the only things Dreyfus mentioned that need improvement as in the future there will be many more statistics made available to fans watching the live broadcasting of events.
"We also have to improve the sound and we are lacking statistics we want to show," Dreyfus shared. "For example, when you play on the final table of the World Series of Poker, there is no information about your game-play before you arrived to that table. So there is no historical information. In our case we have 72 players that play on our platform and what we are going to be able to do later in the season and much more in season 2 is defining profit of the players preflop, postflop, bluff won, bluff lost, etc. So we are going to be able to push much more information, but we can't do it until we are deeper in the league since we haven't aggregated enough statistics."
"Can we improve things?" Dreyfus asked himself. "Of course we can. Even the WPT and WSOP can. Even ESPN can. Just for us, give us a break, we are four weeks old and for now our priority was to pull it off. Meaning where nobody believed that we would be even able to start the league. First nobody believes we would be able to have players. Then nobody believed we would be able to have a draft that was interesting. The draft was amazing even for me. Then nobody believed that we would be able to pull it off."
"Is it perfect?" Dreyfus rhetorically asked. "Obviously not and I am the first one to say that. Perfection is irrelevant and what matters is to try, to fail, and to fix. Meaning like any scientist, we know where we want to go, but we don't know the formula that is going to work. So we are going to try many things, and sometimes they are going to work and sometimes they will fail. It doesn't matter. We just do our stuff and we go where we want to."
Recently, the GPL signed a landmark deal with Sina Sports to broadcast daily coverage throughout China. Dreyfus explained why these types of deals will help the long-term success of the GPL.
"Sina Sports is a media deal in China which is the second one we have done after USA Today," stated Dreyfus. "So today we have UsaToday.com/sports/poker and soon we are going to launch something similar on Sina Sports as well."
"It is a distribution deal where all the content of the GPL is going to be translated into Mandarin Chinese in order to reach the Chinese audience," continued Dreyfus. "There is more about to come in China and other territories. The success of the GPL - and when I say success I mean the next five years and not tomorrow morning - will depend in its ability to have distribution channels that allows people to watch GPL. Today that is not the reality."
"We are four weeks or just 12-days of live coverage old. So we are very young and have only achieved about one percent of what we want to develop," added Dreyfus. "To grow GPL, to grow interest in the teams, the players, and interest in the game of poker will, the key will be our ability to have deals like Sina. Sina is a milestone and landmark deal since you have the biggest sports destination in China that is now going to cover GPL every single day."
Stay tuned for Part 2, where Dreyfus talks more improvements to the GPL, goals, and more.
Get all the latest PokerNews Canada updates on your social media outlets. Follow us on Twitter and like us on Facebook!