An Inside Look at the Global Poker League, Part 2: Goals of the League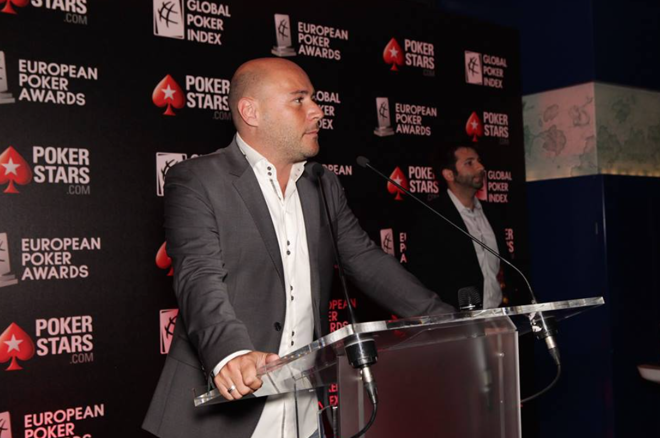 The Global Poker League (GPL) is in its relative infancy, with five weeks completed in a long first season. With just over one month of running time in the books, PokerNews talked with Mediarex Sports & Entertainment CEO Alexandre Dreyfus, whose company owns the GPL, The Hendon Mob, and the Global Poker Index (GPI).
In Part 2, Dreyfus talked more about improvements to the league, goals, and more.
Defining a Goal
After talking a lot about improvements that could be made to the GPL in Part 1, Dreyfus explained to us that there could be a misconception of what the GPL's goal is.
"Sometimes I think there is a big misunderstanding in what our goal is," shared Dreyfus. "Our first goal in year one is to target the poker community and poker fans. Our vision is that in the world right now there is 100 million poker fans outside of China. People who claim to be a fan of poker include people that sometimes play on Zynga, sometimes they play on PokerStars, or just play with friends and may not know anything about online poker or even the World Poker Tour or the World Series of Poker. The problem this creates is that poker fans are very fragmented. What this means is that when friends play at home, for example, there is no storyline or narrative where you can go back and say, 'Hey, remember the match last night? What a hand! What a bluff!' Our vision is that we want to aggregate the existing community in order to create a significant audience all year long. So every day, every week, there is a GPL story to be told."
This isn't to say that Dreyfus expects the GPL to capture the entire audience, as he would be happy if the league attracts just a small percentage of that.
"When I say I want to aggregate, it doesn't mean we want to have a 100 million audience, as we would be happy with a one, two, five, seven percent of that," explained Dreyfus. "We just want to tap that audience of educated poker players that doesn't have that content that isn't available today until now."
From talking to Dreyfus, it becomes clear that the longterm goal of the GPL is to reach a wider audience than just those already attached to poker. If that happens, it's a good thing for the game and one we can all benefit from.
"The next step is to reach a larger audience and to educate new potential fans, but we don't want to do that today, except in China and maybe in some other territories where there are no real poker fans yet because the game hasn't been exposed the same way it has been elsewhere," shared Dreyfus.
As for the GPL's current reach, where it's at is a big question for many.
"While we won't disclose exact numbers, on a weekly basis we are reaching a six-figure audience which is something that didn't exist weeks ago," commented Dreyfus. "Don't forget as well that we have no marketing power. We invest zero in advertising and marketing to drive traffic to our audience and we try to just grow organically. Depending on the day on average people are watching between 31 to 41 minutes in terms of people watching our content, which is great."
Now, while those statistics do sound great, it stuck out to us that Dreyfus said the league isn't spending any money on marketing or advertising, as one would think those two things would need some sort of spend in order to advance the league's growth.
"It isn't that GPL doesn't have resources to pay for things in the short-term, but the success of the GPL will be its ability to last long," said Dreyfus. "Meaning that it is a marathon. It's not a game where the winner spent the most right now. GPL has to exist for the next three to five years. To achieve that we need to work in an environment that has to be a low-cost environment.
"If you do everything like ESPN, which takes much more money to produce the content, then we will just never survive because the business model will never be able to catch on your costs. So what we do has to grow organically, meaning you can't buy legitimacy. You can't buy love. So GPL has to first of all exist, secondly deliver the product we said we are going to deliver, which is happening, and then to last very long."
Money Talks
In July 2015, Mediarex Sports & Entertainment announced that is raised $4.9 million in investments, but starting a company doesn't come cheap. Dreyfus shared that the initial $4.9 million investment will not be enough to cover the full cost of the league.
"We will raise more capital, you will see an announcement later this year about that," commented Dreyfus. "Again though, spending money is very easy. Anyone can spend money. The question is to spend it smartly and to do so you have to have a longterm vision. Our longterm vision is building a league that is relevant with the right players playing the right product and the right format, filming that, and distributing that on different platforms, primarily digital platforms."
"Guess what? GPL costs much more than $5 million — not per year, but I am talking about as a whole project. Why it has a chance to succeed is I am not coming from the background of a poker player unlike the Epic Poker League, Poker Superstars Invitational, Premier League, and Dream Team Poker. Meaning that my background and ability to raise capital and convince media is a key element to the success of the league."
Dreyfus further elaborated on the existing two mainstream media deals stating, "If you think about it, the two countries we managed to make media deals are the USA, where online poker is illegal, and China where online poker and gambling is illegal. Meaning most of the discussion I have aren't with gambling groups, but with entertainment and live event companies. When I talk live-event companies, I am not talking about poker, but live events such as music and entertainment. I am talking to some media groups who are looking for new content. What we are doing is packaging a poker story that can appeal first to poker fans and secondly in the future to a larger group of future poker fans."
So why wouldn't spending money on marketing now help achieve the goals the GPL wants to achieve?
"We are not ready for that," Dreyfus commented. "First we need to make sure that the product we put out is worth spending marketing dollars. Which again, right now, we are just weeks old, so wait a bit. What people need to understand is our priority in 2016 is not to reach the mainstream. First is to appear legit to the poker community and to the existing poker fans. Once we have that legitimacy and grassroots foundation, then we can really expand out of it. But it would be naive and probably stupid to change in year one and spend millions to promote something that hasn't yet managed to prove to be legit for all of the world."
Dreyfus denied to comment on how much of the $4.9 million investment has been spent thus far, stating that the GPL is a private company. However, he did comment that money was spent to bring USA Today on board for GPL coverage elaborating that, "We use marketing dollars to ensure media coverage that is not used to cover poker."
Dreyfus added the the Chinese media deal did not require any marketing spend, stating, "For Sina Sports we do not pay anything." He then added that, "I don't want to bring people to poker, I want to bring poker to people. What I need to do is ensure that we are placing GPL in an environment where it can be seen."
What's Coming for the GPL?
Live poker will replace that of the current online format later in the year. There is a lot of buzz among poker players, as they are widely anticipating new formats with players standing up in The Cube.
However, Dreyfus hopes to manage the expectation of GPL fans sharing that The Cube will likely not make its debut until the finals in London, explaining that the building of the poker league is a longterm process.
"I do believe there is a big expectation, which is part due to the buzz we try to make around what we do," said Dreyfus. "Now we have to stick to the reality of doing a business that is losing a ton of money. We have to manage like it is a marathon and the goal is not to burn out in year one by trying everything this year. It's a long journey. We have to be patient as it can't all work in one year. We have tons of ideas, but have to be careful to grow step by step.
"We are going to have live events during the World Series of Poker in our live studio in Las Vegas, but The Cube won't debut until the final. Creating an event like that costs seven figures, and we can't do that five times a year as it would not be viable. So we are going to have The Cube at the final in London in a sports arena. We are also going to launch something called the GPL Pro Plus Amateur where you as a poker fan will actually have a chance to have a chance to participate in The Cube in London as well."
While explaining much of building a league is done by planning along with trial and error, Dreyfus also shared with us that he wouldn't have imaged two years ago that the GPL would even take place in an online poker format.
"We try many things and we fail at some as well," admitted Dreyfus. "If two years ago you told me, 'Alex, I heard you are going to do an online event for GPL,' I would have laughed to you. I would have said, 'No way is it going to be online.' Then I realized that eSports and online poker can be watched if it's made correctly and I think we have managed to do so. So whatever we are going to do live is actually going to improve the experience especially in the playoffs and the final."
Dreyfus believes in a few years things will be running very smoothly and will grow into an even greater experience for GPL fans.
"I want people to be careful in their expectations because we have a lot of work to be done in the next two to three years to make this rightfully and that is going to take time," shared Dreyfus. "GPL success is not just about poker. It is about the ability to build the right relationships with digital poker all over the world in order to ensure that the content, the players, and the teams are to be seen. That is the key thing and that is why GPL has a chance. GPL has been built by entrepreneurial poker players to build the game thinking out of the box."
To read Part 1 of this interview, click here.
Get all the latest PokerNews Canada updates on your social media outlets. Follow us on Twitter and like us on Facebook!