Playground Poker Spring Classic Spreads 17 Events; Benny Chen Wins Again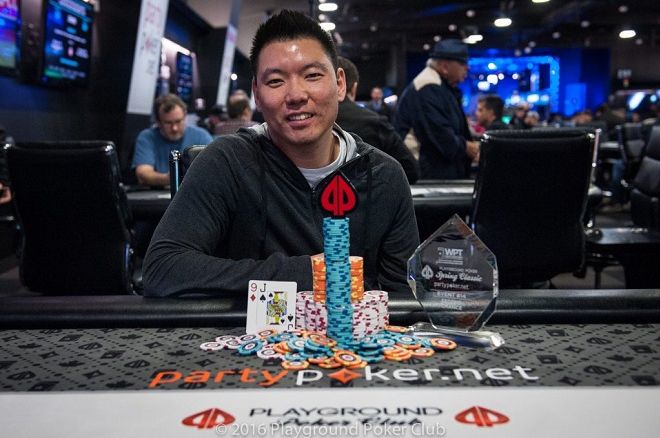 The impressive tournament hall at Playground Poker Club in Kahnawake, Quebec, was busy once again the last two weeks with the return of the Playground Poker Spring Classic, highlighted by a World Poker Tour (WPT) Main Event.
With a busy schedule of 17 events spread across 19 days, there was a lot of tournament poker on offer at Playground Poker Club. Of course, it all culminated in the marquee event, the WPT Canadian Spring Championship, and American Seth Davies stole the title, earning $256,390 in the $3,500 tournament. All of the other 16 event winners were Canadians.
It's Playground's signature to kick off a series with an incredibly affordable multi-day event with a large guarantee and the generous stacks and blind levels one would only expect to find at a much larger buy-in.
Event #1: The Wild $150, guaranteed an incredible $100,000 despite the tiny buy-in, and four starting flights helped accumulate 1,168 entries to push well past the guarantee to $152,949 in play. The winner, Tina (no surname provided), turned her $150 investment into an impressive $24,950 when she came out on top after a heads-up deal. Martin Lapostolle picked up runner-up money of $21,949.
The second event was a $220 freezeout that saw 179 players buy a starting stack, putting $27,392 in the prize pool. The second female winner in as many events was found when Kathy Sawers scooped up the trophy and $5,670. There was a deal made six-handed and the second-place finisher, Garen Galenti, actually earned more, taking home $5,985.
Next up was The $250 Frenzy with six starting flights — two per day on Friday, Saturday, and Sunday. The prize pool was guaranteed at $200,000 and a total of 1,248 entries surpassed that number by more than $70,000. By the time Day 3 came to an end, Jaroslaw Jaskiewicz found the win after a three-way deal. Zeng-Yi Xie picked up $31,640 for being the first eliminated after the deal, followed by Simon Pin-Disle who actually earned the most with $37,477 paid out to him. Jaskiewicz collected the trophy, the title, and $36,884.
Event #4 was a single-day $110 deepstack turbo that received 136 entries. Andrew Dick won that tournament for $1,965 after a six-way chop was agreed to.
Another one-day tournament followed. The $550 freezeout saw 134 entries and Rong Xu was the victor this time. There was a five-handed deal and third-place finisher Rodney Ramalho actually earned the most with a $11,740 payday. Xu's win earned him $10,425.
The gloves came out for Event #6. The $220 knockout tournament saw $100 from each buy-in go to the prize pool and another $100 was the player's bounty. With 274 entries, it took nearly nine hours of play to crown a winner in Darryl Beal. He was the only player to keep his own bounty chip, cashing in a total of 13 of them for $1,300 on top of the $5,148 from the prize pool.
Another knockout tournament followed for Event #7, but the price of admission rose significantly to $1,100. Each bounty was worth an impressive $500, making for some exciting action at the tables. Vancouver, B.C.'s Mark-Daniel "MD" Hughes collected the most bounty chips, cashing in 10 of them for $5,000. But he finished in eighth place for $2,500. Jeffrey Cormier topped a three-way deal and picked up $15,620 for the win as well as $4,500 from his nine bounties.
A unique tournament was offered as Event #8. With a buy-in of $330, players had to survive to the top 10 percent of the field to earn a payout, which isn't unusual, but all of those players earned the same payout. A total of 136 players played down to the 13 players who earned $2,910 each and the 14th-place finisher picked up the balance of $1,746 from the prize pool.
The game switched to pot-limit Omaha for Event #9 and a single rebuy was allowed in the $550 tournament. There were 48 unique entries and 13 rebuys to create a prize pool of $29,585. All of the eight players who cashed were part of a deal to even out the prize pool. Chris Arvanitis ended up with the most at $5,350 but finished fourth. Ambrose Ng picked up the win and collected $5,310.
Event #10 was the prestigious $3,500 WPT Canadian Spring Championship, collecting 417 entries across the three starting flights. The prize pool reached a massive $1,294,368 and dozens of poker's best players were in contention for the title. However, it was Seth Davies who topped the talented field and earned $256,390. More details can be found in our article dedicated to just that tournament.
Playground added a new tournament to their portfolio with Event #11: $165 Seniors' Event. They set the age at a generous 50 years old or better and 151 players came out for the occasion. Pierre Remillard picked up $5,200 when he came out the best.
Event #12 was a $165 tournament for the ladies and 61 entries played down to a winner in about eight hours. Tina Howie claimed the trophy, the title, and $3,000.
That was followed by a $550 freezeout with 161 players at the tables. They played down to one man and it was Jonathan Bussieres who was left standing. He earned $18,400 for the win.
Event #14: $1,650 Second Chance had the second-largest buy-in of the series and took place across two days. A total of 127 entries created a prize pool of $184,785 and Benny Chen earned the win again. "Again" because he also won the most recent Second Chance tournament at Playground last November. Of course, Chen is best known for winning the World Series of Poker Millionaire Maker in 2013 for $1.2 million. Notably, Ari Engel was also at the final table. He finished in fourth place for $16,510.
Another freezeout tournament followed. With a buy-in of $330, 109 players came together and David Guay earned $7,219 for the win.
The penultimate event was a $220 eight-max tournament and 197 entries were tallied. Michael Gabrial was the victor, earning $4,814.
The last tournament in the series was another knockout tournament. The $330 event awarded $100 bounties for each elimination. There were 231 entries to put just under $45,000 in the prize pool, not including the bounties on each player. A six-way deal was made and Joey Boczek walked away with the win and $5,074.
That concludes another huge series at Playground Poker Club with players from all across the country and beyond taking to the felt. There were well over $2 million in prizes awarded.
Next up at Playground is a first-ever live Canadian appearance by 888poker for 888Live Local Montreal running June 15 to 20.
Details and photo courtesy of the Playground Poker Blog.
Get all the latest PokerNews Canada updates on your social media outlets. Follow us on Twitter and like us on Facebook!