2016 WSOP Day 10: Daniel Negreanu Among Final 12 in $1,500 Razz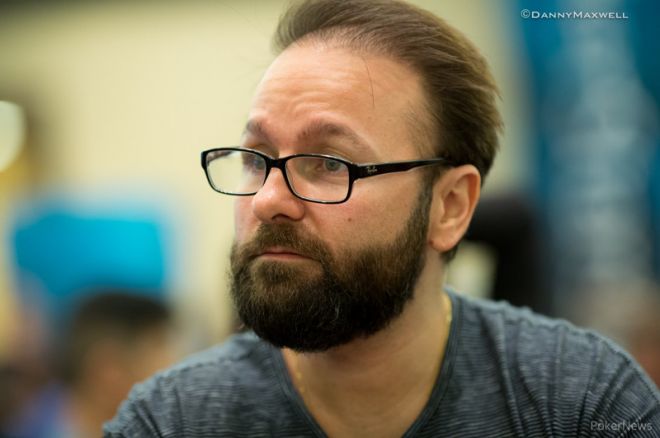 The 2016 World Series of Poker (WSOP) resumed on June 10 at the Rio All-Suite Las Vegas Hotel and Casino with a bracelet awarded in both the $1,500 6-Handed No-Limit Hold'em and the $10,000 Dealers Choice 6-Handed Championship. The $565 Pot-Limit Omaha and $1,500 Seven Card Razz moved along to Day 2 and the $1,500 Millionaire Maker and the $1,500 Eight Game Mix kicked off.
Mike Cordell Wins Event #10: $1,500 6-Handed No-Limit Hold'em
The $1,500 6-Handed No-Limit Hold'em event kicked off on Wednesday with 1,477 entries tallied up on Day 1. This created a prize pool of just under $2 million with the bulk of it paid out on the final day on Friday.
Just 21 players returned for Day 3, led by Spaniard Javier Garcirreynaldos with 1,440,000 chips. Two Canadians also returned for the final day. Andrew Kim resumed play with 399,000 chips to play with while Eric Afriat had 217,000 to work with.
Andrew Kim was one of the first eliminations of the day. He departed in 20th place for $17,380, leaving Canadian bracelet hopes on one man. But Eric Afriat was unable to collect any more than his countryman, finding himself eliminated in 17th place for the same payout of $17,380.
The biggest storyline on the final table of nine was the appearance of Belgian Pierre Neuville who was a November Niner last year. He ultimately finished in seventh place in the 2015 Main Event, collecting a little over $1.2 million.
He ran deeper on Friday's final table. He found himself heads up for his first WSOP bracelet against Arizona's Mike Cordell but at an enormous disadvantage. The heads-up match began with Cordell having about a 16-to-one chip lead.
Neuville doubled once, then twice, giving him a chance to battle his way back. He worked his way to about a four-to-one disadvantage in chips, but his rise stopped there. Neuville pushed all in from the button with


and Cordell made a quick call with


. Neuville was racing for his tournament life and wasn't able to win the flip when the board ran out





, sending him to collect a runner-up prize of $213,837 while Cordell pocketed $346,088 and his first gold bracelet.
Jean Gaspard Wins Event #11: $10,000 Dealers Choice 6-Handed Championship
The $10,000 Dealers Choice Championship is one of the premiere events on the WSOP calendar. In addition to the prestige gained simply from being named Champions, the winner of the Dealers Choice Championship is often seen as one of the most well-rounded players in the game.
Winning in Dealers Choice requires all the same skills as any single-discipline event, plus all the skills of rotation games like H.O.R.S.E. and adds a layer of unpredictability that forces players to be ready to employ the necessary strategy for specific games at a moment's notice.
By the time registration closed on Day 1, 118 people paid the $10,000 entry fee looking for a shot at the bracelet. After the first day of play, just 41 players remained in contention for the 18 paid spots. Canada's Greg Mueller took a decent stack into Day 2, but wasn't able to make it through to the money or the final day of play. Jean Gaspard bagged the biggest stack at the end of Day 2, amassing 318,700 chips, the only player to break the 800,000 barrier. Gaspard was looking for his first bracelet after 18 previous cashes at WSOP.
Coming into the final day in second was Dan Smith, also looking for his first bracelet. The full final 11 break down as follows:
| Player | Chips |
| --- | --- |
| Jean Gaspard | 814,000 |
| Dan Smith | 707,000 |
| Mikhail Semin | 680,000 |
| John Monnette | 640,000 |
| William O'Neil | 633,000 |
| James Obst | 592,000 |
| Alexander Kostritsyn Volzhsky | 508,000 |
| Andrew Brown | 418,500 |
| Randy Ohel | 388,000 |
| Viacheslav Zhukov | 330,000 |
| Richard Ashby | 197,000 |
As the smallest stack coming into Day 3, it was no surprise when Richard Ashby was the first to leave on the final day. It took nearly an hour and a half for Ashby to bust on a seven-card stud hi-lo hand against Randy Ohel (Ashby finished 11th for $20,278), but he opened the floodgates with Alexander Kostritsyn ending his day in 10th for $27,362 and Dan Smith (ninth, $27,362) busting out within an hour after him.
Andrew Brown was the next to exit during a badeucy round over an hour after Smith left the stage. Brown was crippled in a hand against Billy O'Neil that both players started out drawing three on. By third draw, both players were patting with O'Neil showing down a eight low with an eight badugi while Brown mucked his hand, leaving him with less than a single big bet. Brown doubled up on the next hand, but was eliminated on the very next hand as O'Neil finished the job. Brown won $37,167 for eighth place.
Play moved to the unofficial final table and slowed to a snail's pace. Close to three hours passed as the seven players traded chips back and forth before the official final table was set. Just before the dinner break, James Obst went down in a stud hand against the start-of-day chip leader Jean Gaspard after Obst was crushed by Randy Ohel in a previous stud hand. Obst pocketed $37,167 for seventh place.
Viacheslav Zhukov was the first player to leave the official final table, falling to Jean Gaspard during a no-limit hold'em round. Zhukov three-bet all in from the button with


but ran into the tens of original raiser Gaspard, who called his raise. Zhukov had a hope when Gaspard hit his set on the turn — the

making Zhukov open-ended — but the river fell dry for Zhukov who collected $50,818 for sixth spot.
Gaspard was also the author of Mikhail Semin's fate, eliminating the Russian player in fifth place. Semin collected $69,937 for his work and play continued four-handed for over an hour before Randy Ohel became the fourth-place finisher for a payday of $96,786. Ohel finished on a "Big O" hand where John Monnette took the whole pot with aces up.
Shortly after Ohel left the stage, the tournament went heads up as John Monnette hit the rail in third place. With the smallest stack in the final three, Monnette had to make a move to have a chance, so he three-bet his whole stack over top of Gaspard's open in a no-limit hold'em hand. Gaspard called and his


was well behind Monnette's


. By the turn, however, Gaspard held a flush draw and Monnette could seemingly feel the end was at hand as he called for the four on the river. The deck obliged, delivering the

, sending Monnette to the cage to collect $135,061.
Heads-up play was a short affair as Billy O'Neil came to heads-up with a three-to-one chip deficit against Jean Gaspard. O'Neil was able to claw a few chips back, getting to nearly half Gaspard's stack after winning with two pairs in a stud hand. Gaspard's chip advantage would prove too large, however, as Gaspard took down the tournament shortly after on a no-limit hold'em hand where his


hit two pairs to cap O'Neil's pocket pair of tens. O'Neil won $189,505 for his second-place finish while Gaspard took home $306,621 as well as the coveted gold bracelet for the win.
Event #12: $565 Pot-Limit Omaha Day 2
Colossus II gave hold'em fans a chance at a cheap WSOP event. This year, the ever-growing popularity of pot-limit Omaha earned fans of that game a cheap WSOP event as well. The $565 Pot-Limit Omaha event kicked off on Thursday and received 2,438 entries, creating a prize pool of $1,241,500.
Just 80 players returned for Day 2 on Friday and American Alexander Ahmed began the day with the chip lead with 517,000 while David "ODB" Baker followed with 482,000.
Samuel Ngai (159,000), Sam Chartier (119,000), Grant Ellis (109,000), and Ryan Gilliland (25,000) were the only Canadians to return for Day 2, and one made it through for the final day.
With just nine players left for Saturday's final table, Grant Ellis will return as the short stack with 590,000 chips. Regardless of where he finishes, this is already the best Canadian finish at the WSOP so far this year.
Florida's Syed Shah will return as the chip leader for the final day, and Ryan Laplante and Darryll Fish are the most notable players who will also have a seat trying to win the bracelet.
The other three Canadians who had chips at the start of day began falling early. Ryan Gilliland was the first out, finishing 77th soon after play resumed for $2,032. Samuel Ngai went on to collect $2,826 for 59th place, and Sam Chartier made it as far as 32nd before he was eliminated for $5,006.
Event #13: $1,500 Seven Card Razz Day 2
The $1,500 Seven Card Razz marks the first tournament featuring the lowball stud variant of the summer and it drew a lot of stars into the ranks of 461 players who started out on Day 1. At the end of the day, just 117 players remained with the top 70 players set to get paid out.
Five Canadians managed to bag chips at the end of Day 1, but with nearly 50 spots to clear before hitting the money on Day 2, not all of them would make it to the cage. Raymond Muzyka and Joshua Herman, both of whom came to Day 2 with small stacks, couldn't put a run together and busted before the money. Mike Watson managed to add one more cash to his impressive WSOP record, finishing in 44th place for $2,674. Thomas Taylor notched his first cash in the 2016 season and his 13th overall with a 28th-place finish worth $3,401.
By the end of Day 2, just 12 players remained with chips in front of them. While Russia's Alexey Makarov leads the way into Day 3, Hall of Famer Daniel Negreanu marks Canada's first chance for a bracelet, bringing 375,000 chips into Day 3, good for the fourth-place stack. Some of the other familiar names on this star-studded final day will include Rep Porter (309,000), Matt Grapenthien (286,000), David Benyamine (275,000), and Shaun Deeb (196,000).
Event #14: $1,500 Millionaire Maker No-Limit Hold'em Day 1a
The popular Millionaire Maker kicked off on Friday with the first of two starting flights, promising at least a $1 million prize for each of the top two finishers. The dream of seven-figure money for a low buy-in of just $1,500 brought 3,893 entries to the tournament on Friday and a little over 500 survived the day to advance to Sunday's Day 2.
Finishing at the top of the counts was Las Vegas local Frank Rusnak with 200,500 chips. The top Canadian had a 17th-place stack of 112,000 and belonged to Garrett Dansereau. Some of the other notable Canadians to survive the day included Jimmy Lee (68,800), Benny Chen (64,900), Matt Jarvis (41,600), Jean-Pascal Savard (30,500), David Quang (21,200), Jaspal Brar (21,000), Eric Place (17,800), and Robert Cheung (13,000).
Another starting flight will give players one more chance on Saturday to qualify for Day 2.
Event #15: $1,500 Eight Game Mix (6-Handed) Day 1
For mixed-game fans, the $1,500 Eight Game kicked off on Friday. Players cycled through eight different poker variants throughout the day, trying to build a stack for Day 2. The mix is made up of no-limit hold'em, stud, Omaha hi-lo, razz, pot-limit Omaha, limit hold'em, stud hi-lo, and deuce-to-seven triple draw.
A total of 491 entries created a prize pool of $662,850. After 10 hour-long levels, 107 players still had chips to bag for another day. Leading the way was Las Vegas local Brandon Cantu with 126,800 chips, but Canadian Chris Kruk followed with the second-best stack of 86,300.
Several of Canada's best will also return for Day 2. Mike Watson (18,400), Mike Leah (16,000), Sorel Mizzi (8,600), and Gavin Smith (7,200) will be back on Saturday to try to survive another day.
What to Watch For Tomorrow
Winners will be decided in the $565 Pot-Limit Omaha and the $1,500 Seven Card Razz on Saturday, June 11. The $1,500 Millionaire Maker will fire up the second starting flight to add to the field, and the $1,500 Eight Game Mix will progress to Day 2. The $10,000 2-7 Draw Lowball Championship (No-Limit) will also kick off.
Check back with PokerNews Canada tomorrow for an update on all of those events. Good luck to the Canadians in the field!
Details courtesy of the WSOP Live Updates.
Get all the latest PokerNews Canada updates on your social media outlets. Follow us on Twitter and like us on Facebook!