2016 WSOP Day 13: Mike Watson Narrowly Misses First Bracelet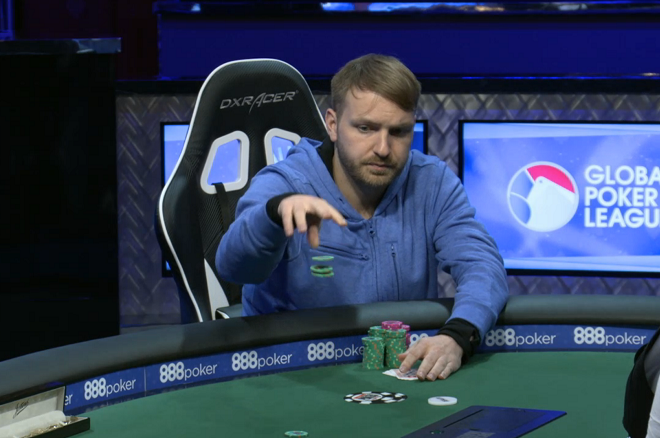 The 2016 World Series of Poker (WSOP) resumed on June 13 at the Rio All-Suite Las Vegas Hotel and Casino with a bracelet awarded in the $10,000 2-7 Draw Lowball Championship (No-Limit). The $1,500 Millionaire Maker moved on to Day 3 and a $1,000 hold'em and the $3,000 H.O.R.S.E. progressed to Day 2. Also, a $1,000 pot-limit Omaha event and the $10,000 Seven Card Razz Championship got underway.
Event #14: $1,500 Millionaire Maker No-Limit Hold'em Day 3
The popular Millionaire Maker kicked off with two starting flights across Friday and Saturday, receiving a total of 7,190 entries. At least a $1 million prize is promised for each of the top two finishers and the field got one day closer to a champion after 124 players returned for Day 3 on Monday.
The top Canadian hope moving to Day 3 was Benny Chen who began the day eighth overall with 926,000 chips and he managed to last as long as 39th place where he was eliminated for $26,470.
By the end of the day, just 15 players remained and one Canadian was among them. Theodore Timmermans bagged a relatively short stack of 1,730,000 for the final day. Italian Alessio Dicesare held the most chips when play paused, counting out 7,200,000 for Day 4.
The best Canadian finish on Monday was Min Huang's 25th-place result, collecting $37,485. Omid Shahbazian (37th — $26,470), Ryan McGarry (45th — $26,470), Neal Thornton (58th — $17,819), Jeff Mahoney (69th — $14,789), Jimmy Lee (89th — $10,428), Eric Machtinger (97th — $8,860), and Andrew Yip (116th — $7,589) also pocketed a piece of the prize pool.
Jason Mercier Wins Event #16: $10,000 2-7 Draw Lowball Championship (No-Limit)
Another Championship event came to a conclusion on Monday with the highest-priced deuce-to-seven single draw tournament of the summer awarding Jason Mercier with his fourth WSOP bracelet.
The final nine out of a field of 100 entries returned for the final day of lowball single draw and Jason Mercier began the day with the chip lead. With the second-best stack, Canadian hopes were on Mike Watson to pick up this country's first bracelet of the summer.
We often refer to Mike Watson as the best Canadian poker player who doesn't have a bracelet, and he held the attention of poker fans across the nation as he crept closer and closer to finally getting WSOP gold.
Ultimately, Watson fell just short of the win. He finished runner-up for the fourth time in a WSOP event. Just as the day started with Mercier on top and Watson in second, the day ended the same way.
The two went into heads-up play with Watson holding a slim chip lead and, as David Tuchman commented on the live stream, the skill edge and chip advantage between the two was so negligible that the tournament was almost certainly going to take a cooler to decide the winner.
It did, indeed, come down to a situation where the two were almost always going to get their hands all in no matter what. Watson raised to 100,000 and Mercier called. They both drew one and Mercier checked. Watson bet 200,000 and Mercier pushed all in for 1,550,000 which Watson called after a few moments' thought. Fate dealt Watson a 97 while simultaneously awarding Mercier with an 86. Watson saw his bracelets hopes vanish and he collected $168,936 while Mercier earned $273,335.
Event #17: $1,000 No-Limit Hold'em Day 2
Another low-priced chance at WSOP glory kicked off on Sunday with a $1,000 no-limit hold'em tournament. By the time registration closed, a total of 2,242 entries had created a prize pool of over $2 million.
Just 239 of those players returned for Day 2 on Monday with Las Vegas local Stacey Nutini beginning the day with the best stack of 174,300 chips. About a dozen Canadians also had chips to play on Monday. By the end of the day, just 24 players remained and Felix Morin Dutil (321,000) was the only Canadian with chips.
Another Las Vegas local bagged the chip lead for Day 2. Danny Wong counted out a stack of 1,058,000 and was the only player to pass the seven-figure mark.
Canadians Phil Sousa (60th — $4,697), Steven Switzer (84th — $2,913), Shen Liew (97th — $2,537), Craig Tuch (112th — $2,234), Yichun Chou (133rd — $2,234), Adam Mouyal (139th — $2,234), Ryan Sood (146th — $1,988), Alexander Allison (151st — $1,988), Danial Hariri (153rd — $1,988), and Jason James (163rd — $1,988) all collected their payout before Day 2 ended.
The plan for Tuesday is to play from the final 24 players down to a winner. The eventual victor will receive $316,920 as well as a gold WSOP bracelet.
Event #18: $3,000 H.O.R.S.E. Day 2
The second day of the $3,000 H.O.R.S.E. event is in the books. The classic five-game mix kicked off with an even 400 participants on Day 1 and, by the time the day was over, just 144 remained with chips.
George Trigeorgis started the day with the most chips, stacking up 160,200 chips to resume action. He was well ahead of the second- and third-place stacks of Nicholas Kiley and Brett Reichert who bagged nearly identical stacks of 103,500 and 103,200, respectively.
Four Canadians managed to make it to Day 2 with chips. Leading the way was Mike Leah. The Torontonian already has a bracelet to his name as well as three Circuit rings, two of which he won in a 24 hour period in 2014. Leah brought 85,000 to the table. Joining Leah from the Canadian contingent was the defending champion of this event, Daniel Idema, who brought 38,500 chips to Day 2, as well as Aaron Duczak and 2010 Main Event Champion Jonathan Duhamel.
With only 60 spots paying out, most of the 144 people returning for Day 2 went home with empty pockets, including Duhamel and Duczak who both busted before the money bubble. Leah managed to work his stack into a paying position, but not much farther, as he exited the tournament in 55th place for $4,760. Idema managed to do a bit better, at one point working his middle of the road starting stack into the second-largest stack in play during Day 2 play, but ultimately couldn't hold on to defend his title. Idema collected $5,571 for his 33rd-place finish.
By the end of play on Day 2, just 16 players remained with Jared Talarico well out in front with a whopping stack of 825,000. The nearest stack was Gerald Ringe, nearly 200,000 smaller at 626,000. Chino Reem was close behind in third place with 620,000. Other familiar names making it to Day 3 included the runner up in the recent $1,500 Seven Card Razz, Michael Gathy, as well as oldschool grinder Eli Elezra.
Event #19: $1,000 Pot-Limit Omaha Day 1
The $1,000 pot-limit Omaha event kicked off on Monday, giving fans of the four-card game a low-priced shot at WSOP glory. When registration closed, 1,106 players elected to take a shot.
By the time 10 one-hour levels had passed, play paused for the night with 136 players remaining. But not before the money bubble burst with everyone finishing 166th or better collecting a piece of the $995,400 prize pool.
The very first payout of the event went to Canadian Sean Eichendorf for $1,503. Jonathan Duhamel (152nd — $1,554) and Gilles Paige (160th — $1,503) also pocketed some money before the day ended.
American Michael Luong ended the day with a chip-leading stack of 197,200. The best Canadian count was that of Sing Liu with 59,900 which was good for 30th on the leaderboard. Pablo Mariz (24,600), Jake Labonte (24,500), Stephen Ladowsky (14,500), Kyle Ho (10,200), and Chris Bond (9,600) make up the rest of the Canadian contingent to return on Tuesday.
Event #20: $10,000 Seven Card Razz Championship Day 1
The best and brightest in lowball stud came out for Day 1 of Event #20: $10,000 Seven Card Razz Championship. In total, 100 people signed up to take their shot at the Razz Championship. By the end of the day, just 45 players still had chips in front of them.
Some of the big names to buy in and bust before the end of the Day included Ted Forrest, Rep Porter, Daniel Negreanu, and Todd Brunson. Others, such as end-of-day chip leader David Benyamine, had better days. Benyamine bagged up 353,000 at the end of the night, more than 30,000 more than the second-place stack of Phil Hellmuth. Brian Hastings ended the day in third spot, amassing 251,000 over the course of the day.
Two Canadians made it to Day 2 as well. Shawn Buchanan finished the day in 42nd spot with 27,000 while Mike Watson bagged 34,500 chips, good for 40th spot, after coming second to Jason Mercier earlier in the Event #16 final.
Mercier also decided to jump into the razz after winning the deuce-to-seven bracelet, and he had a stellar day, bagging 149,000 good for 10th spot in the chip counts. Other familiar names to make Day 2 include Dzmitry Urbanovich, Robert Mizrachi, Mike Gorodinsky, Erik Seidel, and Max Pescatori, among many others.
What to Watch For Tomorrow
Two millionaires will be made and a bracelet awarded in the $1,500 Millionaire Maker on Tuesday, June 14. Another two bracelets will be won in the $1,000 hold'em and the $3,000 H.O.R.S.E. while the $1,000 pot-limit Omaha event and the $10,000 Seven Card Razz Championship will progress to Day 2. The $3,000 six-handed no-limit hold'em event and the $1,500 limit hold'em will also kick off.
Check back with PokerNews Canada tomorrow for an update on all of those events. Good luck to the Canadians in the field!
Details courtesy of the WSOP Live Updates.
Get all the latest PokerNews Canada updates on your social media outlets. Follow us on Twitter and like us on Facebook!