2016 WSOP Day 14: Three Bracelets Awarded with Jason Dewitt Becoming WSOP's Newest Millionaire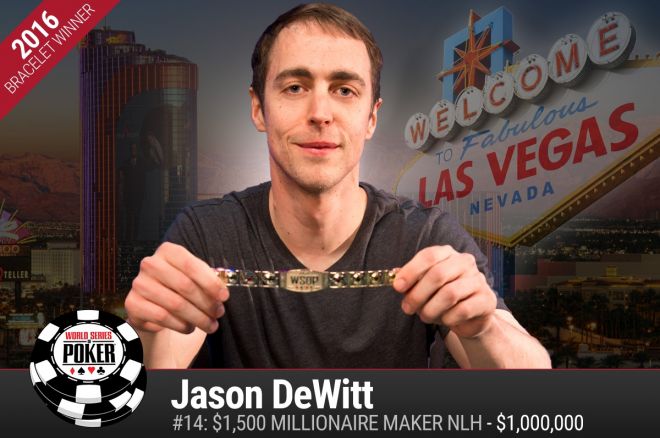 The 2016 World Series of Poker (WSOP) resumed on June 14 at the Rio All-Suite Las Vegas Hotel and Casino with a bracelet awarded in the $1,500 Millionaire Maker, the $1,000 hold'em, and the $3,000 H.O.R.S.E.. The $1,000 pot-limit Omaha event and the $10,000 Seven Card Razz Championship progressed to Day 2 and the $3,000 six-handed no-limit hold'em event and the $1,500 limit hold'em got underway.
Jason Dewitt Wins Event #14: $1,500 Millionaire Maker No-Limit Hold'em
The popular Millionaire Maker received 7,190 entries this year across the two starting flights on Friday and Saturday. The top two finishers were guaranteed at least a $1 million prize and 15 players returned on Tuesday to determine who would collecting the big payouts.
One Canadian was among the final-day players hoping to become the newest WSOP millionaire. Theodore Timmermans returned with a relatively short stack of 1,730,000 for the final day. Italian Alessio Dicesare held the most chips when play resumed, counting out 7,200,000 for Day 4.
Timmermans wasn't able to spin up his short stack into a contender for the bracelet. He was eliminated early in the day in 14th place for $59,139.
When it came down to the final three, Jason DeWitt brought a previous WSOP bracelet win to the table and Garrett Greer boasted an impressive list of career cashes, including two runner-up finishes in World Poker Tour events. The third player was kindergarten teacher Lisa Meredith playing her first-ever WSOP event after recently winning a small local tournament in Oregon for a little over $10,000 for her first-ever tournament cash.
Meredith saw her run come to an end when she three-bet Greer's open and he came back with an all-in bet. She thought for quite a while before calling but was miles behind with


to Greer's


. The aces held and Meredith was the third-place finisher for $500,000.
Greer and DeWitt played another 25 hands where DeWitt built a big chip advantage before he shipped it all in preflop with


and Greer called off his short stack with


. The board missed both of them entirely and DeWitt's king high won all of the tournament chips.
Greer pocketed a runner-up prize of an even $1 million while DeWitt earned $1,065,403 as well as the gold bracelet.
Chase Bianchi Wins Event #17: $1,000 No-Limit Hold'em
Another low-priced chance at WSOP glory kicked off on Sunday with 2,242 entries to the $1,000 no-limit hold'em tournament, creating a prize pool of over $2 million.
On Tuesday, 24 players returned to determine a bracelet winner. Among them was Canadian Felix Morin-Dutil with 321,000 chips. He made it all the way to the final table, but met his demise in seventh place for $44,503.
It came down to Chase Bianchi and Erik Silberman battling heads-up for the win. Bianchi began with the chip lead but it slipped so Silberman when Bianchi tried to bluff the four cards to a straight on the board but Silberman made a call with top pair and no kicker, taking over the lead.
Bianchi then battled back and, without ever doubling up, chipped away at his opponent's stack until he had regained the lead. He eventually collected the majority of Silberman's stack, making it easy for the two to get it all in preflop when they were both dealt a pair.
Bianchi had


but Silberman had the better


. The flop of



lept Silberman in the lead. He still held the best hand on the

turn. But the

river completed a straight for Bianchi and he secured the win. He earned $316,920 and his first WSOP bracelet while Silberman had to settle for $195,738.
Marco Johnson Wins Event #18: $3,000 H.O.R.S.E.
The final day of the $3,000 H.O.R.S.E. played down to the winner Tuesday, awarding the 18th bracelet of the 2016 series. In total, 400 players took their shot at the title and 70 of those players ended their tournament with a payday.
Four Canadians managed to make their way through Day 1, including Toronto resident Mike Leah looking for his second career bracelet, and defending champion of this event and triple bracelet holder Daniel Idema. None of the Canadians were able to make it to Day 3, but Leah and Idema both cashed. Leah collected $4,760 for 55th place while Idema pocketed $5,571 for 33rd spot.
Only 18 players survived the second day of play with Houston native Jared Talarico well out in front at 825,000 to start Day 3. Second and third place were 200,000 chips back with Gerald Ringe bagging 626,000 and Chino Rheem holding 620,000. Other notables to make the final 18 included Michael Gathy, the runner-up in Event #13 from this year, as well as Eli Elezra.
It took nearly three hours to play down from the starting 18 to the official final table of eight players. The final table bubble went to Jake Schwartz who earned $16,385 for ninth place.
It didn't take long after the bubble for Chino Rheem to become the eighth-place finisher. In a strange hand where Jared Talarico exposed his hand too early, he left Rheem with the option to fold with only 4,000 chips behind, less than the ante. Rheem elected to fold and try his luck in the next hand when he was forced all in from just the ante. However, the glitch wouldn't work out for him as he was unable to take any of the next pot from Glenn Engelbert. Rheem won $16,385 for eighth place.
Next to exit was Toma Kalaj. In just his second WSOP cash, Kalaj ended up giving most of his chips to Talarico in a razz hand that ended nine-six versus eight-seven. That loss left Kalaj with just 1,000 chips behind and he was all in from the ante in the next hand. Gerald Ringe completed and the rest of the table folded and, when the boards were dealt, Kalaj's eight-seven was behind Ringe's seven-six. Kalaj won $28,291 for seventh place.
Play continued six-handed for nearly an hour before a flurry of bustouts brought the tournament to three-handed. Over the course of 20 minutes, John Crisp collected the sixth-place prize of $38,409, Glenn Engelbert ended his run in fifth place for $53,259 and Tony Ickow finished fourth for $75,397.
Three-handed play continued through the dinner break and well after as the pace of play slowed substantially. Eventually, Gerald Ringe was the third-place finisher, worth $108,924, on an Omaha eight-or-better hand where Ringe was all in preflop. Ringe's




couldn't hold up against Marco Johnson's




as Johnson hit a pair of sevens along with the nut low to scoop the pot.
Heads-up play between Johnson and Jared Talarico went relatively quickly. The final hand came about 30 minutes after Ringe's elimination in a stud round. Talarico was all in on fifth street and, by the time all seven cards were dealt, was showing a respectable two pairs. Johnson was sitting on nothing but a double gutshot straight draw as he squeezed his seventh street. "King!" yelled Johnson, giving him the Broadway straight and the title.
Talarico collected $160,522 for second in just his fourth WSOP cash. Marco Johnson collected his second bracelet along with $259,730 for the win.
Event #19: $1,000 Pot-Limit Omaha Day 2
The $1,000 pot-limit Omaha event kicked off on Monday, giving fans of the four-card game a low-priced shot at WSOP glory. When registration closed, 1,106 players elected to take a shot.
Just 136 players returned for Day 2 on Tuesday with all of them already in the money and half a dozen Canadians still among them.
The second day of play concluded with just 12 players remaining and one Canadian still in contention. Quebec's David Guay will return for the final day with 256,000 chips. Californian Garrett Garvin will enjoy starting Day 3 with a chip lead of 1,002,000 which is well ahead of the second-best stack of 722,000 held by Brazil's Bruno Borges.
Aside from the only Canadian still looking at the bracelet, the best finish by a countryman was Pablo Mariz who finished 58th for $2,703. Sing Liu (93rd — $1,750), Kyle Ho (97th — $1,750), Chris Bond (121st — $1,635), Jake Labonte (124th — $1,635), and Stephen Ladowsky (135th — $1,554) were the rest of the Canadians to pocket a payout on Tuesday.
Event #20: $10,000 Seven Card Razz Championship Day 2
Jason Mercier is on the verge of his fifth WSOP bracelet and second of the week as Event #20: $10,000 Seven Card Razz Championship played down to the final eight players.
The tournament began with 100 players vying for the title of Razz Champion and, by the end of Day 1, that field was reduced to 45. Going into Day 2, David Benyamine headed up the chip counts with the defending Champion of this event, Phil Hellmuth, in second place.
Benyamine wasn't able to hold onto his chip lead, however, losing his stack over the course of the day and busting before the money. Hellmuth got a bit farther, managing to squeeze out a min-cash of $15,464 for 15th place.
Other notable players to cash before the end of Day 2 included Matt Grapenthien, runner-up in the recent Stud Championship, and Robert Mizrachi, who beat Grapenthien for that same stud bracelet. Grapenthien ended his day in 12th place for $19,245 while Mizrachi finished in 10th for $22,624.
Max Pescatori was the final player to exit the tournament on Day 2, bringing the field down to the official final table. It came down to the final card with Pescatori drawing live against John Racener's





. Pescatori's seventh street was a nine, however, ending Pecatori's run in ninth place for $22,624.
With the official final table set, play was suspended for the night. The final eight players, led by Jason Mercier, will return to the felt on Wednesday to battle it out for the title. Here is the full final table draw:
| Seat | Player | Chips |
| --- | --- | --- |
| 1 | Bart Hanson | 246,000 |
| 2 | Jyri Merivirta | 109,000 |
| 3 | Ray Dehkharghani | 838,000 |
| 4 | Robert Campbell | 360,000 |
| 5 | Jason Mercier | 1,595,000 |
| 6 | Brian Hastings | 367,000 |
| 7 | Yueqi Zhu | 312,000 |
| 8 | John Racener | 1,174,000 |
Event #21: $3,000 6-Handed No-Limit Hold'em Day 1
The $3,000 six-handed hold'em event began on Tuesday and the prize pool was calculated to be more than $2.8 million after registration closed with 1,029 entries. The winner will earn more than half a million dollars and the top 155 finishers will earn a piece of the purse.
The day closed after 10 one-hour levels with 233 players still holding chips and Californian Yang Wang had the most with 269,300.
The best Canadian stack was that of Mark Radoja with 111,100 to put him 34th overall in the field. Daniel Negreanu also played his first hold'em event of the summer and bagged 85,800 chips. Jean-Pascal Savard (61,800), Jonathan Duhamel (55,300), Benny Chen (45,200), Scott McMorran (41,000), Mark Sloane (31,400), Max Greenwood (30,800), Mike Leah (29,800), Marc-Andre Ladouceur (29,100), Jonathan Cohen (23,500), and Kyle White (6,300) make up the rest of the Canadian contingent to return for Day 2 on Wednesday.
Event #22: $1,500 Limit Hold'em Day 1
For fans of fixed-limit betting, the $1,500 limit hold'em event got underway on Tuesday as well and 665 entries created a prize pool just shy of $900,000. By the end of 10 one-hour levels, 157 players remained with Brit Max Silver leading the way with his stack of 107,700 chips.
Within the top 20 stacks there were also three Canadians. Eric Vallee bagged 66,800 while Daniel Idema counted out 59,000 and Mike Watson held 53,800. Thomas Taylor (49,000), Steven Parkin (47,700), Sam Chau (34,700), Eui-Joon Chung (27,900), Brennan Kennedy (27,700), Adrian Kuan (21,500), Mark Klecan (20,200), Tyler Bonkowski (18,600), Chung Nguyen (16,000), Greg DeBora (14,200), and Mark Mierkalns (10,400) will also represent our nation going into Day 2.
What to Watch For Tomorrow
Two bracelets will be awarded in the $1,000 pot-limit Omaha event and the $10,000 Seven Card Razz Championship on Wednesday, June 15. The $3,000 six-handed no-limit hold'em event and the $1,500 limit hold'em will progress to Day 2 and the $2,000 no-limit hold'em and $10,000 H.O.R.S.E. Championship will kick off.
Check back with PokerNews Canada tomorrow for an update on all of those events. Good luck to the Canadians in the field!
Details and photo courtesy of the WSOP Live Updates.
Get all the latest PokerNews Canada updates on your social media outlets. Follow us on Twitter and like us on Facebook!