2016 WSOP Day 15: Negreanu, Idema, and Bonkowski Make Day 3s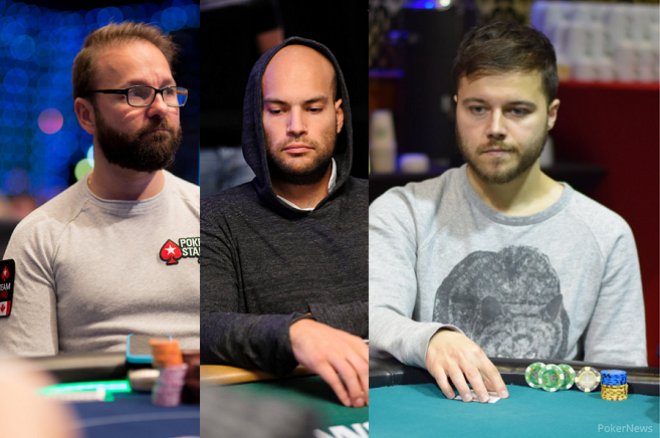 The 2016 World Series of Poker (WSOP) resumed on June 15 at the Rio All-Suite Las Vegas Hotel and Casino with a bracelet awarded in the $1,000 pot-limit Omaha event and the $10,000 Seven Card Razz Championship. At the same time, the $3,000 six-handed no-limit hold'em event and the $1,500 limit hold'em moved on to Day 2 and the $2,000 no-limit hold'em and $10,000 H.O.R.S.E. kicked off.
Sam Soverel Wins Event #19: $1,000 Pot-Limit Omaha
The $1,000 pot-limit Omaha event kicked off on Monday, giving fans of the four-card game a low-priced shot at WSOP glory. When registration closed, 1,106 players elected to take a shot.
The final 12 players returned for the final day on Wednesday with Canadian David Guay among them hunting for his first WSOP bracelet and Canada's first of the year. Unfortunately, Guay was the first player eliminated on Wednesday, collecting $10,477 for 12th place.
The title came down to a heads-up match between Floridian Sam Soverel and Texan Kirby Lowery with both of them on their third lifetime WSOP cash. However, the two only faced off for a short time before Soverel emerged as the victor, collecting $185,317 and a gold bracelet.
Ray Dehkharghani Wins Event #20: $10,000 Seven Card Razz Championship
The $10,000 Seven Card Razz Championship ended up being more than just a Championship event, thanks mostly to Jason Mercier. After beating Canada's Mike Watson heads up in the $10,000 2-7 Draw Lowball Championship (No-Limit), Mercier wasn't about to rest on his laurels, and immediately registered in the razz event. He joined 99 others on Day 1 and was one of the 45 players to make it through the day. David Benyamine and Phil Hellmuth led the chip counts at the end of the first day of play.
Day 2 saw players play down to the money with Hellmuth being the first to cash out. Start-of-day chip leader David Benyamine fizzled out before the money. Other notable cashes before the end of Day 2 included Matt Grapenthien, runner-up in the $10,000 Stud Championship, who cashed in 12th for $19,245, and the man who beat him in that Championship event, Robert Mizrachi, who pocketed $22,624 for 10th place. Max Pescatori was the final elimination on Day 2, finishing in ninth, also for $22,624.
The elimination of Pescatori set up the final table with Jason Mercier leading the way, looking for his second bracelet in two days. Mercier bagged a whopping 1,595,000 chips at the end of Day 2 and the only other player to even crack 1,000,000 was John Racener, runner-up in the 2010 Main Event, well behind in second with 1,174,000.
Coming into Day 3 in third place was a player who isn't as well known to casual fans, Ray Dehkharghani. Dehkharghani bagged just under 1,000,000 chips on Day 2, good for third place, and despite his low profile is widely seen as one of the best razz players in the world.
Jyri Merivirta and Bart Hanson were the first two players to exit the final table, collecting $27,499 and $34,251, respectively. John Racener ended up busting out in sixth, a disappointing result considering his stack at the start of the day. He ended the tournament on a hand where he brought in with a

showing and


in the hole against Hastings'

. Hastings completed, and Racener chose to defend his king. Racener drew well on fourth before pairing on fifth while Hastings' weaker holding slowly filled out to a jack-ten. Racener hit a six on sixth while Hastings paired his ten, leaving Hastings technically ahead going to seventh while Racener had a winning draw to his six-four. Hastings was the one to improve on seventh, though, and Racener busted with jack-six versus Hastings' ten-nine. The sixth-place finish earned Racener $44,712.
Australia's Robert Campbell ended his day in fifth place, losing with a horrible runout against Jason Mercier. Campbell got into the hand with both he and Mercier showing fours on third street. By fifth street, Campbell was all in but a slight dog to Mercier. Both players paired sixth street and Campbell, needing to improve his ten-eight on seventh to win, drew a queen for his final card. His fifth-place finish was worth $59,694.
Play went on four-handed for over an hour before Brian Hastings ended his run in fourth, collecting $82,078.
Yueqi Zhu battled for another full hour before finally busting in third position and cashing out for $116,128. That left play heads up between Jason Mercier, a man who won a bracelet a few days previous with well-publicized prop bets for multiple bracelet wins, and Ray Dehkharghani.
Dehkharghani was by far the less well known of the two to the casual fan, but that's not because he is inexperienced. Instead, it's because he spends most of his time focussing on razz cash games and is widely seen as one of the best razz players in the world. His previous best result in the WSOP, just by way of example, was nearly 20 years ago in 1998, but was a second-place finish to Doyle Brunson in that year's $1,500 razz tournament.
The heads-up battle went on for nearly two hours and both players traded the chip lead back and forth, but as heads-up play went on, it became clear that the experience of Dehkharghani was gaining the upper hand over Mercier. Dehkharghani put in razor-thin value bets in spots where he got paid off and, in other spots, made huge folds to save himself a big call. It was those spots where Dehkharghani was able to squeeze an extra bet out of Mercier or saved himself the extra bet with a good laydown that was the difference between the two players.
By the end of heads-up, Mercier fell just shy of his second bracelet in two calendar days, ending his run in second place for $168,936. Dehkharghani picked up his first gold bracelet with the win and added $273,338 to his bankroll.
Event #21: $3,000 6-Handed No-Limit Hold'em Day 2
The $3,000 six-handed hold'em event began on Tuesday and the prize pool was calculated to be more than $2.8 million after registration closed with 1,029 entries. The winner will earn more than half a million dollars and the top 155 finishers will earn a piece of the purse.
Just 233 players returned for Day 2 with heaps of big-name Canadians holding a stack of chips. But, by the time the day ended, just the biggest name still had chips. Daniel Negreanu bagged the fifth-best stack of 932,000 among the 27 players who survived the day.
Aside from Negreanu who still has chips, the best Canadian result was that of Jean-Pascal Savard who was eliminated in 41st place for $10,358. Jonathan Cohen (103rd — $4,952), Mark Radoja (143rd — $4,574), and Scott McMorran (150th — $4,545) were the other players from our nation to collect a payout on Day 2.
Negreanu will be looking for his seventh career bracelet when play resumes on Thursday to play down to a winner.
Event #22: $1,500 Limit Hold'em Day 2
For fans of fixed-limit betting, the $1,500 limit hold'em event got underway on Tuesday and 665 entries created a prize pool just shy of $900,000. On Wednesday, 157 players returned to the felt with Brit Max Silver leading the way with his stack of 107,700 chips.
There was also a big list of talented Canadians in the field when play resumed. When play came to an end, two of them still had chips and both are previous bracelet winners. Tyler Bonkowski bagged the second-best stack of 731,000 while Daniel Idema sits in the middle of the remaining 15 players with 315,000.
Just before the day ended, Eric Vallee was one of the last eliminations and the best Canadian finish of the day when he collected $6,259 for 17th place. Eui-Joon Chung (46th — $3,236), Adrian Kuan (51st — $3,236), Brennan Kennedy (53rd — $3,236), Thomas Taylor (55th — $2,885), Mark Klecan (63rd — $2,885), Sam Chau (75th — $2,442), and Steven Parkin (81st — $2,442) were the other Canadians to collect a payout on Day 2.
Event #23: $2,000 No-Limit Hold'em Day 1
There were 1,419 players to pay the $2,000 entry for the latest no-limit hold'em event, creating a prize pool of more than $2.5 million. After 10 one-hour levels, 283 of those players still had chips, just 70 players from the money.
Sitting at the top of the counts was American Iman Shahbazy with 141,100, but the second-best stack belonged to Canadian Kyle White with just slightly less at 140,900. Another Canadian, Jake Labonte, sits in fourth with 131,900. Kai Tang (76,600), Jiachen "Jack" Gong (73,700), Sam Chartier (67,100), Noah Vaillancourt (54,700), Jason Mann (47,000), Raymond Muzyka (27,800), and Marc-Andre Ladouceur (20,700) will all return for Day 2 as well.
Event #24: $10,000 H.O.R.S.E. Championship Day 1
The $10,000 Championship events of any World Series are always highly contested, coveted bracelets, and Event #24: $10,000 H.O.R.S.E. Championship is no exception. In total, 171 players took their shot at the five-game mix championship and, by the end of Day 1, just 66 players remained in contention. Among them are some of the biggest names in poker.
Leading the way into Day 2 is Daniel Alaei, the only player to crack 300,000 chips. Matt Vengrin managed to get close in second, bagging 292,500 chips after the last hand. Alexey Makarov, coming off his third-place finish in Event #13: $1500 Seven Card Razz, starts Day 2 with the third-place stack of 265,500.
The only Canadian to make Day 2 was Sorel Mizzi. The Toronto resident amassed 194,000 chips in Day 1, good for 16th place. Plenty of other big names will be joining Mizzi on Day 2 including Bryn Kenney, who bagged the fourth-biggest stack at day's end, as well as David Oppenheim, Jason Mercier (coming immediately off his second-place finish in the $10,000 Razz earlier in the evening), John Hennigan, Gerald Ringe, John Monnette, and Jason Somerville, among many others.
What to Watch For Tomorrow
Two bracelets will be awarded in the $3,000 six-handed no-limit hold'em event and the $1,500 limit hold'em on Thursday, June 16. The $2,000 no-limit hold'em and $10,000 H.O.R.S.E. Championship will progress to Day 2 and the $2,500 no-limit hold'em event and $1,500 Omaha hi-lo will kick off.
Check back with PokerNews Canada tomorrow for an update on all of those events. Good luck to the Canadians in the field!
Details courtesy of the WSOP Live Updates.
Get all the latest PokerNews Canada updates on your social media outlets. Follow us on Twitter and like us on Facebook!