2016 WSOP Day 16: Tyler Bonkowski Falls Just Short of Second Bracelet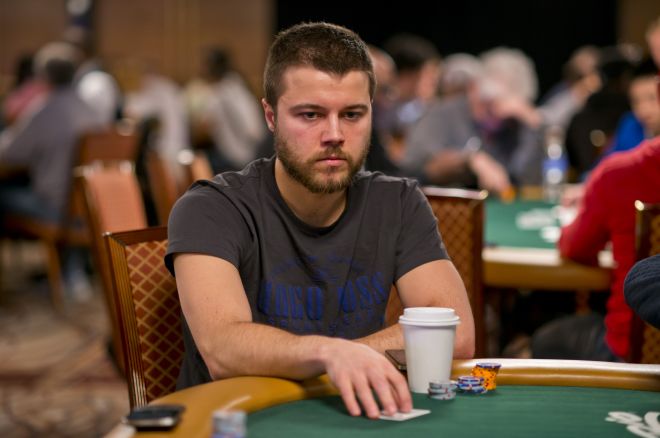 The 2016 World Series of Poker (WSOP) resumed on June 16 at the Rio All-Suite Las Vegas Hotel and Casino with a bracelet awarded in the $1,500 limit hold'em while the $3,000 six-handed no-limit hold'em wasn't able to conclude on Day 3 and will require another day. The $2,000 no-limit hold'em and $10,000 H.O.R.S.E. moved on to Day 2 and the $2,500 no-limit hold'em and the $1,500 Omaha hi-lo kicked off.
Event #21: $3,000 6-Handed No-Limit Hold'em Day 3
The $3,000 six-handed hold'em event began on Tuesday and the prize pool was calculated to be more than $2.8 million after registration closed with 1,029 entries. The winner will earn more than half a million dollars.
There were 27 players who returned for Day 3 on Thursday with Daniel Negreanu among them, looking for his seventh career bracelet.
However, Negreanu met his demise in 19th place, collecting $19,449, dashing Canadian hopes of a bracelet in this event. By the end of the day, just five players remained with Will Givens holding the chip lead of 6,030,000. They'll return for a final time on Friday to determine the winner.
Danny Le Wins Event #22: $1,500 Limit Hold'em
For fans of fixed-limit betting, the $1,500 limit hold'em event got underway on Tuesday and 665 entries created a prize pool just shy of $900,000. On Thursday, the final 15 players returned to the felt with two Canadian hopes still in contention for the bracelet.
Tyler Bonkowski returned with the second-best stack while Daniel Idema also had a mid-field bag of chips to play with. Both of them have previous WSOP bracelets and were strong hopes for the first Canadian bracelet of the summer.
Idema met his end in 12th place, collecting $9,763, leaving just Bonkowski to keep Canadian hopes alive. All the way down to the final table, Bonkowski maintained a good position on his opponents. When play went three-handed, he held the chip lead.
Unfortunately, Bonkowski had a tough run against his final two hurdles in the tournament and his stack was whittled away until he was on life support and then eliminated in a series of three losing hands. His third-place finished resulted in a payout of $80,706.
It wasn't too many more hands before Scott Farnsworth fell to Danny Le. True to the reputation of limit hold'em, it ended with a bad hand that improved by the river. On the flop of



, Farnsworth had top pair with


against Le's bottom pair with


. More chips went in on the

turn and the rest went in on the

river where Le had improved to trips. Le won his first-ever bracelet with the worst hand in poker: seven-deuce offsuit. He collected $188,815 and Farnsworth received $116,663 for being runner-up.
Event #23: $2,000 No-Limit Hold'em Day 2
There were 1,419 players to pay the $2,000 entry for Wednesday's no-limit hold'em event, creating a prize pool of more than $2.5 million. After 10 one-hour levels, 283 of those players still had chips, just 70 players from the money.
Those 283 players returned on Thursday and played another 10 levels before play paused with just 27 remaining. There were many talented Canadians who started the day with chips, and three of them survived another day.
Sam Chartier bagged the best Canadian stack with 956,000 which was good for fourth overall. Kai Tang (463,000) and Kyle White (203,000) will also return for Day 3 on Friday. The overall chip leader was North Carolina's Anthony Spinella with 1,060,000.
A few Canadians made the money on Day 2 before their tournament life came to an end. Jake Labonte (47th — $7,702), Jason Mann (66th — $5,661), and Jiachen "Jack" Gong (173rd — $3,147) all pocketed a piece of the prize pool.
Event #24: $10,000 H.O.R.S.E. Championship Day 2
A total of 171 players signed up on Day 1 to take their shot at the $10,000 H.O.R.S.E. Championship and, by the time Day 1 was done, 66 players remained in contention for the top prize of $422,874. A total of 26 players made the money in this tournament, meaning most of the players returning on Day 2 would exit without cashing.
The ranks of players to bust before the money included Canada's only hope in the H.O.R.S.E. Sorel Mizzi, as well as David Oppenheim, Gerald Ringe, and John Hennigan, among others. By the time Day 2 ended, just 14 players remained with chips.
It took almost seven hours to play down to the money with 40 of the starting players going home with empty pockets. Mike Sexton busted on the bubble in an Omaha hi-lo hand against Daniel Alaei. Sexton got his money in on the turn with top pair and no possible low, only to see Alaei roll over the straight.
The first player to cash was Chris Ferguson who made a somewhat surprising return to the world of poker at this year's WSOP after being non-existent since the Full Tilt scandal hit the news. Ferguson earned $15,088 for 26th place.
That payout of $15,088 was valid for 26th through 17th place and other players to pocket that amount included Erik Seidel (24th), Matt Vengrin (22nd), David Benyamine (19th), and Day 1 chip leader Daniel Alaei (18th). Jason Somerville and Tom Koral both earned $17,722 as the last players to bust on Day 2 with Somerville finishing 16th and Koral ending in 15th place.
The 14 players remaining in the field reads like a who's who of the poker world. Leading the way is Jason Mercier, firmly set to beast mode. A few days ago, Mercier beat Canada's Mike Watson for the bracelet in Event #16: $10,000 2-7 Draw Lowball Championship (No-Limit). He immediately registered in Event #20: $10,000 Seven Card Razz Championship and narrowly missed his second bracelet in two days, finishing second to razz specialist Ray Dehkharghani. Mercier immediately late-registered in the H.O.R.S.E. Championship and built up a chip leading stack going into the final day. If Mercier manages to get to the final table on Day 3, it will be his third final table in six days.
Mercier has some tough competition going into the final day of play. Jesse Martin and Nick Shulman both bring more than 1,000,000 chips to the final day in second and third spots, respectively. Bryn Kenney bagged 708,000 at the end of Day 2, good for fourth place, and the rest of the returning field includes such names as James Obst, Randy Ohel, John Monnette, and Ron Ware, among others.
Event #25: $2,500 No-Limit Hold'em Day 1
Thursday saw 1,045 players plunk down $2,500 for another no-limit hold'em event in hope of earning big money and WSOP gold. By the end of 10 one-hour levels, the day came to an end with 229 players still keeping that hope alive.
Californian Chuc Nguyen bagged the largest stack with 196,600 chips to his name. The best chip count for a Canadian was Thong Tien with 91,800. Daniel Negreanu (64,300), Ping Lin (60,200), Mark Zajdner (53,500), Jaymie Holland (52,200), Ryan McGarry (32,900), Jonathan Duhamel (18,500), and Theodore Timmermans (12,000) make up the rest of the Canadian contingent to return for Day 2 on Friday.
The top 157 players will earn a piece of the prize pool which means there are still 72 players in this tournament who will not make money in the tournament.
Event #26: $1,500 Omaha Hi-Low Split-8 or Better Day 1
The $1,500 Omaha hi-lo event got underway on Thursday as well and 934 players bought in to play the split-pot game. After the day came to an end, 256 of them still had chips to carry to Friday's Day 2.
Texan Anthony Furlough bagged the chip lead and Mike Leah was the top Canadian, counting out a stack of 46,300. Daniel Idema (38,000), Fraser Short (18,900), Stephen Ladowsky (15,900), Dennis Tymchak (12,900), and Michel Merlitti (10,800) were the rest of the Canadians to survive the day.
The top 141 players will earn a piece of the $1,260,900 prize pool with the money bubble expected to burst midway through Day 2. The eventual winner will collect $244,103 along with the coveted WSOP bracelet.
What to Watch For Tomorrow
Three bracelets will be awarded in the $3,000 six-handed no-limit hold'em event, $2,000 no-limit hold'em, and $10,000 H.O.R.S.E. Championship on Thursday, June 16. The $2,500 no-limit hold'em event and $1,500 Omaha hi-lo will move on to Day 2 and the $1,000 Seniors Championship and $10,000 Limit Hold'em Championship will get underway.
Check back with PokerNews Canada tomorrow for an update on all of those events. Good luck to the Canadians in the field!
Details courtesy of the WSOP Live Updates.
Get all the latest PokerNews Canada updates on your social media outlets. Follow us on Twitter and like us on Facebook!