2016 WSOP Day 19: Ian Johns Wins Second Bracelet of the Summer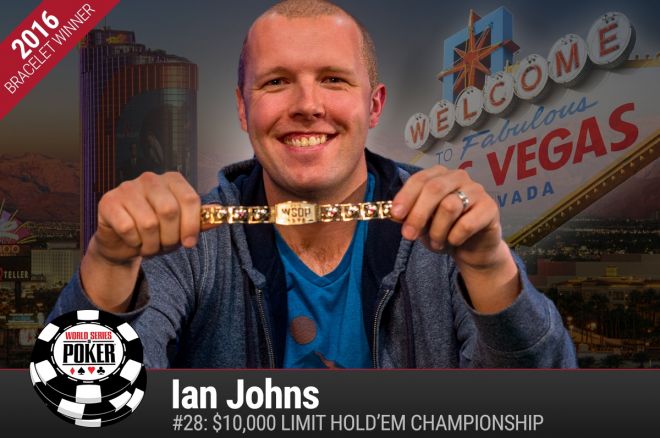 The 2016 World Series of Poker (WSOP) resumed on June 19 at the Rio All-Suite Las Vegas Hotel and Casino with bracelets awarded in the $2,500 no-limit hold'em event, the $1,500 Omaha hi-lo event, and the $10,000 Limit Hold'em Championship. The $1,000 Seniors Championship played out Day 3 while a $1,500 no-limit hold'em and the $3,000 six-handed pot-limit Omaha returned for Day 2. The $1,000 Super Seniors event also kicked off, as did the $10,000 Omaha Hi-Low Split-8 or Better Championship.
Michael Gagliano Wins Event #25: $2,500 No-Limit Hold'em
The bulk of the $2,377,375 prize pool was paid out on Day 3 in the $2,500 no-limit hold'em event when 24 players returned to the tables with their eyes on the gold bracelet promised to the eventual winner.
No Canadians were still in the running after the last of them, Thong Tien, was the final elimination the night before in 25th place for $12,955.
By the time the final table was set, just one previous bracelet winner had a seat. Shankar Pillai picked up his win in 2007 in a $3,000 no-limit hold'em tournament. Darryll Fish and Niall Farrell also had a spot among the final nine and were the two best-known players among them.
Darryll Fish was eliminated in eighth place for $42,405 and Niall Farrell met his demise in sixth place for $75,164. Shankar Pillai was still looking at the possibility of his second WSOP bracelet when only three players remained, but then he lost his stack and was sent to the exit to collect $196,119.
That left Michael Gagliano and Daniel Cooke to determine which of them would emerge the victor. It came to an end with Gagliano opening with a raise to 320,000. Cooke responded with a three-bet shove and Gagliano made the call. Cooke had put it all at risk with


and Gagliano had called with


. The board ran out nine-high and Gagliano scooped up all of the tournament chips, winning $448,463 and his first WSOP bracelet. Cooke collected $277,128 for finishing runner-up.
Benny Glaser Wins Event #26: $1,500 Omaha Hi-Low Split-8 or Better
Late in the day, just one remained out of 934 players in the $1,500 Omaha hi-lo tournament on Sunday.
Play resumed with 27 players still keeping the dream alive for a big WSOP win, but they fell throughout the day as the field narrowed down to fewer and fewer players.
Brandon Shack-Harris had the best stack when play got back underway and the only Canadian still in the running was Ari Engel. Engel ultimately fell in 24th place for $6,919.
Shack-Harris was still in the tournament when the final table was set, as was four-time bracelet winner Max Pescatori, and Phillip Hui and Benny Glaser each brought a previous win with them as well.
Glaser found himself heads-up for his second bracelet and began the two-handed match with better than a four-to-one advantage. His opponent, Benjamin Gold, never managed to gain any momentum.
The two got it all in with Gold holding




and Glaser showing




. The flop of



gave Glaser diamond outs to a flush, but they never came on the

turn and

river. However, the river card gave Glaser the best pair and he won the pot and his second bracelet. He also earned $244,103 while Gold settled for $150,828.
Event #27: $1,000 Seniors No-Limit Hold'em Championship Day 3
Originally scheduled as a three-day event, Day 3 of the $1,000 Seniors Championship will need another day as 57 players returned on Sunday and six still remained at the end of the day.
With 4,499 entries, the prize pool surpassed $4 million and there were still five Canadians in the mix at the start of Day 3 looking at the top prize of $538,204. Denis Ward, Victor Adams, Curtis Bousquet, Mike Lisanti, and Dominic Iuticone returned to the tables but none were able to survive the day.
Mike Lisanti was among the nine who made the final table, but he was ultimately eliminated in eighth place for $60,392.
Among the final six, all are American and none have any significant previous WSOP cashes. Wesley Chong will return with the chip lead with 8,585,000, which is miles ahead of Roger Sippl's second-best stack of 5,320,000.
Ian Johns Wins Event #28: $10,000 Limit Hold'em Championship
Another 2016 WSOP Champion has been found and it's a player who has already won a bracelet earlier this series. Ian Johns found victory and $290,635 after he also won the $1,500 H.O.R.S.E. tournament not even two weeks earlier.
The final 10 players out of 110 entries returned for Day 3 on Sunday with Jeff Thompson leading a fairly short-stacked field. Canadian Anh Van Nguyen was the only player from our nation in the running after countryman Mark Radoja was the last elimination of Day 2, finishing 11th for $20,042.
Anh Van Nguyen wasn't the Canadian to save our summer and earn the first bracelet for Canada of 2016. He was eliminated in ninth place to collect $24,140.
Brian Rast was the next out, pocketing $29,855 for eighth place, followed by three-time bracelet winner Brock Parker in seventh for $37,888. In sixth was Bill Chen with his two bracelets, winning $49,304 for the run. Then the start-of-day chip leader Jeff Thompson was eliminated in fifth for $65,752.
For the final three, Russian Alexander Balynskiy and Sean Berrios from the Virgin Islands had hopes on their first-ever WSOP win against Ian Johns who had done it twice before. But neither were able to topple the man with the most experience and Johns earned bracelet number three less than two weeks after winning his second. He earned $290,635 for the win. Berrios pocketed $179,625 for being the runner-up and Balynskiy's third-place exit earned him $125,571.
Event #29: $1,500 No-Limit Hold'em Day 2
Another of the many $1,500 no-limit hold'em events continued with Day 2 on Sunday with 275 players out of 1,798 entrants returning to the tables looking for a piece of the $2,424,600 prize pool.
The day concluded with 31 chip stacks. The largest of them belonged to Las Vegas local David Williams while two Canadians were still counted among the ranks. Kam Low bagged 496,000 and Daniel Watton will return for Day 3 with 199,000.
The top 270 finishers were guaranteed a payout, so the day started with just five eliminations needed to get past the money bubble. By the time the day ended, Canadians Adam Worr (32nd — $10,160), Dominick French (35th — $10,160), Thomas Taylor (96th — $3,379), Shawn Buchanan (106th — $3,035), Jean-Pascal Savard (128th — $3,035), Daniel Koschok (154th — $2,760), Ryan Smith (168th — $2,760), Kelly Mulyk (189th — $2,544), Samuel Ngai (238th — $2,376), Ari Levy (247th — $2,248), and Rodney Ramalho (254th — $2,248) all pocketed some tournament money on Day 2.
The 31 who return on Monday will be looking at the first-place prize of $401,494 and the gold WSOP bracelet which should be awarded by day's end.
Event #30: $3,000 Six-Handed Pot-Limit Omaha Day 2
On Sunday, 119 out of 580 players returned for Day 2 of the $3,000 six-handed pot-limit Omaha event and just 87 of them were going to make it into the money. After another 10 one-hour levels, just 14 of them remained for a final day on Monday.
Leading the way when play paused was Russian Viacheslav Ortynskiy with 1,140,000 chips. No Canadians were among the final-day qualifiers.
However, several players from our nation made it into the money and collected a piece of the $1,583,400 prize pool. The best result came from Ryan Theriault who finished in 18th place for $14,561 late in the day. Mike Watson (22nd — $11,534), Kenneth Wong (28th — $9,363), Michael Baxter (66th — $4,879), Mark Zajdner (68th — $4,654), and Kyle Ho (71st — $4,654) also earned a prize on Day 2.
Event #31: $1,000 Super Seniors No-Limit Hold'em Day 1
With the age requirement set at 65 years old or better, 934 players came out for the $1,000 Super Seniors event on Sunday's Day 1. At the end of the day, the man who won this very same event last year bagged the chip lead among the 221 players who survived. Jon Andlovec ended the day with 168,500 chips to try to become the repeat winner.
Sitting with the third-best stack overall was Canadian Ronald Giles with 113,000 chips. Robert Forbes (75,000), Dalton Dawkins (67,000), Charles Rinn (39,700), Donald Anderson (32,600), Raymond Taylor (12,200), and Jacqueline Smith (5,200) made up the Canadian contingent returning for Day 2.
The money bubble burst right at the end of play with 222 players earning a payout. Just one player was eliminated in the money before play paused for the day and everyone who returns for Day 2 on Monday will be guaranteed a piece of the $1,328,400 prize pool.
Event #32: $10,000 Omaha Hi-Low Split-8 or Better Championship Day 1
The second event to kick off on Sunday was the $10,000 Omaha hi-lo event and it received 163 entries by the time registration closed. By the end of 10 one-hour levels, 70 players were still playing the four-card split-pot game and they bagged chips for Monday's Day 2.
The best stack among them was American Grzergorz Trelski with 444,000 chips and many big names were also still in the mix. Two of Canada's best also survived the day. Mike Watson (90,500) and Jonathan Duhamel (29,500) will return to try to get a piece of the $1,532,200 prize pool which will be paid out to just the top 25 players.
What to Watch For Tomorrow
Bracelets will be awarded in the $1,000 Seniors Championship, a $1,500 no-limit hold'em event, and the $3,000 six-handed pot-limit Omaha event on Monday, June 20. The $1,000 Super Seniors and the $10,000 Omaha Hi-Low Split-8 or Better Championship will return for their Day 2s and the $1,500 Summer Solstice and $1,500 2-7 Triple Draw Lowball (Limit) will get underway.
Check back with PokerNews Canada tomorrow for an update on all of those events. Good luck to the Canadians in the field!
Details and photo courtesy of the WSOP Live Updates.
Get all the latest PokerNews Canada updates on your social media outlets. Follow us on Twitter and like us on Facebook!