2016 WSOP Day 20: Canadian Kam Low Takes Third in a $1,500 No-Limit Hold'em Event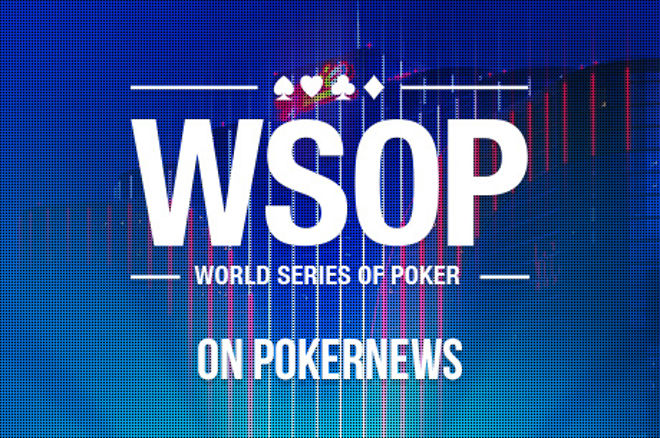 The 2016 World Series of Poker (WSOP) resumed on June 20 at the Rio All-Suite Las Vegas Hotel and Casino with bracelets awarded in the $1,000 Seniors Championship and the $3,000 six-handed pot-limit Omaha while a $1,500 no-limit hold'em played through Day 3. The $1,000 Super Seniors and the $10,000 Omaha Hi-Low Split-8 or Better Championship moved on to Day 2 and the $1,500 Summer Solstice and the $1,500 2-7 Triple Draw Lowball (Limit) got underway.
Johnnie Craig Wins Event #27: $1,000 Seniors No-Limit Hold'em Championship
Originally scheduled as a three-day event, the $1,000 Seniors Championship required an extra day as six still remained at the end of the Day 3.
The final six to return one last time on Monday were all American and none had any significant previous WSOP cashes.
Wesley Chong started the day with the chip lead with 8,585,000, which was miles ahead of Roger Sippl's second-best stack of 5,320,000. However, Chong was the second elimination of the day when he fell in fifth place for $136,829. Sippl carried his stack all the way to third place before he made his exit and earned $245,389.
Johnnie Craig and Jamshid Lotfi began their long heads-up match almost dead even in chips, but Craig slowly and steadily chipped away at his opponent's stack, taking the chip lead and never letting it go.
With Lotfi down to a short stack, all the chips went in with the two racing. Lotfi needed to hit the board with his


overcards to Craig's


. The dealer ran out all blanks and the fours finished the tournament, giving Craig his first WSOP bracelet and $538,204 while Lotfi pocketed $332,413 for second place.
Event #29: $1,500 No-Limit Hold'em Day 3
Another event that will require an unplanned fourth day is the most recent $1,500 no-limit hold'em event. Monday saw 31 players return out of the 1,796 entrants, but the day ended with the final two still battling it out heads up.
Two Canadians were still counted among the ranks when play resumed, but Daniel Watton's day was short, finding himself eliminated in 24th place for $12,473. The final player from Canada, Kam Low, very nearly became the first from our country to win a bracelet this summer, but he was eliminated in third place for $179,187 late in the day.
After the Canadian was eliminated in Hand #151 of the final table, Jens Grieme began heads-up play with a small chip deficit against Alexander Ziskin. But the chips passed back and forth with Grieme taking the lead for a while and then Ziskin regaining the chip advantage.
Finally, almost 200 hands into heads-up play, Ziskin practically locked up the bracelet with he got it all in preflop with


to Grieme's


and the cowboys held. After the pot was pushed to Ziskin, Grieme was left with just a single big blind.
However, Jens Grieme doubled up, and then doubled up again, and again and again and again. Not too much later, Grieme's


held against Ziskin's


and he doubled up and took over the chip lead.
The night finished with the conclusion of Hand #367 of the final table — the 216th hand of the long heads-up match — and Jens Grieme bagged the chip lead with 7,790,000 to Alexander Ziskin's 5,690,000. The two will return on Tuesday to see if Grieme can finish the epic comeback and win the bracelet after being down to a single big blind.
Viatcheslav Ortynskiy Wins Event #30: $3,000 Six-Handed Pot-Limit Omaha
On Monday, the final 14 out of 580 players returned for the final day of the $3,000 six-handed pot-limit Omaha event.
Leading the way when play resumed was Russian Viatcheslav Ortynskiy with 1,140,000 chips and no Canadians were among the final-day qualifiers.
When the final table was set, the most accomplished player with a seat was Las Vegas local Randy Ohel who has had a tremendous series so far. He has a previous WSOP bracelet and has racked up an eighth-, a fourth-, and a 10th-place finish in events this summer. He found his deepest run yet on Monday but was eliminated in third place for $141,187.
The start-of-day chip leader Viatcheslav Ortynskiy managed to power through the final table and finished on top two days running. He defeated Rafael Lebron heads up and Ortynskiy won his first WSOP bracelet and $344,327.
Event #31: $1,000 Super Seniors No-Limit Hold'em Day 2
With the age requirement set at 65 years old or better, 934 players came out for the $1,000 Super Seniors event on Sunday's Day 1. At the end of the day, the man who won this very same event last year bagged the chip lead among the 221 players who survived. Jon Andlovec ended the day with 168,500 chips to try to become the repeat winner.
The money bubble already burst right at the end of Day 1, so all of the players who came back on Monday's Day 2 were guaranteed a payout, including a number of Canadians.
By the end of the day, just 14 players still had chips and hope of a WSOP win. Las Vegas local and WSOP bracelet holder Fred Berger bagged the largest stack with 1,751,000 chips and one Canadian is still in contention. Charles Rinn will return on the final day with the fifth-best stack of 496,000.
Out of the Canadians who returned for Day 2 but were eliminated before the end of play, Ronald Giles found the best finish when he was eliminated in 26th place for $6,955, just one spot ahead of countryman Dalton Dawkins in 27th for the same payout.
Donald Anderson (79th — $2,551), Robert Forbes (108th — $1,860), Raymond Taylor (135th — $1,723), and Jacqueline Smith (207th — $1,546) are the rest of the Canadians who pocketed prize money on Monday.
Event #32: $10,000 Omaha Hi-Low Split-8 or Better Championship Day 2
The $10,000 Omaha hi-lo event also returned for Day 2 with 70 players out of the 163 entries returning to the tables for another day of the four-card split-pot game.
The best stack among them when play resumed was American Grzergorz Trelski with 444,000 chips. Two of Canada's best also returned on Monday. Mike Watson and Jonathan Duhamel came back to try to get a piece of the $1,532,200 prize pool which was paid out to just the top 25 players.
By the end of the day, just 16 players remained with Matt Glantz on top as the only player with a seven-figure stack. He bagged 1,066,000. Neither of our Canadian hopefuls survived for the final day, nor did either of them make it past the money bubble.
Tuesday is scheduled to be the final day in this event, and Glantz will be joined by Daniel Alaei (828,000), Todd Brunson (745,000), Eli Elezra (715,000), Benny Glaser (461,000), Jason Mercier (444,000), and Shaun Deeb (236,000), among others to try to earn the Championship bracelet.
Event #33: $1,500 Summer Solstice No-Limit Hold'em Day 1
On the longest day of the year and the official first day of summer, the $1,500 Summer Solstice event kicked off, giving players extended 90-minute levels to battle their opponents. Registration closed with 1,840 entries, creating a prize pool of just under $2.5 million.
At the end of seven levels, play concluded for the night with 445 players remaining. At the top of the heap was Brazilian Bruno Vendramini with 105,900 chips. The top Canadian stack belonged to Jason Bigelow with 51,925 while Lucian Draghici (46,350), Dominick French (44,400), Chris Walsh (41,275), Carl Martel (31,750), Justin Ouimette (30,400), Michael Gentili (28,575), Darlene Lee (22,325), Evan Jarvis (19,600), Vincent Lam (17,250), Jaspal Brar (16,800), David MacNeil (15,900), Stephen Ladowsky (14,350), Robert Corbeil (13,500), Devin Verstraelen (13,325), Jean-Pascal Savard (11,725), Don Fujita (9,025), Hanh Mai (8,575), and Matthew Reams (6,175) made up the rest of the Canadian contingent.
Event #34: $1,500 2-7 Triple Draw Lowball (Limit) Day 1
The other low-priced draw bracelet of the year is now being played for. The $1,500 fixed-limit triple draw event kicked off on Monday and received 358 entries, putting together a prize pool of just under $500,000.
By the end of the day, 65 of those players remained, needing just 11 more eliminations before the tournament is in the money which should happen early on Tuesday when play resumes.
Belgian Bart Lybaert bagged the chip lead with 113,100 chips while Canadian Terrence Chan counted out a stack of 70,400 as the top count for players from our country. Mike Watson (40,600), Alex Livingston (18,500), and David Lim (7,300) are the only other Canadians remaining for Day 2.
What to Watch For Tomorrow
Bracelets will be awarded in a $1,500 no-limit hold'em event, the $1,000 Super Seniors, and the $10,000 Omaha Hi-Low Split-8 or Better Championship on Tuesday, June 21. The $1,500 Summer Solstice and $1,500 2-7 Triple Draw Lowball (Limit) will move on to Day 2, and the $5,000 Six-Handed No-Limit Hold'em and $2,500 Mixed Omaha / Seven Card Stud Hi-Lo 8 or Better will kick off.
Check back with PokerNews Canada tomorrow for an update on all of those events. Good luck to the Canadians in the field!
Details courtesy of the WSOP Live Updates.
Get all the latest PokerNews Canada updates on your social media outlets. Follow us on Twitter and like us on Facebook!