2016 WSOP Day 26: One Bracelet Won, Four Bubbles Burst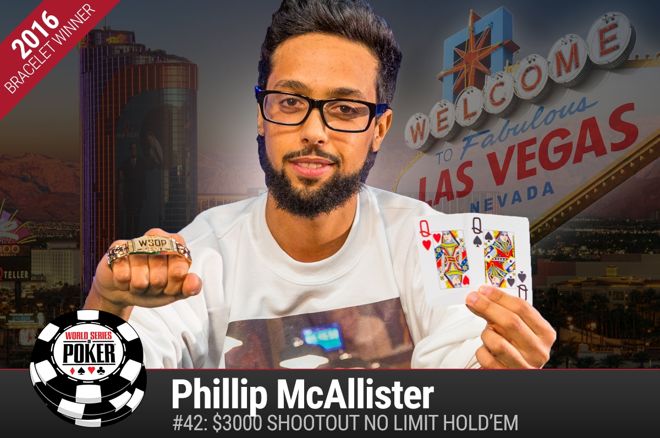 In a relative rarity for recent days at the 2016 World Series of Poker, Day 26 saw just one bracelet handed out, as young British pro Phillip McAllister continued what's looking like it could be a breakout year. Four other events all hit the money, however, including the two that kicked off. That means there will be plenty of high stakes poker ahead in the coming days, with the Monster Stack in particular starting to take shape.
All summer long, PokerNews.com will be bringing you daily coverage of the 2016 WSOP, brought to you by our sponsors, 888poker.
McAllister Beats Tough Final Table for Shootout Gold
Phillip McAllister has already conquered the online poker world, posting north of $2 million in cashes on PokerStars under the name "Grindation". The 22-year-old British pro then announced his presence on the live poker scene with a third-place finish at PokerStars Caribbean Adventure in January.
Anyone who wasn't paying attention then has been given another reason to take notice, as McAllister shipped Event #42: $3,000 Shootout No-Limit Hold'em for $267,720.
"It's about the money, but the bracelet's amazing as well," McAllister told the WSOP's Nolan Dalla after the win. "This is pretty amazing, the more I think about it."
He bested a field of 400 players, including a tough final table that included Stephen Chidwick, Faraz Jaka, and Maria Ho, who finished fourth.
"In a $3K shootout, you're going to get the elite players in the end because it goes from full ring to four-max and they have to play two heads-up matches to get here, so they're going to be good," Ho said in an interview with PokerNews shortly after busting out. "Given the fact that I was the shortest stack with 10 players left, I'm really happy to end up fourth."
Ho and Chidwick pocketed more cash but remain without bracelets despite each having seven figures in cashes at the WSOP alone.
Official Final Table Results
| Place | Player | Hometown | Prize |
| --- | --- | --- | --- |
| 1 | Phillip McAllister | Winchester, U.K. | $267,720 |
| 2 | Kyle Montgomery | Fishers, IN | $165,450 |
| 3 | Christopher Kruk | Oakville, Canada | $119,686 |
| 4 | Maria Ho | Arcadia, CA | $87,487 |
| 5 | Andreas Freund | Vienna, Austria | $64,628 |
| 6 | Marcos Antunes | Campinas, Brazil | $48,252 |
| 7 | Jesse Yaginuma | Silver Spring, MD | $36,416 |
| 8 | Rhys Jones | Fareham, U.K | $27,783 |
| 9 | Faraz Jaka | San Jose, CA | $21,431 |
| 10 | Stephen Chidwick | Deal, U.K. | $16,717 |
Andrew Moreno, Chad Holloway Among Monster Stack Leaders
After two days of Day 1 play, the field of the Monster Stack combined for the first time as 2,001 players gathered at the Rio with the money bubble looming. Ten levels later, just 273 remain in contention.
Andrew Moreno, who made a deep run in last year's WSOP Main Event with a 28th-place finish for $211,821, was one of the big stacks coming in and it stayed that was as he finished with 1,341,000, good for second place. Also toting a big stack into Day 3 will be former PokerNews Managing Editor Chad Holloway, who famously won a bracelet in the Employees Event in 2013. He put 937,000 in the bag.
The chip leader at the start of Day 3 will be Nabil Mohamed, a player from the U.K. who has yet to book a WSOP cash. Matt Stout (726,000), Brandon Meyers (650,000), Justin Liberto (463,000), Jake Schindler (386,000), Chino Rheem (385,000), Josh Arieh (338,000), and David Peters (225,000) also punched Day 3 tickets.
Rheem was looking good to bag a big stack but sent a massive chunk of chips to Moreno just before the end of the day. With a short-stacked player all in preflop, Rheem blasted away on a





board, shoving all in on the river for well over the size of the pot. Moreno called down with


, showing his hand after Rheem announced an eight.
Rheem proceeded to shove all in blind after that with his last 71,000 and managed to double up with


against a player with


.
With 1,040 players paid, plenty of notables found their way to a lengthy payout line. Among them were Kevin "Phwap" Boudreau, Matt Giannetti, Joseph Cheong, Mohsin Charania, Blair Hinkle, Jason Mercier, Athanasios Polychronopoulos, Brian Yoon, and Connor Drinan.
With such a large field, it will be another early day for Monster Stack survivors as the field must be pared down, so they'll come back at 11 a.m. once again.
12 Remain in Stud Hi-Low Championship With Bonomo Leading
Justin Bonomo's decorated tournament career includes just shy of $3 million in WSOP cashes and one bracelet, and he's in great position to add to both of those counts as he bagged the chip lead in the $10,000 Stud Hi-Low Championship.
Bonomo will take 1,287,000 into Day 3, which will likely see a winner crowned. Here's the complete list of remaining chip counts:
| Player | Stack |
| --- | --- |
| Justin Bonomo | 1,287,000 |
| George Danzer | 1,049,000 |
| Todd Brunson | 743,000 |
| Scott Clements | 701,000 |
| Esther Taylor-Brady | 680,000 |
| Eli Elezra | 582,000 |
| Randy Ohel | 550,000 |
| David Benyamine | 406,000 |
| Jack Duong | 336,000 |
| Roland Israelashvili | 277,000 |
| David Grey | 149,000 |
| Mike Leah | 68,000 |
The money bubble burst about midway through Day 2, with 21 places paid. Adam Friedman, Felipe Ramos, Phil Hui, and Dan Shak all busted in the money, with the latter sent packing on the last hand of the night, which saw Bonomo and Ohel chop a massive multi-way pot.
There's a pile of bracelets among the players remaining in the tournament, and someone will either add to their tally or grab a career first by the end of Day 3 if the schedule holds true. Things resume at 2 p.m. Monday.
2,076 Turn Out for Event #44
Operating in the shadow of the Monster Stack, but perhaps soaking up some of the players who found themselves busted early, Event #44: $1,000 No-Limit Hold'em drew a healthy 2,076 runners, and Day 1 saw the field cut down by enough to reach the money as just 225 survived.
Greece's Iliodoros Kamatakis (178,900) holds the chip lead, followed closely by Austria's Dejan Boskovic (169,100). Jeremy Ausmus, Justin Zaki, Jason Wheeler, Jennifer Shahade, Cord Garcia, David "ODB" Baker, Phil Laak, Asher Conniff, and the much-maligned Chris Ferguson also advanced.
Ferguson is coming off of Saturday's fourth-place finish in the $10,000 Six-Max Championship and will have plenty of eyes on him once again if he's able to make another deep run. He has his work cut out for him coming back with 27,900, one of the shorter stacks.
About 90 players who busted can console themselves with a payout, as 312 places are paid for this event with $298,849 reserved for the winner. Dan Kelly, Lizzy Harrison, Andy Spears, Davide Suriano, Bryan Campanello, Matt Waxman, and Carlos Chang were among those finishing in the money.
Players return for Day 2 at noon starting at Level 11 (600/1,200/200).
Double Duty for Leah Leads to Second Bag
While Mike Leah bagged a short stack to move into Day 3 of the $10K Stud Hi-Low, he was pulling double duty after buying into Event #45: $1,500 Mixed No-Limit Hold'em/Pot-Limit Omaha. Important business in the championship event kept him from doing much in the $1,500, but his blinded-away stack of 5,200 managed to squeak into the money and into Day 2.
A total of 138 players made it through out of 919 runners who registered for the brand new event. They'll be playing for shares of a prize pool of $1,240,650, with $241,427 going to the winner. Each one of the players remaining will receive a payout, as the bubble burst on the very last hand of the night.
WSOP veteran Loren Klein has the lead with 215,600 in the bag, followed by Shawn Rice (181,000), Niall Farrell (175,000), David Callaghan (164,000), and Martin Finger (142,000). John Racener, Fabrice Soulier, Craig Varnell, Antonio Esfandiari, Justin "stealthmunk" Schwartz, Humberto Brenes, and Dario Sammartino also finished with top-20 stacks, so what the field lacks in quantity it will make up for in quality.
The tournament resumes at 2 p.m. for Day 2, which will see another 10 levels played.
What's On Tap?
A pair of events will get underway on Day 27 of the WSOP. Bounty tournaments can be found at casinos across the world, but just one populates the WSOP schedule. It's of the $1,500 variety and gets going at 11 a.m. The 3 p.m. event features the game that's become a staple in high stakes cash: $10,000 2-7 Triple Draw Championship.
Be sure to stay tuned to PokerNews.com for continued coverage of the 2016 WSOP, brought to you by our sponsors, 888poker.