2016 WSOP Day 6: Robert Mizrachi Wins First Championship Event of the Summer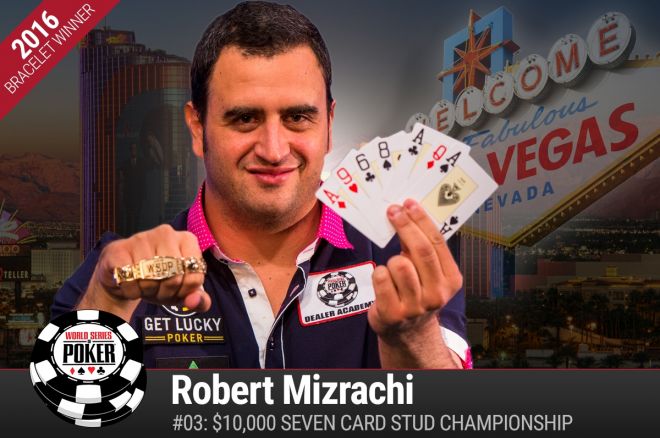 The 2016 World Series of Poker (WSOP) resumed on June 6 at the Rio All-Suite Las Vegas Hotel and Casino with Day 3 of the unparalleled Colossus — poker's largest tournament — and the final table of the $10,000 Stud Championship played down to a winner. The new $1,000 Top Up Turbo also played its final table, and the $1,500 Dealers Choice moved on to Day 2. Also, a $1,500 No-Limit Hold'em event kicked off, as did the $1,500 2-7 Draw Lowball (No-Limit).
Event #2: $565 Colossus II No-Limit Hold'em Day 3
Out of the staggering 21,613 entries to this tournament, just 78 returned for Day 3 on Monday with everyone remaining already guaranteed a five-figure payout. But everyone is pie-eyed for the first-place prize of an even $1 million. Not bad for a $565 tournament.
Players unbagged and restacked their chips to resume play with Ben Lindemulder holding the chip lead and four Canadians still in play. By the time the day came to an end, just the final table of nine players remained with Czech Republic's Jiri Horak bagging the most chips with 25,425,000.
None of the Canadians survived the day with Andrew Yip putting in the best performance, very nearly making final table. But he was eliminated in 11th place for $72,054. Warren Chu finished 17th ($44,740), Ping Lin finished 25th ($35,584), and David Elfan finished 45th ($22,939).
The final nine players are now guaranteed at least $92,291 and only one elimination is needed before the payouts start getting into six figures. The winner will receive their first WSOP gold bracelet as well as a cool $1 million.
Robert Mizrachi Wins Event #3: $10,000 Seven Card Stud Championship
The $10,000 Stud Championship started with 87 people buying in for 50,000 chips and, as with any Championship event at the WSOP, some big names came out for the big prize. Early failed hopefuls for the Stud Championship included Phil Helmuth, Todd Brunson, Brandon Shack-Harris, Shaun Deeb, Mike Gorodinsky, Jean-Robert Bellande, Jason Somerville, Daniel Negreanu, Jason Mercier, as well as surprise entry Chris "Jesus" Ferguson.
Canada's hopes going into Day 2 on Sunday rested on the shoulders of Toronto's Mike Leah. Leah took the 17th-place stack into the second day, where he faced off against another list of stellar players to make it through Day 1. Sadly for Canada, Leah finished outside of the 14 paid spots. Felipe Ramos took home the first cash, collecting $14,500 for 14th place.
Another seven players fell before the end of Day 2, including Jeff Lisandro and Stephen Chidwick, who finished in 13th ($14,500) and 11th ($16,638), respectively. Calvin Anderson and Bill Chen made it to the final table of the eight-handed game, but were the final two players eliminated on Day 2. With Anderson collecting $24,142 for eighth and Chen pocketing $30,466 for seventh, the stage was set for a six-handed final day with some of the biggest names in mixed-game poker.
Robert Mizrachi led the way into Day 3 on Monday with 1,371,000 chips. With three bracelets already under his belt, including the 2014 Dealers Choice event, Mizrachi was well situated to parlay his chip lead into his fourth bracelet, but he faced stiff competition.
Coming into the final day second in chips with a stack of 1,157,000 was Matt Grapenthien who won this very event in 2014, grabbing his first bracelet. Rounding out the final table was a veritable murderers' row of poker talent with 2014 WSOP Player of the Year, George Danzer (340,000), David Benyamine (363,000), who final-tabled the $10,000 Dealers Choice Championship in 2015, as well as the Poker Players Championship in 2014 and a 2008 bracelet in the $10,000 World Championship Omaha Hi-Low Split-8 or Better, and Ted Forrest (447,000), holder of six bracelets, including four in stud disciplines.
The Day 1 chip leader, Steve Weiss, carrying the third-place stack of 682,000 into the final day, was the least experienced man at the table, with just three previous cashes. One of those cashes was in Seven Card Stud Hi-low-8 or Better in 2008, proving his trip to the final table was no fluke.
Benyamine would be the first player to exit Day 3 on a hand where he was all in and behind to Forrest, needing to hit his pair of fours against Forrest's queens. Seventh street was kinder to Forrest, giving him a third queen, while Benyamine got the case

, leaving his small pair dead to Forrest's trip ladies. Benyamine collected $39,611 for sixth place.
Play then moved to the main stage with five-handed play continuing for a couple of hours before the next elimination. In addition to the big names at the table, the audience on the main stage was full of familiar faces as well, including Canadian mixed-game beast and three-time bracelet winner Daniel Idema, as well as seventh-place finisher Bill Chen.
Steve Weiss was the next man out, but he got his money's worth, cashing out for $52,012 in fifth place. He was crippled in a hand with George Danzer nearly two hours into play on the main stage, but Ted Forrest all but finished him off a few minutes later as he cracked Weiss' split aces with kings and deuces after calling down third and fourth street against Weiss


with


, hitting a

on fifth for his two pairs. With their boards reading




for Forrest and




for Weiss, the action on seventh went check-bet-call. Forest flipped over his two pairs and Weiss flashed an ace as he mucked his other two.
Forrest couldn't enjoy the chips for long though. Within an hour, Forrest was on his way to the cage to collect $72,971 for fourth place after sending his chips to Mizrachi. In the final hand, Mizrachi completed on third showing a jack and Forrest put in the raise with his

. Mizrachi called after the bring-in got out of the way. Forrest paired his ace on fourth and double-bet for 60,000, more than half of his stack. Mizrachi raised showing two clubs, putting Forrest all in. Forrest rolled over a third ace as well as

against Mizrachi's four-flush in clubs. Fifth street was a wash for both players, but Mizrachi caught another club on sixth to Forrest's brick. Forrest was left needing to hit the boat on seventh to counter the club flush, and the

brick spelled the end of his tournament.
George Danzer was the next giant to fall. Following the elimination of Forrest, Danzer surged ahead, even taking the chip lead after getting there on a hand against Mizrachi where his tens and threes capped Mizrachi's buried sevens. But it was not to be for Danzer. He gave back many of those chips to Mizrachi half an hour later on two successive hands before Grapenthien crippled him. Grapenthien got there on sixth street, pairing his king to go ahead of Danzer's buried queens. Despite doubling once, the 2014 WSOP Player of the Year exited shortly after, collecting $103,230 for third place, and getting a decent start on his 2016 Player of the Year run.
With Danzer's exit, play went on break as Mizrachi and Grapenthien prepared to go heads up for the first Championship bracelet of 2016. Mizrachi took the chip advantage into heads-up play with 2,510,000 to Grapenthien's 1,840,000. The two players battled it out for three hours, trading the lead back and forth over that time, but ultimately, Mizrachi proved to be too much for Grapenthien.
Mizrachi took the lead for the final time after hitting a spade flush on seventh street to take a big pot from Grapenthien, and he never looked back after that. Mizrachi slowly chipped up over the next 30 minutes before taking the bracelet with trip aces on the final hand.
Grapenthien fell just short of collecting his second bracelet in three years in the $10,000 Seven Card Stud Championship, but his second-place finish was worth $149,976. Mizrachi added a fourth bracelet to his collection — his second in a $10,000 event — as well as the top prize of $242,662.
Kyle Julius Wins Event #4: $1,000 Top Up Turbo No-Limit Hold'em
The $1,000 Top Up Turbo is a new WSOP event this year and is a quick two-day tournament with 20-minute blinds. Registration saw 667 buy-ins tallied to create a prize pool of $681,300 with $142,972 up top.
The top 101 players finished in the money on Sunday's Day 1 and plenty of trips to the payout cage were made before play finally paused with just a nine players remaining for a final table on Monday. None of them were Canadian.
Karl Held returned with the chip lead for the final day with 1,175,000 to play with, and he carried that all the way to fourth place before being eliminated for $43,001. Ben Yu was the only player at the table with a previous WSOP bracelet, and he was the next out in third place for $61,137.
Belgian Bart Lybaert and Kyle Julius from Illinois faced off for the title and the American emerged the victor. Lybaert earned the runner-up prize of $88,328 while Julius earned his first gold bracelet and $142,972.
Event #5: $1,500 Dealers Choice 6-Handed Day 2
One of the most fun events of the summer is the tournament that requires the widest breadth of poker talent. The $1,500 Dealers Choice event is a 19-game mix of poker variants that require players to shift their thinking as the game changes with every orbit.
A total of 389 entries were tallied on Sunday's Day 1 and just 85 returned for Monday's Day 2 looking for a piece of the $525,150 prize pool. Svetlana Gromenkova from New York returned to the tables with the most chips at 99,600, and she used that stack to propel her into the money but not quite to the end of day. She was eliminated in 21st place for $4,069.
Clayton Mozdzen, Sorel Mizzi, and Shawn Buchanan represented the Canadian contingent when play resumed, but none of them survive the day either. However, all of them made it through the money bubble.
Buchanan was the first out and finished 54th for $2,269. Mizzi made it all the way to 34th to pocket $2,912, and Mozdzen was the final Canuck, finishing 28th for $3,387.
Just nine players remain for the final day on Tuesday. Las Vegas local Lawrence Berg holds the chip lead with 836,500 and, if he can survive one more elimination, he is guaranteed to earn the biggest WSOP cash of his life.
The second-best stack (674,500) belongs to Paul Volpe who is hunting for his second WSOP bracelet. Andrew Brown (250,000) is another bracelet winner looking for a second, as is Randy Ohel who sits at the bottom of the final nine with 99,500.
A winner will be found on Tuesday's Day 3 and $125,466 awaits the eventual champion along with the gold WSOP bracelet.
Event #6: $1,500 No-Limit Hold'em Day 1
The $1,500 No-Limit Hold'em events are a staple of the WSOP and several of them run throughout the summer, giving players multiple chances to win a low-cost event in the most popular variant of poker.
The first one of the year saw 2,016 entries when registration closed on Monday's Day 1. The prize pool came in at $2,721,600 with $438,417 awaiting the winner.
Just 321 players survived the day which is only 18 eliminations away from the money, so the bubble will burst early in Day 2.
The U.K.'s Roman Rogovskyi will return with the largest stack with 188,700 chips. The best Canadian stack belonged to Ryan McGarry with 115,400 which is good for 14th overall. Giovanni Massa (67,800), Jean-Pascal Savard (44,100), Michael Niwinski (40,700), Mark Murphy (39,200), Shawn Silva (39,000), Matt Jarvis (38,600), Mike Leah (31,400), Stephen Maguire (23,200), Pascal Monarque (20,500), Ryan Smith (19,100), and Scott Byers (12,000) make up the rest of the Canadians who will return for Day 2.
Event #7: $1,500 2-7 Draw Lowball (No-Limit) Day 1
Day 1 of the $1,500 2-7 Draw Lowball (No-Limit) kicked off on Monday and saw 279 entries which is 60 more players than the same tournament received last year. By the end of the day, just 54 players remained with hopes of earning one of the WSOP's few draw bracelets.
Russian Konstantin Maslak finished the day with the tallest stack, counting out 119,800 chips, while Israel's Yuval Bronshtein was the only other player to collect six-figure chips, coming in at 108,125.
The top Canadian stack to survive the day was Adam Crawford with 56,675 which positions him 11th-best in the field. David Lim (35,900), Silvester Swoboda (31,650), and Aaron Cooper (20,075) will also be back for another day of single draw.
The prize pool sits at $376,650 and the top 42 players will earn a piece of it. Just 12 more eliminations on Day 2 will be enough to put all of those remaining in the money and then their sights will be set on the $92,338 up top.
What to Watch For Tomorrow
Colossus will resume with the final table to determine the first million-dollar winner of the summer on Tuesday, June 7. The $1,500 Dealers Choice event will also come to a conclusion and award a gold bracelet before the day is through. The $1,500 No-Limit Hold'em and $1,500 2-7 Draw Lowball (No-Limit) will move on to Day 2, and two more events will kick off with Day 1: the $1,500 H.O.R.S.E. and the $10,000 Heads Up No-Limit Hold'em Championship.
Check back with PokerNews Canada tomorrow for an update on all of those events. Good luck to the Canadians in the field!
Details and photo courtesy of the WSOP Live Updates.
Get all the latest PokerNews Canada updates on your social media outlets. Follow us on Twitter and like us on Facebook!