2016 WSOP Day 7: Benjamin Keeline is First New Millionaire of the Summer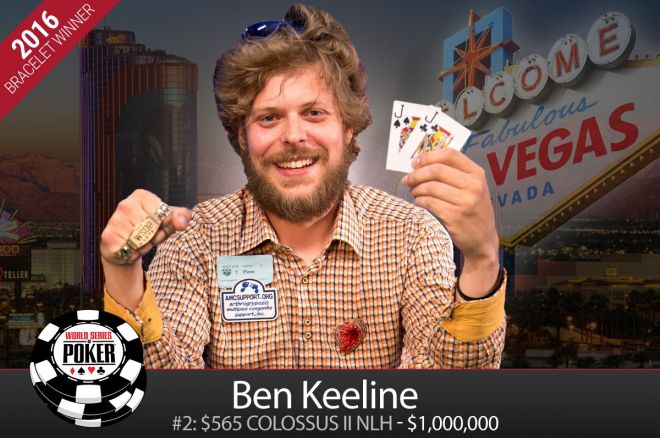 The 2016 World Series of Poker (WSOP) resumed on June 7 at the Rio All-Suite Las Vegas Hotel and Casino with the final table of the unparalleled Colossus — poker's largest tournament — and the final table of the $1,500 Dealers Choice played down to a winner as well. Two $1,500 events — a no-limit hold'em and the deuce-to-seven single draw — moved on to Day 2, and the $1,500 H.O.R.S.E. and $10,000 Heads Up No-Limit Hold'em Championship kicked off their Day 1s.
Benjamin Keeline Wins Event #2: $565 Colossus II No-Limit Hold'em
Out of the staggering 21,613 entries to this tournament, just nine returned for the final table on Tuesday. By the end of the day, the WSOP created its first new millionaire of the summer.
Players unbagged and restacked their chips to resume play with Jiri Horak of the Czech Republic holding the chip lead among the final nine players. Horak was able to take that lead all the way to the final two players where he faced American Benjamin Keeline heads up.
Horak very nearly thought he earned the win too when he and Keeline were very closely matched in chips with the blinds high. Horak raised to 5,000,000 and Keeline three-bet shoved with his entire stack, slightly covering Horak. The call was made and the hands were tabled.
Keeline flipped up


and was ahead of Horak's


. The flop came



and Keeline continued to hold the better hand. The turn was the

and, when the

hit the river, both players celebrated. Horak recognized that he made two pairs and thought that he'd won the tournament-deciding pot, but failed to see Keeline's flush.
Horak collected the runner-up prize of $618,000 after four days of play in the $565 tournament. Keeline earned an even $1 million and the prestigious WSOP gold bracelet.
Amazingly, Keeline's victory was a real-life chip-and-a-chair story. Way back on Day 1, he was down to a single T$500 chip after he ran his pocket kings into pocket aces. The blinds were 1,500/3,000 with a 500 ante, meaning he had only enough to pay a single ante, but he managed to fight against impossible odds to gain every single one of the 109,000,000 chips in play from that one chip to become this year's Colossus winner.
Lawrence Berg Wins Event #5: $1,500 Dealers Choice 6-Handed
The Dealers Choice is arguably seen as the pinnacle of poker at the WSOP. With players unable to focus on their specific game of choice, and with no regular structure of games to fall back on, the Dealers Choice format requires players to have a complete grasp of all the various formats of poker and be able to call on the right strategy for the right game at a moment's notice.
Event #5: $1500 Dealers Choice 6-Handed awarded the first bracelet in this multi-game format after three days of play. By the end of registration, 389 players put down $1,500 to take their shot at the big prizes and, after two days of play, just nine players remained in the hunt for the $125,466 top prize.
Day 2 of the event saw 85 people return to battle it out for 59 paid spots, and several Canadians made it to the cash-out cage but couldn't quite pull through to the final day. [B]Shawn Buchanan[/B], coming off a stellar performance in PokerStars' recent Spring Championship of Online Poker, cashed out for $2,269 in 54th place. Sorel Mizzi finished 20 places better, collecting $2,912, while Winnipeg's Clayton Mozdzen scored his 11th WSOP cash with a 28th-place finish and a payday of $3,387.
Day 3 started with two tables still playing in the six-handed event, as nine players came back to start the day. The final-day players included bracelet winners Paul Volpe, who came off a strong 2015 where he made three final tables and added an eighth-place finish in the $10,000 Dealers Choice Championship, Randy Ohel, who brought 20 previous cashes plus a deuce-to-seven bracelet to Day 3, and 2008 Omaha Hi-Low Split-8 or Better winner Andrew Brown.
The final nine were rounded out by Yueqi (Rich) Zhu (46 previous WSOP cashes), Lawrence Berg, Joey Couden, John Templeton, Daniel Habl, and Ryan Himes.
Lawrence Berg, who came into the final day with just three previous WSOP cashes to his name, started Day 3 with the most chips, followed by Paul Volpe. Randy Ohel and Daniel Habl rounded out the bottom of the chip counts in ninth and eighth respectively, but several players started Day 3 in the danger zone under 200,000 chips.
Ryan Himes, one of the players at risk with only 125,500, was the first casualty of the day, exiting on a brutal limit hold'em hand early in the day against Joey Couden. Himes was all in on the turn with a made flush against Coudon's trip tens, but the case ten on the river gave Coudon quads and sent Himes to the rail. Himes consolation prize for ninth was $8,466.
The action was fast early in the day and short stack Randy Ohel was the next to leave the tournament. In a "Big O" hand (five-card pot-limit Omaha hi-lo), Ohel got his stack in the middle on a flop of



holding a queen-high flush draw for high as well as the nut low and Paul Volpe made the call tabling a tying low hand and a pair of eights for high. Ohel bricked his flush draw on both the turn and river, but the

river also counterfitted his [A2] low hand as Volpe held the [A23]. Volpe scooped the pot and Ohel pocketed $11,454 for eighth place.
Just a little over an hour after cards went into the air, the slaughter of the short stacks continued with the exit of Daniel Habl in a five-card draw high hand. Habl also scored $11,454 but notched one finish higher than Ohel at seventh.
With the final table set, play slowed down a little bit, and it was two hours before John Templeton, who jumped into the tournament after his very first WSOP cash in the $565 Colossus II No-Limit Hold'em, hit the rail in a seven-card stud hand against Andrew Brown. Templeton's sixth-place finish added $15,932 to his $922 Colossus cash.
Joey Couden was the next to go, collecting $22,765 for fifth place on an Omaha hi-lo hand where he got his stack in with top pair against Brown's top two and couldn't improve.
The remaining four players battled it out for over three hours before the next player hit the exit just before the dinner break. Paul Volpe hit the rail during a razz round after Andrew Brown crippled him with a 76 before Berg delivered the knockout with another 76. Fourth place was worth $33,393 for Volpe.
Players returned from dinner to play three-handed for nearly an hour before Andrew Brown went down in a badeucy hand. Lawrence Berg scooped Brown. Brown scored $50,250 for third place in his ninth lifetime WSOP cash.
That left Zhu and Berg heads up for the bracelet with Berg holding a huge chip lead. Heads up didn't last long, with Berg taking down the bracelet a few minutes later during a hand of Omaha hi-lo. Zhu collected $77,526 for his second-place finish. The cash marked Zhu's 47th WSOP cash and the second time he's fallen just short of the top prize. Zhu now needs less than $40,000 more to cross the $1 million mark in lifetime WSOP earnings.
The top prize went to Berg in just his fourth WSOP cash and his first final table, parlaying his start-of-day chip lead into the win. In addition to the bracelet, Berg collected $125,466.
Event #6: $1,500 No-Limit Hold'em Day 2
The $1,500 No-Limit Hold'em events are a staple of the WSOP and several of them run throughout the summer, giving players multiple chances to win a low-cost event in the most popular variant of poker.
The first one of the year saw 2,016 entries when registration closed on Monday's Day 1. The prize pool came in at $2,721,600 with $438,417 awaiting the winner.
Just 321 players survived to play Day 2 on Tuesday which was only 18 eliminations away from the money. Shortly after play resumed, the money bubble burst. By the end of the day, just 36 players remained.
Justin Young will be the player to return with the most chips. The Nevada resident bagged 997,000 chips late Tuesday night. None of the Canadians who made Day 2 managed to survive for Day 3.
One of those Canadians, Mike Leah, was the very last elimination of Day 2. He was eliminated in 37th place for $9,229 after being one of the largest chip stacks in the tournament just minutes earlier.
Missed day 3 @WSOP #6 by about 5 mins # big blow up to bust out 37th from CL to out in about 3 hands...#

— Mike Leah (@GoLeafsGoEh)
In his final hand, he called an under-the-gun raise of 25,000 and saw a flop of



. He called a bet of 40,000 and went to the turn of

. He faced another bet, this time to 110,000, and Leah jammed all in for 200,000, which was snap-called. Leah held


but his opponent had turned a straight with


. The river was a blank and Leah was eliminated moments before the day ended.
Other Canadian cashes included Ryan Smith (50th — $7,681), Ryan McGarry (72nd — $5,508), Jean-Pascal Savard (101st — $3,266), Giovanni Massa (118th — $3,266), Pascal Monarque (125th — $3,266), Matt Jarvis (165th — $2,955), Mark Murphy (173rd — $2,708), Michael Niwinski (238th — $2,512), Shawn Silva (283rd — $2,248), and Stephen Maguire (288th — $2,248).
Event #7: $1,500 2-7 Draw Lowball (No-Limit) Day 2
The $1,500 2-7 Draw Lowball (No-Limit) kicked off on Monday and saw 279 entries which is 60 more players than the same tournament received last year. By the end of the day, just 54 players remained to return on Tuesday with hopes of getting one day closer to earning one of the WSOP's few draw bracelets.
Russian Konstantin Maslak returned to the tables with the tallest stack, counting out 119,800 chips, while Israel's Yuval Bronshtein was the only other player to begin the day with six-figure chips, coming in at 108,125.
There were four Canadians still in the tournament for Day 2, but none of them were among the final eight players who remained when 10 more 60-minute levels concluded.
The prize pool of $376,650 started to be distributed once 42 players remained. By that point, just two Canadians remained. David Lim was the first Canuck to collect a payout, finishing in 37th for $2,266. Adam Crawford made it as far as 17th before he lost his stack, pocketing $3,688.
New Yorker Ryan D'Angelo will return with the chip lead for his fourth-ever WSOP final table, though he has yet to find a victory and is looking for his first bracelet. He counted out his stack at 499,000 at the end of Day 2.
The second-best stack of 425,000 will be in the hands of John Monnette who is within reach of his third bracelet. Third-place chips belong to Tom Franklin with 360,000 who also has a previous WSOP bracelet, having won it way back in 1999 playing limit Omaha.
Dan Kelly sits in fourth with 256,500 and has two previous WSOP wins. One other bracelet winner will return on Wednesday. Konstantin Maslak won a WSOP event last year and bagged 162,000 chips to try to win a second.
Event #8: $1,500 H.O.R.S.E. Day 1
Day 1 of the first H.O.R.S.E. event of the 2016 WSOP kicked off on Tuesday with 778 players putting down $1,500 to compete for one of 117 paying spots.
After 11 hours of play, 202 players remained with chips in front of them with Japanese player Naoya Kihara leading the way. Kihara has one previous bracelet from 2012 and is looking to add a 16th cash to his WSOP record.
Quite a few other recognizable names made it through Day 1. Among the top 50 are Svetlana Gromenkova (60,600), Ryan Himes (57,500), Andre Akkari (50,300), Brian Hastings (48,200), and Jeff Shulman (40,600).
The top Canadian going into the second day of play is Vancouver's Daniel Idema with 35,600 chips. Idema already has a H.O.R.S.E. bracelet to his name from last year's $3,000 H.O.R.S.E. and is looking to add a fourth bracelet to his collection. Other Canadians to make Day 2 included Kal Raichura, Devin Sembaluk, Thomas Taylor, Chris Back, and Sean Eichendorf.
Event #9: $10,000 Heads Up No-Limit Hold'em Championship Day 1
The second Championship event of the summer pits players one-on-one against each other in a true test of skill. There were 153 players to buy in to the $10,000 Heads Up No-Limit Hold'em Championship, creating a prize pool of $1,188,200 and action kicked off on Tuesday with 25 matches getting the field down to 128 to fit the bracket.
Canadian Sorel Mizzi was one of the players who was matched up in the partial first round, and he failed to win his match. Marcus Mizzi, Daniel Negreanu, Timothy Adams, Christopher Kruk, and Jacob Wideman represented Canada in the round of 128, but that was where Mizzi, Kruk, and Negreanu met their end.
The field was narrowed further in the round of 64, and Wideman was the only Canadian to make it through. Wideman will face Ankush Mandavia next. Just 32 players remained for Day 2 on Wednesday. One more round of matches will put the 16 survivors into the money. The eventual winner will earn $320,574 and the gold bracelet.
What to Watch For Tomorrow
The final 36 players will return in the first $1,500 no-limit hold'em event of the summer on Wednesday, June 8, with the plan to play down to a winner. The $1,500 2-7 Draw Lowball (No-Limit) will also return for its final day while the $1,500 H.O.R.S.E. and $10,000 Heads Up Championship will move on to Day 2. Two more events will kick off their Day 1s: the $1,500 6-Handed No-Limit Hold'em and the $10,000 Dealers Choice 6-Handed Championship.
Check back with PokerNews Canada tomorrow for an update on all of those events. Good luck to the Canadians in the field!
Details and photo courtesy of the WSOP Live Updates.
Get all the latest PokerNews Canada updates on your social media outlets. Follow us on Twitter and like us on Facebook!