2016 WSOP Day 8: Ryan D'Angelo Wins First Bracelet and Eric Afriat Bags Heaps in a $1,500 Hold'em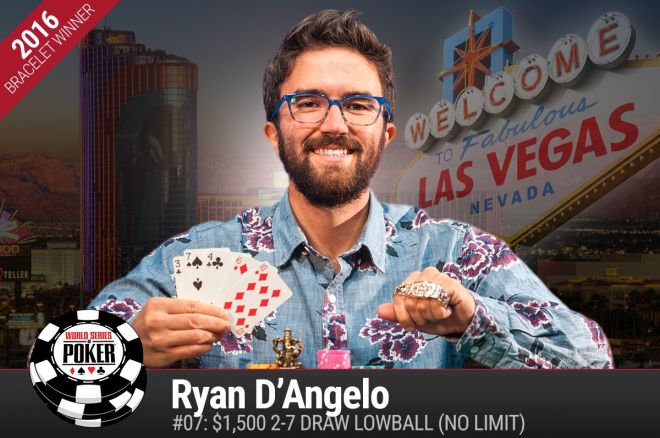 The 2016 World Series of Poker (WSOP) resumed on June 8 at the Rio All-Suite Las Vegas Hotel and Casino with Day 3 of a $1,500 no-limit hold'em event, the final day of the $1,500 2-7 Draw Lowball (No-Limit), Day 2 of the $1,500 H.O.R.S.E., and Day 2 of the $10,000 Heads Up No-Limit Hold'em Championship. Two more events also kicked off: the $1,500 6-Handed No-Limit Hold'em and the $10,000 Dealers Choice 6-Handed Championship.
Event #6: $1,500 No-Limit Hold'em Day 3
The $1,500 No-Limit Hold'em events are a staple of the WSOP and several of them run throughout the summer, giving players multiple chances to win a low-cost event in the most popular variant of poker.
The first one of the year saw 2,016 entries when registration closed on Monday's Day 1. The prize pool came in at $2,721,600 with $438,417 awaiting the winner.
After Day 2, 36 players remained for Wednesday's Day 3 which was scheduled to be the final day of the tournament. However, play ended late in the day with four players still remaining and a Day 4 has been tagged on and will finish off the event on Thursday.
Justin Young was the player to return with the most chips on Wednesday. The Nevada resident stacked up 997,000 chips to resume play in a field that was lacking a single Canadian.
Despite starting with the most chips, Young lost all of them fairly early in the day, finishing in 22nd place for $13,786.
When the final table of nine was set, Anthony Zinno headlined the lineup, but his run for another bracelet ended in eighth place to earn him $45,582.
The day ended with Australian Michael Addamo holding a significant chip advantage with 6,595,000. California's Davis Aalvik had the second-best stack with 3,630,000, followed by Swede Peter Eichhardt with 2,640,000 and Florida's John Racener with 2,490,000. They will return for a fourth day of play to determine a winner.
Ryan D'Angelo Wins Event #7: $1,500 2-7 Draw Lowball (No-Limit)
The $1,500 2-7 Draw Lowball (No-Limit) kicked off on Monday and saw 279 entries which is 60 more players than the same tournament received last year. The final eight returned on Wednesday to play down to a bracelet winner.
Well-known New Yorker Ryan D'Angelo returned with the chip lead for his fourth-ever WSOP final table, and he managed to propel himself all the way to victory, earning his first gold bracelet.
Some of the other players to return on Wednesday included John Monnette with two previous bracelets. Tom Franklin also has a previous WSOP bracelet, having won it way back in 1999 playing limit Omaha. Dan Kelly has two previous WSOP wins. And Konstantin Maslak was another player with a previous bracelet, having won a WSOP event last year
Ryan D'Angelo was responsible for the third-place elimination of Tom Franklin after D'Angelo three-bet shoved all in predraw and Franklin hesitantly called. Franklin drew one and D'Angelo patted his hand. D'Angelo held the roughest of tens with





while Franklin was drawing to a 96. Franklin drew a

and was eliminated, giving D'Angelo a huge chip lead going into heads-up play against John Monnette.
Shortly after Franklin's elimination, Ryan D'Angelo made a big raise to 258,000 and John Monnette called, leaving himself only about 50,000 chips behind. D'Angelo patted his hand and Monette drew. The two checked to showdown and D'Angelo revealed





while Monnette had paired the seven in his 97 draw.
Monnette managed to double up his tiny stack a couple of times before D'Angelo ended it. Monnette pushed his 200,000 all in and D'Angelo called. Monnette was fairly strong, patting





, and D'Angelo could draw to a better ten with his




. He pulled the

and made the better hand, winning the bracelet and $92,338 while Monnette settled for the runner-up prize of $57,061.
Event #8: $1,500 H.O.R.S.E. Day 2
The first H.O.R.S.E. event of the summer is well underway at the Rio as players played down into the money on Day 2. At the end of Day 1, 202 players survived with a chip stack, and all returned for Day 2 looking to get one of 117 paid spots.
It took nearly four hours to play down to the money, and it was clear no one wanted to bubble. In the first round of hand-for-hand play, there were four all-ins and calls, and four times the at-risk player doubled up. Michael Jacoby ended up exiting on the bubble in a stud hand against Brandon Cantu.
Bustouts came fast and furious after the bubble burst, as shorter players tried to get a double to get back into the tournament. The first minimum cash position, worth $2,253, went to Brandon Guss, and another 20 players would take home the same paycheque. Among the notable players to cash on Day 2 were Mel Judah (107th — $2,253), Ray Henson (93rd — $2,342), Brandon Cantu (79th — $2,481), Brian Hastings (71st — $2,679), Mike Sexton (66th — $2,679), Tom McCormick (57th — $2,946; his 54th WSOP cash), Ryan Himes (53rd — $3,300), Day 1 chip leader Naoya Kihara (48th — $3,672), Chris Klodnicki (40th — $4,366), Jake Schwartz (27th — $5,154), and Rep Porter (24th — $6,188).
Canadians had four horses running in Day 2, but only one managed to make it to the cash. Mixed-game beast Daniel Idema was looking to add a fourth bracelet to his collection and his second in H.O.R.S.E. Unfortunately, he would fall short, ending his run in 33rd place for a payday of $4,366.
By the end of play, just 20 players remained in contention for the bracelet, with Ben Ponzio from Illinois leading the way. Ponzio takes 837,000 chips into Day 3 where he will face off against the second-place stack of Justin Bonomo (559,000), sporting an interesting new pink hairdo. Also unbagging for Day 3 will be such notables as Matt Glantz (60,000), Andre Akkari (236,000), and Ismael Bojang (362,000).
Event #9: $10,000 Heads Up No-Limit Hold'em Championship Day 2
The second Championship event of the summer pits players one-on-one against each other in a true test of skill. There were 153 players to buy in to the $10,000 Heads Up No-Limit Hold'em Championship, creating a prize pool of $1,188,200.
Canadians Sorel Mizzi, Marcus Mizzi, Daniel Negreanu, Timothy Adams, Christopher Kruk, and Jacob Wideman all took shots in the event, but only Wideman made it through Day 1 to get his name in the bracket of 32 players on Wednesday.
The players needed to make it through one more round before the final 16 survivors would be in the money. The one Canadian hopeful, Jacob Wideman, needed to get past Ankush Mandavia to earn the largest live tournament cash of his life, but Mandavia was the one to emerge victorious in their match.
Just four players remained when Day 2 concluded. The U.K.'s Alex Luneau was the only non-American with a chance at the bracelet with John Smith, Alan Percal, and Olivier Busquet all returning for the final day on Thursday.
They're all guaranteed at least $123,929 but the eventual winner will earn $320,574 and the gold bracelet.
Event #10: $1,500 6-Handed No-Limit Hold'em Day 1
The $1,500 6-Handed No-Limit Hold'em event kicked off on Wednesday with 1,477 entries tallied up on Day 1. By the time the day came to an end, the money bubble had already burst with 222 players getting paid and only 183 survived to advance to Thursday's Day 2.
Californian Daniel Strelitz finished the day with the most chips, bagging 250,800, but the second-best stack and the only other player to tip over the 200,000 mark was Canadian Eric Afriat with 208,000.
Mike Watson (112,500), Vanessa Kade (99,200), Jean-Pascal Savard (97,700), Andrew Kim (93,700), Matt Jarvis (86,200), Jean Ferreira (77,300), Jeff Mulder (77,100), Thi Ngo (61,500), Matt Marafioti (59,500), Scott Montgomery (53,200), Jie Gao (51,000), Scott McMorran (50,000), Pablo Mariz (12,900), and Giovanni Massa (12,500) make up the rest of the Canadian contingent to return in the money on Thursday.
Just one Canadian collected a payout late in the day on Wednesday. Chrishan Sivasundaram finished 200th for a min-cash of $2,250.
First place promises $346,088 along with the elusive WSOP gold bracelet.
Event #11: $10,000 Dealers Choice 6-Handed Championship Day 1
There is no other tournament in the 69-event WSOP schedule that challenges players quite like the $10,000 Dealers Choice Championship. This third Championship event of the summer demands players to adjust their thinking as the game changes every orbit from a selection of 19 different game variants.
A total of 118 entries passed through registration on Wednesday's Day 1 to create a prize pool of $1,109,200 with $306,621 of that awaiting the Dealers Choice Champion. Just to final 18 players will earn a piece of the purse.
When Day 1 came to an end, 41 players remained with Bruno Fitoussi holding the most. He bagged 318,700 chips. The rest of the field is full of intimidating names with arm-length resumes.
The one Canadian to return on Thursday will be Greg Mueller with a healthy stack of 161,500 chips. Once a professional hockey player, Mueller is looking for his third WSOP bracelet and lucky 13th WSOP final table. Both of Mueller's previous bracelet wins were in limit hold'em, but he has also recorded great results in stud, draw, and mixed-game events.
Canadians Daniel Negreanu, Mike Leah, and Shawn Buchanan also fired at this event but failed to make it through the day.
What to Watch For Tomorrow
The final four players will return in the first $1,500 no-limit hold'em event of the summer on Thursday, June 9, after an extra day was tagged on to find the winner. The $1,500 H.O.R.S.E. and $10,000 Heads Up Championship will move on to their final days while the $1,500 6-Handed No-Limit Hold'em and the $10,000 Dealers Choice 6-Handed Championship progress to Day 2. There will also be two more events kicking off: the $565 Pot-Limit Omaha and the $1,500 Seven Card Razz.
Check back with PokerNews Canada tomorrow for an update on all of those events. Good luck to the Canadians in the field!
Details and photo courtesy of the WSOP Live Updates.
Get all the latest PokerNews Canada updates on your social media outlets. Follow us on Twitter and like us on Facebook!