2016 WSOP Day 9: Peter Eichhardt, Ian Johns, and Alan Percal Win Bracelets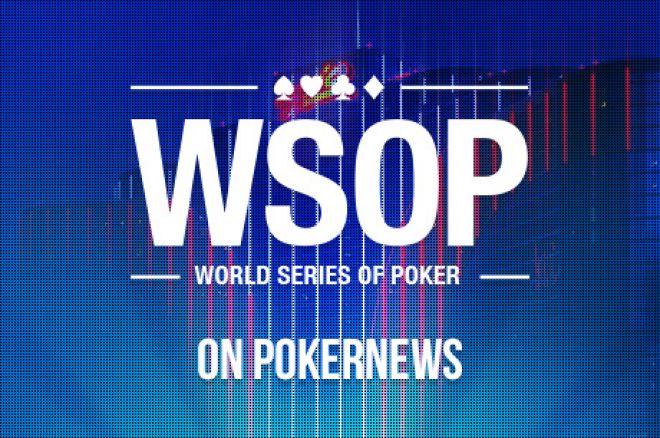 The 2016 World Series of Poker (WSOP) resumed on June 9 at the Rio All-Suite Las Vegas Hotel and Casino with the final four players of a $1,500 no-limit hold'em event and the final day of the $1,500 H.O.R.S.E. as well as the $10,000 Heads Up No-Limit Hold'em Championship. The $1,500 6-Handed No-Limit Hold'em and the $10,000 Dealers Choice 6-Handed Championship moved along to Day 2. The $565 Pot-Limit Omaha and $1,500 Seven Card Razz also kicked off.
Peter Eichhardt Wins Event #6: $1,500 No-Limit Hold'em
The $1,500 No-Limit Hold'em events are a staple of the WSOP and several of them run throughout the summer, giving players multiple chances to win a low-cost event in the most popular variant of poker.
The first one of the year saw 2,016 entries to create a prize pool of $2,721,600 and Peter Eichhardt claimed the largest portion of it, pocketing $438,417 and a WSOP bracelet with his victory.
Just four players remained for the extra Day 4 needed to finish up the event on Thursday. Australian Michael Addamo held a significant chip advantage with 6,595,000 coming back at the start of the day. California's Davis Aalvik had the second-best stack with 3,630,000, followed by Swede Peter Eichhardt with 2,640,000 and Florida's John Racener with 2,490,000.
After reducing the final table down to four players in just 68 hands on Day 3, the final four required a further 89 hands to find the winner on Day 4.
John Racener was the first one eliminated when he pushed all in with his short stack holding


. Both Davis Aalvik and Peter Eichhardt called with the former showing


and the latter flipping over


. The board ran out





and Eichhardt scooped up the pot with his pair of eights, eliminating Racener in fourth place for $143,563.
Half a dozen hands later, the start-of-day chip leader Michael Addamo pushed all in and Davis Aalvik made the call. Addamo held


to his opponent's


and was in need of help. The flop of



gave Aalvik two pairs, but the

turn added flush possibilities to Addamo's hand. The river was the

and Addamo was eliminated in third place for $196,202.
Less than a dozen hands into heads-up play, Peter Eichhardt pushed all in with his dominating stack and found a call from Davis Aalvik. Eichhardt revealed


, dominating Aalvik's


. There wasn't even a sweat as the flop came



, leaving Aalvik practically drawing dead to Eichhardt's flush. The board completed with the

and

and Aalvik collected the runner-up prize of $270,842, leaving Eichhardt to pose with his new gold bracelet and $438,417 prize.
Ian Johns Wins Event #8: $1,500 H.O.R.S.E.
The first H.O.R.S.E. race of the 2016 WSOP has hit the wire. After running for two full days, just 20 jockeys remained in the derby with Illinois native Ben Ponzio leading the way with 837,000 chips. Ponzio has one bracelet from 2007, as well as 5 other cashes prior to this event.
Ponzio was well out in front with a lead of nearly 300,000 chips over second-place stack of Justin Bonomo while Noah Bronstein brought the third-biggest stack to the table with 456,000. Other notables to unbag chips on the final day included Ismael Bojang (362,000), Nick Kost (340,000), Ian Johns (317,000), Svetlana Gromenkova (256,000), Andre Akkari (236,000), and Matt Glantz with the smallest stack at 60,000.
It didn't take Matt Glantz long to try for the double. Just 20 minutes after cards went in the air, Glantz put his small stack in the middle in Omaha hi-lo with jacks and an ace-six low draw, only to run into the aces and an ace-three of David Diiorio. Diiorio scooped the pot and sent Glantz to the cage to collect $6,188 for 20th place.
Over the next couple hours, a steady series of bustouts brought the tournament down to just 10 players remaining, including many of the big names. With the elimination of Ponzio almost four hours after the start of play, the unofficial final table was set. The start-of-day chip leader finished in 10th place for $15,154.
| Seat | Player | Chips |
| --- | --- | --- |
| 1 | Justin Bonomo | 580,000 |
| 2 | Jean Montury | 270,000 |
| 3 | Scotty Nguyen | 580,000 |
| 4 | Svetlana Gromenkova | 415,000 |
| 5 | Ian Johns | 915,000 |
| 6 | Georgios Sotiropoulos | 650,000 |
| 7 | Noah Bronstein | 730,000 |
| 8 | Andre Akkari | 230,000 |
| 9 | Christopher Vitch | 1,450,000 |
The unofficial final table only lasted half an hour before Jean Montury was out in ninth place. He collected his $15,154 payday while the final eight players moved to the secondary feature table to play out the official final table. Action slowed down a bit under the lights, as the chip leaders Christopher Vitch and Ian Johns clashed early, but indecisively, and the smaller stacks managed to hold on.
Scotty Nguyen was the first casualty of the final leg, collecting $19,724 for eighth place. He was followed to the cage an hour later by one of two women to make the final day, Svetlana Gromenkova who won $26,070 for seventh place.
Immediately after the elimination of Gromenkova, action came fast, with Andre Akkari and Georgios Sotiropoulos busting out in short order. Akkari collected $34,984 for sixth place while Sotiropoulos picked up $47,651 for fifth.
Play broke for dinner four handed with Johns and Vitch battling for the chip lead. Vitch went to dinner with just 100,000 more than Johns, both with nearly double the smaller stacks of Justin Bonomo and Noah Bronstein. Bronstein held onto his short stack for over an hour after the dinner break, even after losing a big stud hand shortly after the break. He finally went down to Johns in a razz hand, pocketing $65,866 for fourth place. Christopher Vitch followed shortly after, adding $92,374 to his bankroll for third.
Heads up play came down to Justin Bonomo and Ian Johns, both of whom had their own "comeback story" to tell. Johns finished Day 1 with just 2,000 chips, the smallest stack to make it to Day 2. Over the course of Day 2, Johns built that "chip and a chair" into an eighth-place stack of 317,000 by the end of the day, giving his a solid shot at the title on Day 3.
Bonomo's comeback happened on a smaller scale, but was no less impressive, as he went to dinner break with the third-place stack, more than 700,000 chips less than Johns. After dinner, Bonomo built that stack back into a chip-leading stack during four-handed play. By the time they got heads up, Bonomo's 2,450,000 was second to Johns' 3,350,000 but, given the blind levels, it was virtually even with 20 big blinds playing 15.
It would be Ian Johns who completed his Cinderella story, triumphing after a grueling see-saw 90-minute battle against Bonomo. Bonomo's downfall came in stud. He was crippled to just two big blinds on a hand where he bet hard showing a pair of threes on fourth and fifth against Johns'



board. Bonomo slowed down on sixth, check-calling when each player drew a jack. Both players checked seventh and Johns showed down



for a pair of sixes as Bonomo mucked his hand.
Bonomo managed to double once immediately after, but Johns crossed the finish line before the stud round was finished. With Bonomo all in and holding the best with a pair of nines against Johns pair of threes, it was all down to the run out of their boards. Johns got there on seventh, hitting aces up while Bonomo drew blanks. Bonomo earned $131,412 for his fourth second-place finish in a WSOP event.
Ian Johns collected his second bracelet in just his 18th cash at the WSOP, adding $212,604 to his total earnings. This bracelet is his first since winning the $3,000 Limit Hold'em in 2006, and brought his lifetime WSOP earnings to $703,300.
Alan Percal Wins Event #9: $10,000 Heads Up No-Limit Hold'em Championship
The second Championship event of the summer pits players one-on-one against each other in a true test of skill. There were 153 players to buy in to the $10,000 Heads Up No-Limit Hold'em Championship, creating a prize pool of $1,188,200.
No Canadians made the money, but Sorel Mizzi, Marcus Mizzi, Daniel Negreanu, Timothy Adams, Christopher Kruk, and Jacob Wideman all took shots in the event.
By the final day, just four players remained with the U.K.'s Alex Luneau the only non-American with a chance at the bracelet. John Smith, Alan Percal, and Olivier Busquet also returned for Day 3 on Thursday.
When play resumed, they were all guaranteed at least $123,929, but the eventual winner would earn $320,574 and the gold bracelet.
Alan Percal and John Smith moved to the final round, leaving Alex Leneau and Olivier Busquet with third- and fourth-place money. Percal then eliminated Leneau in the final round, earning himself the win.
This is the very first WSOP cash of Percal's life. To earn the bracelet, he had to win seven heads-up matches in a row against some of poker's most talented players.
Event #10: $1,500 6-Handed No-Limit Hold'em Day 2
The $1,500 6-Handed No-Limit Hold'em event kicked off on Wednesday with 1,477 entries tallied up on Day 1. By the time the day came to an end, the money bubble had already burst with 222 players getting paid and only 183 survived to advance to Thursday's Day 2.
Californian Daniel Strelitz returned to the tables with the most chips, stacking up his 250,800, but the second-best stack and the only other player to tip over the 200,000 mark was Canadian Eric Afriat with 208,000.
By the time the day ended, just 21 players remained, led by Spaniard Javier Garcirreynaldos with 1,440,000 chips. Two Canadians will also return for the final day on Friday. Andrew Kim will have 399,000 chips to play with while Eric Afriat will be working with 217,000.
Several Canadian flags peppered the payouts on Day 2. Jean-Pascal Savard was one of the last eliminations of the day, finishing 25th for $10,717. Mike Watson (35th — $8,610), Scott McMorran (37th — $7,025), Matt Marafioti (64th — $4,198), Jean Ferreira (68th — $3,653), Jeff Mulder (81st — $3,233), Vanessa Kade (94th — $2,911), Scott Montgomery (101st — $2,911), Jie Gao (102nd — $2,911), Thi Ngo (108th — $2,911), Matt Jarvis (170th — $2,283), and Giovanni Massa (181st — $2,283) also pocketed prize money on Thursday.
First place promises $346,088 as well as the elusive WSOP gold bracelet with Andrew Kim and Eric Afriat still in contention.
Event #11: $10,000 Dealers Choice 6-Handed Championship Day 2
Day 2 of the $10,000 Dealers Choice 6-Handed Championship played down to the money. Forty-one players survived Day 1 to return to battle for one of 18 paying spots and Bruno Fitoussi led the way as the only player to amass over 300,000 chips. With Brandon Shack-Harris, Brian Hastings, and Dan Smith rounding out the top four chips counts, Day 2 was set to be a star-studded day.
Canadian Greg Mueller was our only hope going into Day 2, carrying 161,500 chips forward. Unfortunately, he wouldn't be able to survive until the money, joining a long list of illustrious names to exit with empty pockets. Joining Mueller on the rail before the money were Fitoussi and Shack-Harris as well as Mike Gorodinsky, Eric Wasserson, Phil Hellmuth, Anthony Zinno, Max Pescatori, and Paul Volpe.
By the end of the day, just 11 players remained in the hunt for the Dealers Choice Championship. Jean Gaspard, looking for his first bracelet after 18 previous WSOP cashes, leads the way into the final day with 814,000. Dan Smith, also looking for his first bracelet, holds the second-biggest bag containing 707,000. The full final 11 players break down as follows:
| Player | Chips |
| --- | --- |
| Jean Gaspard | 814,000 |
| Dan Smith | 707,000 |
| Mikhail Semin | 680,000 |
| John Monnette | 640,000 |
| William O'Neil | 633,000 |
| James Obst | 592,000 |
| Alexander Kostritsyn Volzhsky | 508,000 |
| Andrew Brown | 418,500 |
| Randy Ohel | 388,000 |
| Viacheslav Zhukov | 330,000 |
| Richard Ashby | 197,000 |
Event #12: $565 Pot-Limit Omaha Day 1
Colossus II gave hold'em fans a chance at a cheap WSOP event. This year, the ever-growing popularity of pot-limit Omaha earned fans of that game a cheap WSOP event as well. The $565 Pot-Limit Omaha event kicked off on Thursday and received 2,438 entries, creating a prize pool of $1,241,500.
By the time the day came to a close, just 80 players remained. American Alexander Ahmed bagged the chip lead with 517,000 while David "ODB" Baker follows with 482,000.
Samuel Ngai (159,000), Sam Chartier (119,000), and Ryan Gilliland (25,000) were the only Canadians to survive the day, though many made it through the money bubble to collect a payout before being eliminated.
The deepest finish was by Colin Burton in 89th for $1,750. Some of the other notable Canadians to pocket a piece of the prize pool included John Agelakis (204th — $1,072), Calen McNeil (303rd — $896), Chris Back (305th — $896), and Jody Fayant (307th — $896).
Event #13: $1,500 Seven Card Razz Day 1
After 11 hours of play, the first day of $1,500 Seven Card Razz is in the books. The first running of the lowball stud variant at this series drew 461 total entries with 117 players surviving the day's play.
Canadians have a fair number of hopefuls heading into Day 2. Hall of Famer Daniel Negreanu leads Canadians into Day 2 with the 31st-place stack at 40,100 chips. Joining Negreanu on the second day will be Thomas Taylor at 38,300, as well as arguably Canada's best player without a bracelet, Mike Watson, who bagged 32,500 at the end of Day 1. Other Canadians to make the cut include Raymond Muzyka (16,200), Joshua Herman (11,900), and Christopher Kruk (3,900).
Sebastian Pauli is the overall leader after Day 1, the only player in the field to crack 100,000, bagging up 103,100 in chips. The second-place stack was much smaller, as Fabrice Soulier managed to amass 70,700 chips by the end of play. Other notables to make Day 2 included Gavin Griffin (51,600), Stephen Chidwick (48,800), David Benyamine (47,700), Anthony Zinno (43,000), Tom McEvoy (40,300), and Matt Grapenthien (36,500).
What to Watch For Tomorrow
The final day of play will see winners in the $1,500 6-Handed No-Limit Hold'em and the $10,000 Dealers Choice 6-Handed Championship on Friday, June 10. The $565 Pot-Limit Omaha and the $1,500 Seven Card Razz will progress to Day 2, and there will also be two more events kicking off: the popular $1,500 Millionaire Maker and the $1,500 Eight Game Mix.
Check back with PokerNews Canada tomorrow for an update on all of those events. Good luck to the Canadians in the field!
Details and photo courtesy of the WSOP Live Updates.
Get all the latest PokerNews Canada updates on your social media outlets. Follow us on Twitter and like us on Facebook!