From Football to Poker With Brazilian 888poker Ambassador Denílson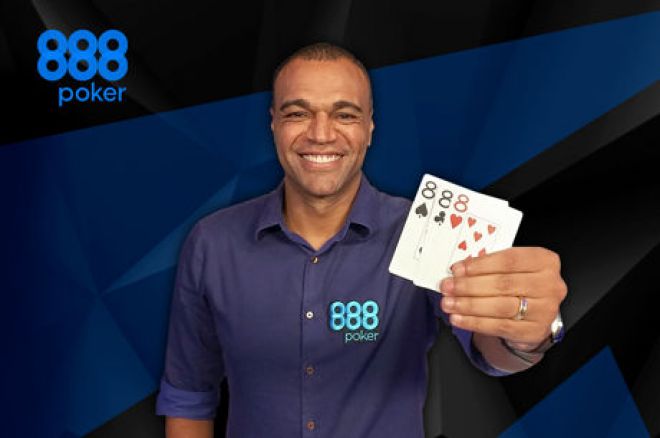 A couple of months ago, 888poker announced a sponsorship deal with former Brazilian footballer Denílson de Oliveira Araújo, better-known as simply Denílson.
Football is almost a religion in Brazil with Denílson as one of the sport's most celebrated heroes in the country. This, combined with the growing popularity of poker in the country, makes the addition of Denílson the perfect choice for 888poker's first celebrity ambassador in Brazil.
Denílson, age 38, was born in Diadema, a small town in the south-eastern part of Brazil located about 20 kilometers (12.5 miles) from one of the most populated cities in the world, São Paulo. His football roots began when he joined a local club Ouro Verde at 11 years of age before embarking on a 16-year professional football career spanning four continents in South America, Europe, Asia, and North America.
At the young age of 17, the left winger made his senior football debut with São Paulo FC, one of the biggest clubs in Brazil. In his very first year, the club won the 1994 Copa CONMEBOL, which from 1992 until 1999 was an annual cup held by South American football clubs.
In 1998, Denílson made football history when the Spanish football club Real Betis paid what was then a record-breaking £21.5 million transfer fee for his services. During this time, he was part of Brazil's national team that went on to win the 2002 FIFA World Cup, which he credits as his greatest football achievement.
Other than a brief loan to Brazil's Clube de Regatas do Flamengo, he remained in La Liga until he was sold to French club FC Girondins de Bordeaux in the 2005 off-season.
After spending one year with Bordeaux, the football sensation moved on to Saudi Arabia's Al Nassr FC in 2006 before becoming a designated player for American Major League Soccer club FC Dallas in 2007. He then returned home to Brazil to play for Sociedade Esportiva Palmeiras in 2008 and Itumbiara Esporte Clube in 2009 before heading back to Asia to join Vietnam's Hải Phòng F.C. later that year. The football sensation capped off his career by heading back to Europe in 2010 to play for Greece's Nea Kavala F.C.
In a recent interview with 888poker Magazine editor Chad Holloway, Denílson shared his interest in poker began while bonding with his friends explaining, "All my friends started to play poker, and so I got more and more interested in the game."
Denílson hopes that his experience in football transcends to potential success and is proud to be a member of the 888poker team sharing, "Many of the qualities you need to be a successful footballer can help you improve your poker game. 888poker is one of the biggest and best poker platforms in the world, so I am very proud to join the 888poker team, I hope it will help develop my own pokers skills as well as encourage new players to get involved in this exciting game."
When asked about the similarities between playing professional football and poker, he explained that it the key qualities are "Undoubtedly, patience and concentration," before adding that, "In both sports, these characteristics are essential if you accelerate a situation, you can lose everything."
He also believes that in both football and poker, strategy on how to approach situations depends on the opponents he is facing. "Each game asks a strategy," explained Denílson. "In both sports, you depend on the opponent. Each has a style of play, and I'll be trying to figure out the strategy for all of them."
The Brazilian celebrity also understands that in addition to understanding his opponents, position is also important. He shares that in both football and poker, decisions will determine the outcome, however, one has a longer time to make that decision in poker.
"The main similarity is thinking about what decision to make!" Denílson said. "Now, the difference in football is that you need to quickly decide what to do; in poker, depending on your position at the table, you have time to think and study the opponent."
Denílson is a relatively new-comer to the world of professional poker and when asked about his greatest achievements in the game as well as on the pitch he shared with Holloway that, "I joined the world of poker recently, so, unfortunately, I have not had any great achievement. Now [in] football [it] was certainly the 2002 World Cup."
The former football star should be able to overcome a steep learning curve in the game as he has one of Brazil's best poker players as a person coach in Bruno "Foster" Politano. Politano, who is an 888poker Ambassador along with fellow countrymates Bruno Kawauti and Nicolau Villa-Lobos, is best known for becoming the first Brazilian to enter the final table as a November Niner at the 2014 World Series of Poker (WSOP) Main Event.
By no coincidence, he named Politano as his favorite poker player along with PokerStars brand ambassador Neymar Jr. as his favorite football player. "Bruno Foster for me is the best in poker, shared Denílson. "Besides being my coach he is among the best in the world. And as a football player, Neymar, who, in my opinion, it won't take long to be elected the best in the world."
While Denílson most likely has a far way to go to become the first Brazilian to win the WSOP Main Event and isn't something yet on his radar. Holloway, however, asked Denílson whether he would rather win poker's premier event or play in a rematch in the 2002 World Cup when his country's team beat Argentina.
"[A] WSOP win is something that has not even crossed my mind; I'm just starting in the sport," shared Denílson. "Just as I started my career as a player, living day after day, I live poker. As I lived a Brazil vs. Argentina I prefer, perhaps, to play and win the WSOP [laughs]."
Get all the latest PokerNews Canada updates on social media. Follow us on Twitter and like us on Facebook!