Play For a Silver Belt Buckle This Calgary Stampede at Deerfoot Inn & Casino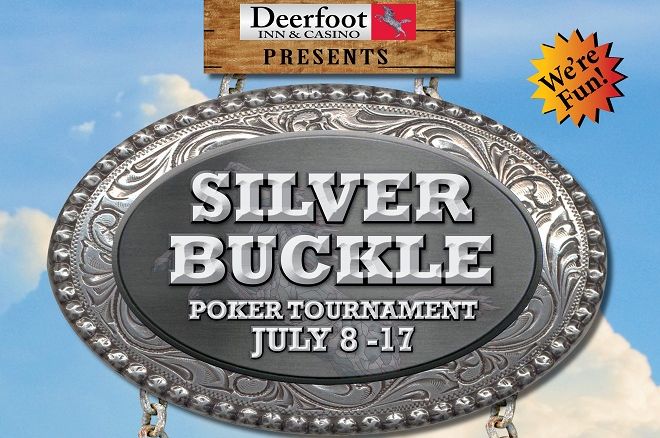 Calgary is preparing for the outdoor show that has made the city internationally famous. The Calgary Stampede runs from July 8 to 17, 2016, and is a mix of live music, midway rides, delicious deep-fried creations, and much more. But at the heart of it all is the rodeo.
While cowboys compete for more than $2 million in prize money and prestigious belt buckles in events like bull riding, steer wrestling, and barrel racing at the stampede grounds, Deerfoot Inn & Casino adds a poker tournament to the festivities with its own prize money and belt buckle up for grabs.
Texas hold'em poker has strong historical roots in cowboy-filled saloons in dusty towns. So, while skill and grit is tested in the rodeo competitions, it is fitting that there also be a poker tournament available to give competitors a chance to prove themselves in another test of skill and grit.
Just as the rodeo has wildcard rounds that competitors go through to qualify for the finals, the Silver Buckle Poker Tournament features nine days of wildcard rounds. The $185 buy-in gives players 10,000 chips and 20-minute blinds and one in seven players in each of the twice-daily satellites will earn a seat to Showdown Sunday on July 17.
The wildcard rounds run at 12 p.m. and 7 p.m. every day from July 8 to 16, providing plenty of chances to advance to the final event. Then, qualifiers will return for Showdown Sunday where the money will be made and cowboys and cowgirls will face off at high noon on July 17.
Players will also be able to buy in directly to Showdown Sunday for $1,100. All players will receive 20,000 chips and play through 40-minute blinds.
For years, this event has been known as the Stampede Classic, but it returns for 2016 with a new name. Last year, 121 entries created a prize pool of $114,950 and Gurdeep Dhillon was the one to earn the belt buckle and the $31,000 top prize.
Get your own championship belt buckle during this year's Calgary Stampede! Play Deerfoot Inn & Casino's Silver Buckle Poker Tournament running from July 8 to 17, 2016.
PokerNews Canada will be on site for Showdown Sunday for live reporting of all the action. We'll see you there!
Get all the latest PokerNews Canada updates on social media. Follow us on Twitter and like us on Facebook!