2016 WSOP Main Event Day 3: Marc-Andre Ladouceur Bags 11th-Best Stack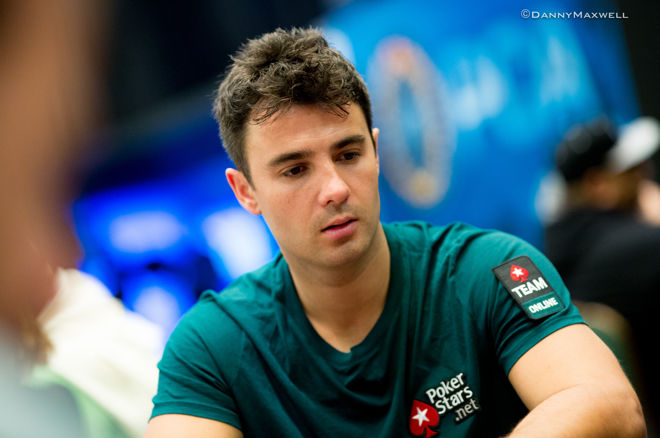 The 2016 World Series of Poker (WSOP) resumed on July 14 at the Rio All-Suite Las Vegas Hotel and Casino with Day 3 of the $10,000 Main Event.
Bubble Bursts and Marc-Andre Ladouceur Leads Canadians
For the first time in this event, the whole field combined to return to the tables at the Rio on Thursday in poker's most important tournament of the year. The day began with 1,404 players and play kicked off at noon. By the end of the day, the money bubble had burst and just 798 players remained to bag chips for another day.
Counting out the largest stack of them all was Belgian Kenny Hallaert with 1,709,000 chips. The top Canadian stack sat 11th overall and belonged to Marc-Andre Ladouceur with 1,302,000. Forty people counted out a seven-figure stack. Among them were three other Canadians. Nikolaos Alafogiannis (1,073,000), Michael Carter (1,062,000), and Chris Back (1,042,000) are the top hopes for our nation going on to Day 4.
The rest of the Canadian contingent was made up of Griffin Benger (967,000), Sorel Mizzi (798,000), Ronald Giles (798,000), Scott Montgomery (787,000), Tyler Bonkowski (762,000), Samuel Roussy-Majeau (743,000), Ami Barer (645,000), James Boettcher (560,000), Michael Niwinski (553,000), Kevin Morris (531,000), Noeung Troeung (502,000), Yong Lu (484,000), Marc-Etienne McLaughlin (468,000), Robert Anderson (452,000), Jeff Hakim (360,000), Daniel Cheater (320,000), Jean-Philippe Piquette (301,000), Jason James (296,000), Jordan Knackstedt (260,000), Andrew Chen (250,000), Ryan MacKinnon (249,000), Justin Oliver (243,000), Rene Siegrist (229,000), Alpheus Chan (198,000), Jason Bigelow (195,000), Homan Mohammadi (186,000), Robert Laurie (179,000), Timothy Vukson (152,000), Linyang Song (141,000), Ratharam Sivagnanam (140,000), Jaroslaw Jaskiewicz (134,000), David Ormsby (134,000), Buck Ramsay (118,000), Max Greenwood (92,000), Min Huang (84,000), and Elliot Smith (62,000).
The top 1,011 players were guaranteed to earn a payout of at least $15,000, and the money bubble burst late in the day before play could even go hand-for-hand. By the end of the night, hundreds of players had been eliminated and collected their prize. Everyone returning on Friday is now guaranteed at least $16,007.
Out of those eliminated in the money on Thursday, the Canadians were Jason Mann, Pavel Dyachenko, and Charles Rifici collecting $16,007 each while Todd Sisley, Kristen Bicknell, Michael Gentili, Ema Zajmovic, and Dmitry Vitkind made their exit a little earlier and collected the min-cash of $15,000.
There were many others who were eliminated before they were in the money. The one we especially had our eye on was Evan Jarvis of Gripsed poker training and Twitch fame. The Canadian was looking to tie the record for the most WSOP Main Event consecutive cashes after Ronnie Bardah ended his streak last year after cashing five years in a row. Jarvis cashed the last four years in a row but he met his end on Thursday before getting through the money bubble.
What to Watch For Tomorrow
Firday's Day 4 will see all the final 798 players in this prestigious $10,000 tournament returning in the money and trying to earn a deeper spot in the payouts. Action will resume at noon.
Check back with PokerNews Canada tomorrow for an update on the WSOP Main Event. Good luck to the Canadians in the field!
Details courtesy of the WSOP Live Updates.
Get all the latest PokerNews Canada updates on your social media outlets. Follow us on Twitter and like us on Facebook!