888poker Launches Weekly Personalized Video Storyboards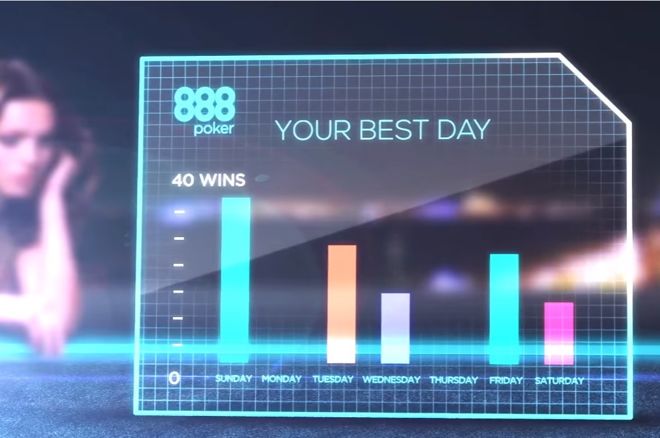 Many poker players love to brag about their wins and achievements on social media, poker forums, and on messaging services such as Skype. The world's second-largest real-money online poker room 888poker has taken this one step further with the recent launch of the Personalized Video.
The Personalized Video summarizes a player's previous week in a creative and dynamic storyboard taking advantage of 21 different statistics from both ring-games and tournaments. Information players can expect to see in the videos includes the best hand of the week, best day of the week, rank in country, biggest winning hand, most frequent winning hand, number of knockouts, aggressive meter, a player's biggest nemesis, and a loose/tight meter.
Currently this feature is rolled out on a limited basis to many players in its customer base, however, an 888poker representative shared with PokerNews that it will soon be rolled out to every player on the network. Players receive their personalized video story via email and in their private zones, which they can then easily share with their friends, fans, and followers through social media including Twitter, Facebook, and WhatsApp.
Here is a look at a sample video, which should provide a good idea of what players on 888poker can expect from their weekly storyboards.
888poker and its developers are understandably excited about this new feature with a project team leader sharing on 888poker eMagazine that, "The 'Personalized Video' is constructed around each player, including deep, personalized info like their gender, nationality, profits, and playing patterns, to create a story the keeps evolving as long as the player stays active. Thus creating a long-term and meaningful connection between the brand and the players."
Players are equally enthusiastic about their new personalized 888poker storyboard and have been sharing on social networks in big numbers. According to 888poker eMagazine, more than 1,000 out of 10,000 players that were in the initial pilot program chose to share their Personalized Video on social media.
The feature is currently only available in English, however, as 888poker rolls it out to more markets it will be made available in other languages as well.
Lead image courtesy of 888poker.com.
Get all the latest PokerNews Canada updates on social media. Follow us on Twitter and like us on Facebook!