The 2016 WSOP November Nine: Seat 1, Griffin Benger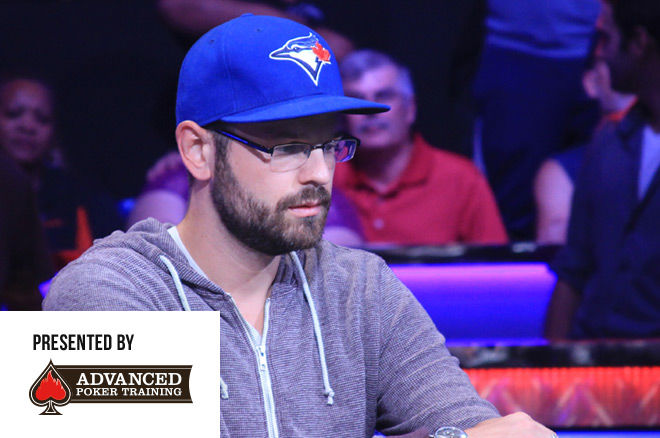 Each week leading into the World Series of Poker final table we'll profile one player who will be vying for the championship. Our profiles are sponsored by Advanced Poker Training, one of the world's top poker training sites. At AdvancedPokerTraining.com you can play up to 500 hands per hour of full-ring, six-max, sit-n-go, or full MTTs against thousands of intelligent computerized opponents, with instant advice, weekly training plans, and much more. It's the fastest way to ignite your game!
Griffin Benger has already risen to the top of the mountain as a champion in one game, and now he's looking to make it two.
"I was a part of one of the best, if not the best, Counter-Strike team for many, many years in the early 2000s," he said in an interview with Sarah Herring the day after securing his place in the November Nine at the 2016 World Series of Poker Main Event. "It doesn't feel like it was a decade ago, but it also feels like it was a lifetime ago."
Counter-Strike is an first-person shooter video game played by millions the world over, and Benger's mastery of it allowed him to play professionally. As he was busy reaching the pinnacle of that game, a number of friends were clamoring for Benger try out poker.
Benger, who said a lot of things come naturally to him, proved to be a quick study. His transition from busting virtual caps to raking virtual chips was successful, to say the least. Online, he dominated for years under the moniker "Flush_Entity" on both PokerStars and Full Tilt Poker. He has racked up more than $6.4 million in online cashes to date, and perhaps even more impressively, ascended to the No. 1 ranking on PocketFives, which he held as recently as 2014.
He began traveling the live circuit more in 2013, experiencing success there as well. The Canadian won a €10,300 High Roller at European Poker Tour Berlin for €429,000 in April of that year. He won the inaugural season of PokerStars' Shark Cage for $1 million in 2014 and also ran deep in that year's WSOP Main Event with a 90th-place score for $72,369.
Along with the $1 million he has already secured for this year's November Nine run, it adds up to a hair under $3.4 million in live scores, meaning Benger has won nearly $10 million playing a game that may not even be his best.
But the life of a poker pro can often come at a cost, and Benger admitted in an interview with Remko Rinkema that he got burned out, calling the past few years "rough" and saying poker could be "really draining." Indeed, after banner years in 2013 and 2014, Benger cashed for merely $40,000 in 2015, with zero results after the WSOP.
In 2016, the now-31-year-old resurfaced in poker headlines, but it wasn't for waves he was making on the felt. Looking to draw on Benger's competitive gaming past and connect with a newer "e-sports" crowd, the nascent Global Poker League named Benger as one of two expert commentators, along with Sam Grafton.
Benger is enjoying his newly acquired gig and stepped mostly away from live poker, cashing in just one event before the WSOP and then choosing to fire only one in the Main Event. And even that was after he satellited in for $1,000 on 888poker.
He may have only taken one shot, but this is a man who played a highly competitive shooting game for a living. Like a lethal sniper from the contests of his teens, one shot is often all he needs.
How He Got There
| Day | Final Chip Count | Rank |
| --- | --- | --- |
| 1c | DNR | 3,252/3,252 |
| 2 | 394,500 | 62/2,186 |
| 3 | 967,000 | 45/800 |
| 4 | 2,409,000 | 24/251 |
| 5 | 9,860,000 | 4/80 |
| 6 | 6,530,000 | 20/27 |
| 7 | 26,175,000 | 7/9 |
When looking back at the final table run of Griffin Benger, there's one hand that stands head and shoulders above the rest in terms of drama, excitement, and importance.
As one can see in the table above, Day 7 of the tournament was the only one from Day 3 onward in which Benger did not begin the day with a well above-average stack. Nonetheless, he was able to work his way from 6.5 million to just under 20 million with nary an all-in showdown, leaving him in the middle of the pack with 17 left.
That's when Benger went to battle with an opponent from across the pond, William Kassouf. The talkative – some would say abrasive – Brit had already tilted more than one opponent with his brash table talk. After Benger opened under the gun to 875,000 with blinds at 200,000/400,000/50,000, Kassouf three-bet to 2.3 million in the hijack. Benger came back with 5.6 million.
Kassouf went into the tank with


, later explaining that he was putting on an act in hopes of inducing Benger to call his shove with queens or ace-king. The two exchanged words, with Benger calling the clock and shouting across the table that Kassouf was being verbally abusive.
"He was just verbally abusing me," Benger told Rinkema. "I got fed up an called him out for it. I thought it was in my best interest to tell him that he was out of line."
Kassouf finally shoved for 13.45 million with the clock ticking down, and Benger had the


and summarily snapped him off, leaping from his chair and slamming his cards down in celebration.
A clean community later, Benger was in fantastic shape with more than 80 big blinds, a stack he was able to use to cruise to the final table while his British antagonist headed for the payout desk.
What to Watch For
Going into the final table in seventh place, Benger is in a less-than-ideal position chip-wise, but he looks to have one of the best seats at the table.
On Benger's right will be short stack Jerry Wong, who is in eighth with just over 11 million with blinds at 250,000/500,000/75,000. Wong acting before Benger will make his decisions a bit easier, particularly if Wong loses a pot or two early on and goes into shove-or-fold mode.
Conventional wisdom holds that it's best to have less-experienced players on the right, as chips generally flow clockwise, but there's a benefit to having those players on the left as well: being in late position when they're in the blinds.
Although Vojtech Ruzicka, an experienced pro with more than $1 million in live cashes even before this WSOP Main Event, sits on Benger's immediate left, the next two spots are occupied by wild cards Fernando Pons and Qui Nguyen. Meanwhile, the dangerous and deep-stacked Cliff Josephy is four seats away, about as safe a distance as he can be from Benger.
As far as preparation goes, don't expect Benger to hit the books or the training videos, as he said he's never used a single one of either. He called himself "predominantly lazy" but said his gig with the GPL has been a huge blessing for his game, serving as the training tool he never knew he needed.
"To be forced to watch and pay attention to the best poker players in the world 18 hours a week for eight weeks, it was the ultimate crash course training to play like one of the best in the world," Benger said to Herring. "I feel incredibly grateful and lucky to have stumbled into such an opportunity because it's the best learning tool. It was a beautiful experience."
Much to the detriment of his eight opponents, the GPL will be underway again in September and October, and Benger will be soaking in the lessons every day at work.
Be sure to check out our sponsor AdvancedPokerTraining.com for some of the best poker training in the world.
Get all the latest PokerNews Canada updates on social media. Follow us on Twitter and like us on Facebook!