Shawn Meegan Wins Kickoff Event of Summer Super Stack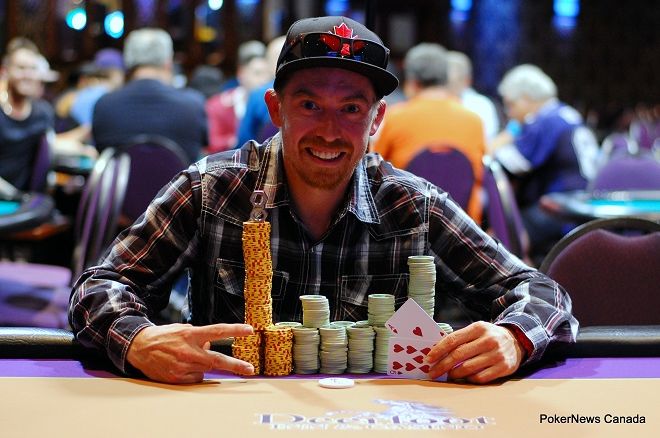 The first event of the 2016 Summer Super Stack has come to an end with Shawn Meegan coming out on top of the 317-player field to win $24,289.
The $550 Mega Stack tournament kicked off the 14-event, 12-day series at Deerfoot Inn & Casino in Calgary, Alberta. After three starting flights across Thursday, Friday, and Saturday, 317 players created a prize pool of $150,575.
Each day played down to the top 10 percent of the field, ensuring that all players going to Sunday's Day 2 were already in the money. A total of 33 players returned on the final day to play down to a winner.
Play resumed at noon on Sunday and the final table of nine was set seven hours later with Kevin Kammavong holding the chip lead with 1,650,000 chips. Shawn Meegan (1,300,000), and Tom Mansell (1,000,000) rounded out the top three and were the only three to have a seven-figure stack coming to the final table.
Of recent World Series of Poker fame after finishing 41st in the Main Event, Ron Giles was the first player to be eliminated on the final table when he got it in with a smaller pair than his opponent. Tony Eckstrand was next to go when he got called by a dominating ace, followed by Jeremy Lewis who lost a coin flip.
Tom Mansell was the sixth-place finisher, jamming in the last of his stack with king-ten and running into pocket tens with no help on the board to save him. Then Gord Chester found himself tangled in a big pot and pushed it all in on the turn on a bluff with ace-high on a board with two kings. He was called by second pair and sent to the exit.
As soon as Chester was eliminated, the final four started talks about a deal and brought out a calculator to determine what each of them would earn based on their current chip stacks. They all quickly agreed to the chop and Shawn Meegan locked up the most as the current chip leader.
Despite all of the remaining prize money being allocated, there was still High Point Champion points to play for. The player who collects the most points across the entire 14-event series will win a $5,000 World Poker Tour Montreal package, so they continued to play for the valuable points.
After several orbits of four-handed play with someone's stack going in just about every hand, two players were eliminated in a single hand. The way it played out caused some controversy as Leor Wasserman pushed all in, Kevin Kammavong initiated the call and pushed forward his chips, and Shawn Meegan immediately calling as well and turning over


. Kammavong then argued the point that his chips hadn't technically crossed the line even though he admitted intent to call and several people claimed to have heard him verbalise something that would be believed to indicate a call. The house ruled that he had to call and Kammavong turned over


. Wasserman held


and the board came down jack-high, giving all the chips to Meegan and eliminating both Kammavong and Wasserman.
A little over 10.5 hours after play resumed with 33 players, just one remained when Shawn Meegan defeated his final opponent, Karl Thorson. Meegan had locked up the largest piece of the prize pool — $24,289 — and then earned the most High Point Champion points as well.
2016 Summer Super Stack $550 Mega Stack Top 10 Results
| Finish | Player | Prize |
| --- | --- | --- |
| 1 | Shawn Meegan | $24,289 |
| 2 | Karl Thorson | $21,148 |
| 3 | Leor Wasserman | $17,415 |
| 4 | Kevin Kammavong | $21,248 |
| 5 | Gord Chester | $9,000 |
| 6 | Tom Mansell | $6,800 |
| 7 | Jeremy Lewis | $5,000 |
| 8 | Tony Eckstrand | $4,000 |
| 9 | Ron Giles | $3,275 |
| 10 | Pat Wilson | $3,000 |
This was just the first event on the schedule and there are tournaments running all week, culminating in the $1,500 Main Event with a guaranteed prize pool of $200,000. There will be three Day 1s running Friday to Sunday with Day 2 on Monday and PokerNews Canada will be back for more live reporting for that event.
Get all the latest PokerNews Canada updates on social media. Follow us on Twitter and like us on Facebook!