Canada Finds Most WCOOP Wins: Negreanu, Watson, Barer Among Winners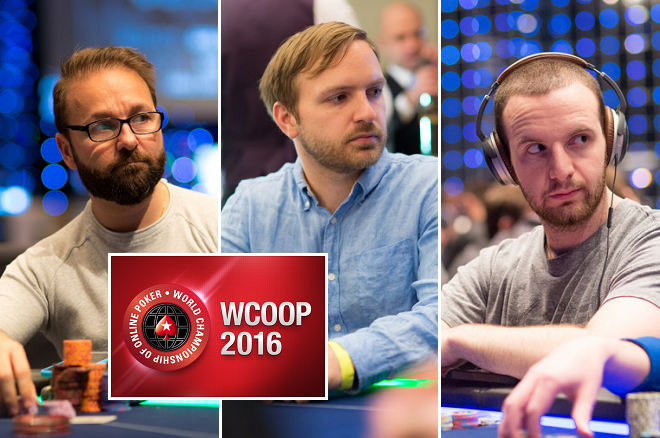 The largest annual online poker tournament series came to an end earlier today with Germany's "||JaYJaY||" winning the Main Event top prize of $1,517,541 in PokerStars' World Championship of Online Poker (WCOOP).
There were 82 events in the series with buy-ins spread across an enormous range of $109 on the low end all the way up to $102,000 for the Super High-Roller with the action taking place across most of September.
Players from all around the world participated in the prestigious series, but no country won more events this year than Canada with 11 wins in the 2016 WCOOP. Russia was second-best with nine, followed by Mexico tallying up eight.
More tournament entries came from Canada than any other country as well. Players from within our borders made up for 11,294 entries in the series, and the U.K. wasn't far behind with 11,040. The U.K. managed to find the most final tables in the series with 68, while players in Canada had final-table seats 65 times. The third-most frequent country represented at the final table was Russia with 46 appearances.
Canada-based players found the most cashes in the series — 1,977 — while players in the U.K. had 1,825 and Brazil was the third-best in that measure with 1,537. But, for most money won, the U.K. was responsible for $9,299,518.72 in winnings, well ahead of players in our nation who had the second-best tally of $7,618,070.29.
It is no secret that a good number of players bearing the Canadian flag on PokerStars are American expats playing from within our borders. One of them, Connor "blanconegro" Drinan, took the maple leaf to the final table five times in the 2016 WCOOP, which is more than any other player in the series.
But it was a true Canadian who had the second-most cashes in the series. Our own Mike "goleafsgoeh" Leah managed to collect a payout in an incredible 21 events, bested only by Uruguay's Fabrizio "SixthSenSe19" Gonzalez with 24 cashes.
The series began on September 5 with a $109 kickoff tournament spread across two days. Canadian "WalmartCNXN" finished runner-up in that event for $172,316.41 to get our country off to a good start.
The next notable Canadian finish was that of Ryan "newguy" McEathron who finished fifth in the $1,050 WCOOP-03 for $64,371.37. Another runner-up result for this country came in the $700 WCOOP-07 by "relmat" for $64,477.60. In the $1,050 WCOOP-10, Canada's "uwintakeit" finished third for $121,293.81 — the second six-figure cash of the series for a player in Canada.
WCOOP-12 was another $1,050 tournament but in the no-limit five-card draw variant, and players in Canada took both second and third place. Collecting $12,784.05, American Eric "thechips55" Wasserson finished third from this nation, but Canadian "OLD TIME GIN" went further to pocket $16,841.05 for second place.
Mike "goleafsgoeh" Leah collected his first big cash of the series in the $1,050 WCOOP-19 which was a seven-card stud hi-lo tournament. He finished in second place for $26,371.88. Another one of Canada's top 10 GPI-ranked players, Daniel "Oxota" Dvoress, found a third-place finish in the $10,300 WCOOP-23 Heads-Up High-Roller for $54,000.
Another runner-up finish by a Canadian came in the $1,050 WCOOP-25 Omaha hi-lo event by "Edgy420" for $39,883.07. In the $215 WCOOP-31 rebuy tournament, Canadian Shyam "G's zee" Srinivasan finished fourth for $25,633.46.
The first win by a Canadian (not an American playing from Canada) came from "blkcrow" in the $320 WCOOP-32 pot-limit Omaha hi-lo event. The victory earned him $43,661.48 and the prestigious WCOOP title.
Another Canadian win came in the very next event. The $320 WCOOP-33 was won by Ami "UhhMee" Barer for $111,221.19. Barer is also the player to have the second-most WCOOP cashes of all time, having collected 84 over the years.
In the $1,050 WCOOP-39 fixed-limit Omaha hi-lo event, Shawn "buck21" Buchanan finished third for $25,130.49 to add to his long history of success in PokerStars' online tournament series. Ryan "i need sheet" Yu pocketed another cash for Canada in the $320 WCOOP-46 in fourth place for $20,685.41. "NY17ATS14" won a little more in WCOOP-48 when he finished in third place for $26,557.19.
Another Canadian win was found by Lonnie "thx4urm0n3y" Hallett in the $1,050 WCOOP-51 to pocket $129,206.49. And, again, another Canadian win immediately followed. The $215 WCOOP-52 Sunday Warm-Up Special Edition was won by "leoc00" for $222,159.66.
"UncleAnte9" finished runner-up in the $530 WCOOP-62 rebuy for $67,834.38, and that was followed by another Canadian win in the $2,100 WCOOP-63 pot-limit Omaha event by "prepstyle71" for $202,930.71.
Canadian Thomas "sandman201" Taylor finished runner-up in the $700 WCOOP-65 for $117,602.77, followed by "kukuchacha11" collecting $46,556.05 for fifth place in the very next event, the $2,100 WCOOP-66 Thursday Thrill Special Edition.
In the $2,100 WCOOP-71 H.O.R.S.E. event, Daniel "KidPoker" Negreanu proved why he's widely considered one of the best players in the game. He won that event for $61,865.47 while fellow Canadians "L1TE-BR1TE" finished fourth for $29,098.41 and Mike "goleafsgoeh" Leah found a fifth-place result for $22,629.59 in the same event.
As has been the trend with other victories, another Canadian win immediately followed when "SSSMBRFC2/C" won the $109 WCOOP-72 for $153,551.90. Just two events later, Mike "SirWatts" Watson won the $10,300 WCOOP-74 eight-game mix for $280,238.52.
At the tail end of the series, Canada's "FishyMcFish0" logged a $87,744.87 score when he finished in third place in the $320 WCOOP-79 event before Shyam "Gs' zee" Srinivasan found a win in the $700 WCOOP-80 for $102,747.49.
With one event left in the series, the $1,050 WCOOP-82 found a great Canadian effort to wrap things up. Canadian Antoine "NegroVente1" Berube won $156,290.44 after a three-way deal that included fellow Canadian Michael "alexandrapau" Risman who finished runner-up for $143,523.83.
The Canadian contingent deserves a huge congratulations for a very successful WCOOP, proving to the world that this country is home to many of the most talented poker players in the world.
---
Get all the latest PokerNews Canada updates on social media. Follow us on Twitter and like us on Facebook!