Haralabos Voulgaris on the Big One for One Drop: 'The Event is a Success. The Field Size is Fine.'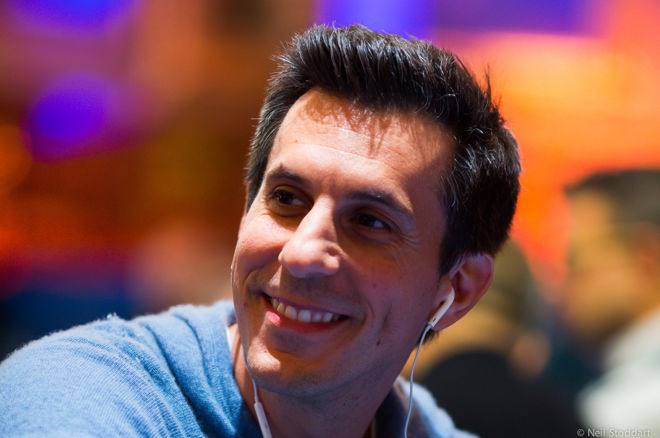 From the moment the tournament was announced by Guy Laliberté, the Big One for One Drop Extravaganza has been debated by fans and players alike. Not because the buy-in was a whopping €1,000,000, we've seen that before with the Big One for One Drop in Vegas in 2012 and 2014. No, the debate was about the stipulation that only recreational players could enter.
Some, like Daniel Negreanu, say organizer Laliberté should be able to do whatever he wants. Others openly questioned the rule and raised their eyebrows after reading the names of some who were allowed to enter.
We spoke to Canadian fan favorite Haralabos Voulgaris, a player certainly not considered to be in the gray area discussed by Twitter users from around the world.
Voulgaris, still in and one of the eight players returning tomorrow for Day 3 of the tournament, was clear about his thoughts about the consternation.
"First of all, it's Guy's tournament and he can invite or decline anyone he wants to," he said. "It's his charity, it's his tournament and he can do whatever he wants."
Even so, Voulgaris holds who can play to a different standard.
"I read that people were saying that some of the players in the field were EPT regs," he said. "But these guys are worth like $500 million-plus and they don't play poker for a living. If you think someone like that is just your regular everyday poker player, then sure they're regs. Talal Shakerchi is a great player but he's not a professional poker player and same goes for Dan Shak and Paul Newey. They play a lot of poker but they're not professional poker players. These are all fabulously rich people who made their money doing something else."
A lot of poker players weighing in on the debate on Twitter.
"Whenever we see specific criteria and a list of players are accepted, there's always one person who fits the least in that group. And if that player wouldn't be in, there'd be an argument over the next player who shouldn't be in there," said Voulgaris.
As Voulgaris and Negreanu said, it was up to Laliberté and nobody in the field objected to anyone getting in.
"A lot of people whine too much," Voulgaris said. "I mean, get over it; you weren't invited to a tournament - it's not a big deal. These guys that you call regs will still play the EPT High Rollers and stuff."
So the 1 mill one drop was a failure ? Weird... Really thought excluding all the best players in the world was gonna make it a success #NOT

— Jason Mercier (@JasonMercier)
With 26 players entering and two players re-entering, the total entries came to 28. That resulted in a prize pool of €24,888,892, a bit smaller than the two editions in Vegas and fewer players than the announced 35 players. Some, like Jason Mercier, deemed the event a failure, but Voulgaris doesn't agree. It must be noted he didn't respond to Mercier specifically and just replied to the turmoil in general.
"I think it's a great event," Voulgaris said.
The fact the field isn't as big as some might have expected is simply because €1,000,000 is a lot of money, according to Voulgaris.
"I think it's tough to get people to put up a million euro," he said. "It's not like the economy is booming. On top of that, this isn't a location that a lot of people are at."
Despite that, Voulgaris is nothing but positive.
"I think the event is a success," he said. "I think there's probably a few people that might have played if it was in a different locale, but hey, this is a great event and this is a great city, a great principality actually. I'm a Monaco resident so it's nice for me to play here. The field size is fine."
With the absence of pros, the atmosphere was a bit different.
"The main thing is that the play was very pleasant," Voulgaris said. "It was kind of refreshing to play a poker tournament and to not be faced with solitude forever. People are talking!"
Voulgaris took one last jab at Dan Shak who he poked fun at in the event for wearing his headphones ("What do you want? Sunglasses and a hoodie too?" Voulgaris laughed after a hand).
"Shak was the only player who was playing like a pro," he said. "He has probably played too many tournaments and kind of shed the businessman image in that sense," Voulgaris said in a clearly joking way. "But hey, people are allowed to play however they want."
Voulgaris seemed in his element, with a smile ear to ear for most of the day despite not winning a whole lot of pots after an initial good start.
"Today was good at the start and then I ran pretty bad in a couple of big pots on the other table I went to," Voulgaris said. "I dropped from 12 to eight million, down to six down to four and I kind of never picked up a spot. I didn't really have any opportunities to play hands. I was hoping to get my money in somewhere but I just never had any spots."
Despite not having a whole lot of chips, he was still very talkative all day.
"I like to talk," he said. "It's a little bit harder to talk when you're short stacked compared to when you don't have a lot of chips. When you get talking chips, you can talk."
One of the troubles Voulgaris ran into on Day 2 was a steamrolling Andrew Pantling on his right who raised and three-bet just about every pot.
"[Pantling] tortured Big Al (Alfred De Carolis) for sure. It was a little bit tougher [with him on my right]," Voulgaris said.
After the event was down to eight players and the official final table was set, play halted. Tournament director Jack Effel proposed to keep playing till the money with six players left, but James Bord and Rick Salomon were tired and wanted play to be done for the day. Voulgaris was one of the players voting for continuing play, but wasn't piqued when the bagging and tagging began.
"Yeah, I mean it's fine," he said. "It's just early; I didn't expect to finish so soon so I really would've liked to keep playing, but stopping was fine also."
Sunday, 12 p.m. local time, Day 3 commences and Voulgaris and seven opponents will battle it out for the €11,111,111-first place prize. Before the big money, two more players will go home empty-handed as just six spots are getting paid. Voulgaris will start with 13 big blinds, which makes him the shortest stack returning.
---
Get all the latest PokerNews Canada updates on social media. Follow us on Twitter and like us on Facebook!