Poker-Inspired Halloween Costumes for 2016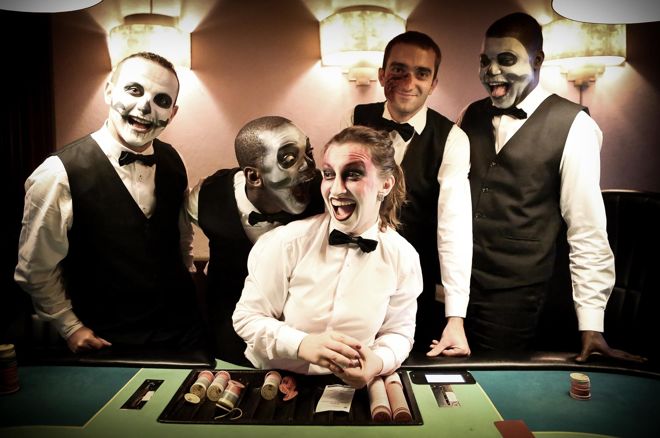 You play poker. You watch poker. You study poker. You talk about poker. So when Halloween comes around, all of your friends are already expecting that you'll have a poker-themed costume. But you don't want to be too predictable either. You need to have a creative and unique poker costume!
The obvious picks are some kind of royal outfit to be the king or queen of hearts or a big cardboard cutout of a playing card or poker chip. Let's put aside the uncreative poker costumes. Here are some unique ideas for you this Halloween.
Royal Flush
This one is for the fans of riddle costumes. These take a second before your friends will piece together the parts to make sense of the wordplay and realize what it signifies. Some white cardstock, some scissors, and lots of tape should be enough to craft a toilet that attaches to your torso like a shirt. Pair that with a crown and a sceptre or mace or other regalia and, voila, you are a royal flush. Of course, if you're not particularly crafty, maybe read on for something that requires less fabrication.
Bubble Boy
What's worse than playing hours or even days in a tournament to reach the money bubble only to be the very last player eliminated without a payout? We think that qualifies this costume as legitimately scary.
Wrap yourself in bubble wrap, keep a devastated look on your face, and tell all of your friends about your bad beat. If this is how you already act around your friends but sans bubble wrap, stop it. This costume only works for people who aren't already clinging to their bubble boy story all year round.
Whale
Everyone loves a whale at the table — the player with a seemingly endless bankroll and a tendency to gamble and generally play poorly. There are plenty of whale costumes out there, but make sure you choose one that can't be mistaken for something threatening. Don't go for the killer whale. You want the big, fat, cartoony whale. And to finish the costume, get some fake cash and have it cascading out of the mouth. A proper whale spews money.
William Kassouf
This one is best to use at a party full of poker people who will get the reference. You'll want to cut your hair very short, fake a receding hairline if you don't already have one, grow out three days of stubble, find a gold watch, and put on wide glasses with a thin frame. Since that probably won't be obvious enough, even if you fake a British accent, get a shirt made with "Nine High Like a Boss" printed on the front.
You could also carry pocket kings around, since that was the hand that busted him in both the WSOP Main Event and the EPT Malta Main Event when he ran into pocket aces both times. And maybe a 17th-place ribbon? It might also be helpful to have a friend dressed as Griffin Benger with pocket aces and the signature Blue Jays cap. Don't forget to berate everyone you come in contact with.
Have a happy Halloween! Share your poker costumes with us on social media and we'll share them with our followers.
---
Get all the latest PokerNews Canada updates on social media. Follow us on Twitter and like us on Facebook!