The WPT Montreal Turns Five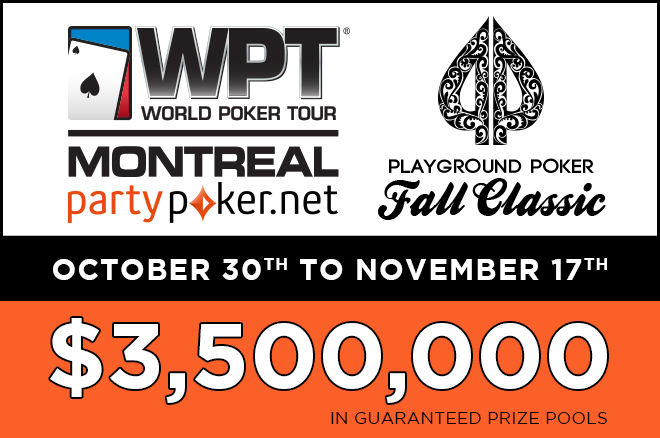 A few short years ago, Playground Poker Club reintroduced Canada to the World Poker Tour by hosting the first WPT Montreal. That first event was a huge success and kicked off an amazing relationship between the WPT, partypoker.net, Playground Poker Club, and Canada that continues to drive some of the greatest poker events of the year.
As always, this year's televised WPT Main Tour stop for the WPT Montreal will be the centrepiece of the annual Playground Poker Fall Classic presented by partypoker.net. But with Playground Poker Club hosting the WPT this year, they bring something new into the mix: A $2,000,000 prize pool guarantee on the WPT Montreal.
The Fall Classic is scheduled from Oct. 30 to Nov. 17 and the 2016 edition will feature a range of tournaments for players of all experience levels. The tournament will kick off with the ever-popular Wild $150 and $250 Frenzy events and feature $550 and $1,100 freezeout tournaments and an insane $1,100 50/50 Bounty tournament. Every player will have a $500 bounty on his or her head. For players that bust on Day 2 of the WPT Montreal, there's a $1,650 Second Chance event.
This year's Fall Classic also marks the return of the high roller event — a $10,000 + $400 freezeout event that in the past has welcomed all-star fields and ended with some epic final table battles. All 17 events of the fifth edition of the Fall Classic will have a prize pool guarantee; that's over $3,500,000 in total guarantees!
Visit Playground Poker Club on the web for more information.