Montreal Nationals are Americas Conference Champions, Advance to GPL Finals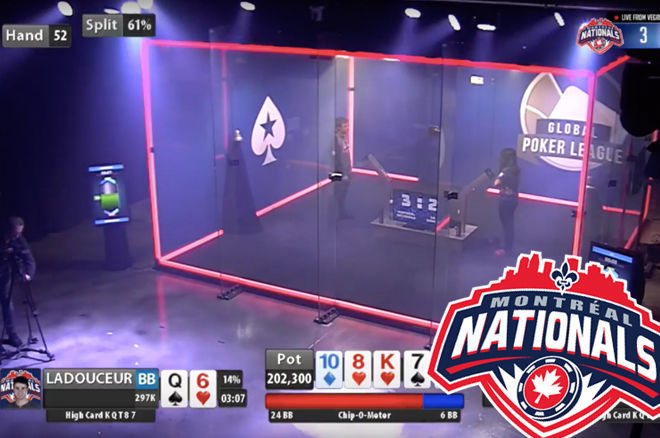 The playoffs for the inaugural season of the Global Poker League (GPL) have begun with the Americas Conference being decided on Tuesday. Emerging on top was the leader of the regular season: Montreal Nationals.
The Nationals ended a 14-week regular season plus a live six-heat Summer Series as the top seed after tallying 199 points, well ahead of second-best L.A. Sunset with 188.
The playoffs format required that each team be represented by three players in GPL's signature poker arena, the cube, live in Las Vegas. Each bracket was to be decided with a match of seven rounds of heads-up games. The first team to win four rounds would advance to the next bracket and players were not allowed to represent their team for another round until all of their teammates had already played a round.
On Tuesday, league leaders Montreal Nationals were first in action, taking on the San Francisco Rush. The Nats' Pascal Lefrancois was scheduled to be first up in the cube, but had travel issues and had to let teammate Mike McDonald take his spot.
The Nationals lost the first two rounds and it started to look like the Rush might provide the first upset of the playoffs by toppling the top seed, but the Canadians came back to even and then clinched the spot in a game-seven victory.
The league's second-best team of L.A. Sunset then took on the Sao Paulo Metropolitans. In another seven-game match, it was Olivier Busquet who found the win for the Sunset to earn a spot against the Nationals in the Americas Conference Championship.
The final match of the day started with Mike McDonald and Pascal Lefrancois both finding victories, putting Montreal up two games to none. Maria Ho stopped the momentum by finding a win for L.A. and then Chance Kornuth evened up the match by beating McDonald in an epic 74-hand game.
With two games apiece, Montreal finished off their opponent by winning the next two games in a row. Pascal Lefrancois won game five and Team Manager Marc-Andre Ladouceur finished off the Sunset with a win over Maria Ho, making this the first match of the playoffs that didn't require seven games.

The Montreal Nationals have now advanced to the GPL Season 1 Finals where the winner will earn a prize of $100,000. Their opponent will be decided on Wednesday when the Eurasia Conference finds their Champion.
The Canadians will be back in the cube on Thursday to try to earn the title of first-ever GPL Champion. You can watch the action live on Twitch or PokerStars.tv.
---
Get all the latest PokerNews Canada updates on social media. Follow us on Twitter and like us on Facebook!