Playground Poker Fall Classic Comes to an End; Pascal Lefrancois Wins High Roller for $128,000
PokerNews Canada Contributor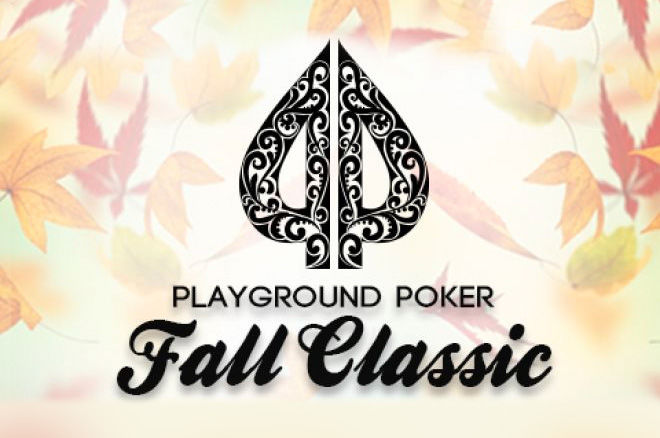 The final three events of the 2016 Playground Poker Fall Classic concluded early Friday morning, closing out the festival with a bang. Event #14: $1,650 NL Hold'em Second Chance, Event #15: $10,400 NL Hold'em High Roller, and Event #17: $330 NL Hold'em Bounty each crowned a winner as the last champion's trophies found their home.
Event #14: $1,650 NL Hold'em Second Chance:
Day 2 began with the bubble looming as 21 hopefuls returned, but only the top 17 left with a prize. With several notables in the mix, Christopher Fisher navigated the field best and walked away with a cool $37,295 and the champion's trophy.
Samuel Tsehai and David Jeanneau-Cyr were among the first to exit followed by bubble buster Farzad Zare, leaving the remaining players in the money. Thomas Lefort would soon fall in 15th before the elimination ofHarley S in 11th paved the way for the final table.
Fisher found himself in the middle of the pack as play at the final table resumed. Erik Lemarquand was crippled by Francois Bergeron and moments later became the first casualty. A very short-stackedOlivier Boyer departed next in ninth. Fisher picked up a big pot while busting Marton Szlavy, his ace-king outdrawing Szlavy's pocket queens.
Jordan Saccucci had Terry Flood all in and dominated to bring the event to six-handed. Bergeron was the next player at risk, needing to win a race holding ace-queen to Saccucci's two fives. Bergeron hit an ace on the flop but a five came as well and Bergeron bowed out in sixth. Paul Petten got it in bad against Theodore Doukas and wasn't able to improve, falling in fifth. Start of day chip leader Kenneth Lindgren couldn't get much going at the final table and fell victim to Fisher, hitting the rail in fourth place.
The final three players paused the clock to discuss numbers and came to terms on a deal splitting the prize pool based on ICM, leaving $4,000 aside for the eventual champ. With almost all the money already locked up, play loosened up and soon after, Saccucci was eliminated, setting up a heads-up battle for $4,000 and the trophy.
With Fisher in the lead, Doukas found a couple double ups and was looking good to score a third straight when he got his chips in the middle, having the best of it with king-six. Fisher had two live cards holding ten-seven of spades, and as the flop spread out revealing two sevens, Fisher took the lead and faded the turn and river to capture the title.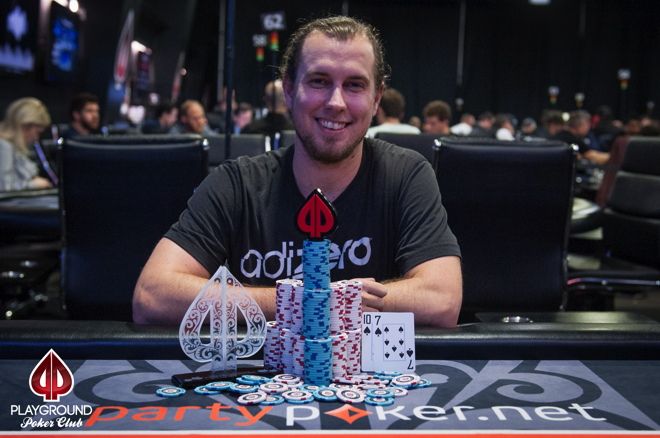 Final table results:
| Place | Name | Prize |
| --- | --- | --- |
| 1 | Christopher Fisher | $37,295.00 |
| 2 | Theodore Doukas | $31,000.00 |
| 3 | Jordan Saccucci | $43,150.00 |
| 4 | Kenneth Lindgren | $12,760.00 |
| 5 | Paul Petten | $9,720.00 |
| 6 | Francois Bergeron | $8,240.00 |
| 7 | Terry Flood | $7,160.00 |
| 8 | Marton Szlavy | $6,280.00 |
| 9 | Olivier Boyer | $5,550.00 |
| 10 | Erik Lemarquand | $4,910.00 |
Event #15: $10,400 NL Hold'em High Roller:


Pascal Lefrancois

has gone wire-to-wire en route to claiming the prestigious Fall Classic High Roller title. Spending almost the entire event at the top of the leaderboard, Lefrancois and good friend Mark Radoja met heads up in the end and chopped up the remaining prize pool evenly, leaving just $8,000 for the winner. Lefrancois scooped up the bonus cash defeating Radoja and was awarded $128,000 and the champion's trophy. Radoja earned $120,000 for his runner-up finish.

After the field was narrowed from 44 to 21 during Day 1, the remaining players returned for Day 2 with big money on the line. Just six of them would leave with a prize. The first few to depart on Thursday included Jack Gong, defending High Roller champ Marc-Etienne McLaughlin, Darren Elias and Keven Stammen.

A final table was soon formed but not before Dylan Wilkerson, Senthuran Vijayaratnam and final table bubble buster Dean Murphy said their goodbyes. The final table of nine was set but there was still a lot of work to do with only six of them getting paid. Manig Loeser hit the rail first, getting coolered by Cate Hall's pocket aces. A short-stacked Martin Raus fell to Lefrancois in eighth when his queen-six got crushed by Lefrancois' ace-nine.

The bubble lasted for almost a full level before Anthony Zinno ran into Lefrancois. Zinno put himself at risk with ace-deuce, but Lefrancois woke up with two tens and Zinno popped the bubble, busting in seventh. Peter Chien earned a min-cash for a sixth-place effort, finding himself dominated against Radoja. A nasty cooler spelled the end for Cate Hall. Calling a five-bet shove from Lefrancois, Hall's ace-king was crushed by Lefrancois' two aces and she took her leave in fifth.

Ari Engel chose the wrong time to three-bet shove on Radoja and looked down to see Radoja table pocket-kings. Engel had a chance holding ace-ten but no help came and he dropped out in fourth. An ill-timed blind-versus-blind shove ended Lucas Greenwood's run. Greenwood had open-shoved on Lefrancois' big blind with queen-nine and Lefrancois made the call turning over king-jack. Both hit a pair on the flop but Lefrancois' was best and Greenwood was eliminated in third place.

With a deal already in place, Radoja and Lefrancois played back at each other for a few hands before all the chips ended up in the middle. On the final hand, Radoja limped from the small blind and Lefrancois shoved. Radoja had been trapping with ace-queen, making the call, and was ahead of Lefrancois' king-three. After fading the flop, Lefrancois paired his three on the turn and faded the river to claim the 2016 Playground Poker Fall Classic High Roller.
Final table results:
| Place | Name | Prize |
| --- | --- | --- |
| 1 | Pascal Lefrancois | $128,000.00 |
| 2 | Mark Radoja | $120,000.00 |
| 3 | Lucas Greenwood | $56,000.00 |
| 4 | Ari Engel | $40,000.00 |
| 5 | Caitlin Hall | $32,000.00 |
| 6 | Peter Chien | $24,000.00 |
| 7 | Anthony Zinno | $0.00 |
| 8 | Martin Raus | $0.00 |
| 9 | Manig Loeser | $0.00 |
Event #17: $330 NL Hold'em Bounty:

The final event of the 2016 Fall Classic always has the most fun atmosphere. Staff at Playground, if lucky enough to have the night off, are able to enter and it's the last chance players have to make a big score. Jason Trottier made the most of the opportunity, reaching a deal with heads-up opponent Mike Saragossi that saw both men leave with over $8,000.

The $330 Bounty has long been the closing event of festivals at Playground. The structure is simple: $200 to the prize pool, $100 bounty for every elimination. When registration closed, a total of 234 entries had been received, surpassing the $30,000 guarantee.


Jason Mann, Ruben Perceval, Shawn Daigle, Pierre Paulin, Yan Nadeau, Jason Conforti, Paul Sokoloff

and Keith Laflam all tested their luck, but to no avail, falling before the money. Just 24 places would take home a prize.

Recent WPT National Montreal winner Tommy Coulombe was the first to depart in the money, earning a min-cash of $440 for 24th. The eliminations flowed quickly until the final table was reached. A time went by without an elimination and then fittingly so, Gianfranco Giordano scored a double knockout. Having the best hand preflop with pocket eights, Giordano flopped a set to beat Ian Tang's pocket threes and Paul Dalrymple's ace-queen.

Malawai Hoyer and Bob T would soon join them on the rail, as did Nectarios Lazaris and Giordano soon after. Martin Dyotte would be the last to fall before a deal was made. The final three players agreed to chop the remaining prize pool evenly, leaving $950 to play for. Jean-Luc Joseph was eliminated in third place when his ace-eight was bested by Trottier's pocket tens, setting up a heads-up battle.

Trottier began heads-up play with the chip lead but Saragossi soon closed the gap. The two asked the tournament staff to make an exception and allow the them to split the remainder and close the event. Trottier expressed interest in the trophy and an agreement was reached that Trottier would take the win and the bonus cash in exchange for his nine bounties.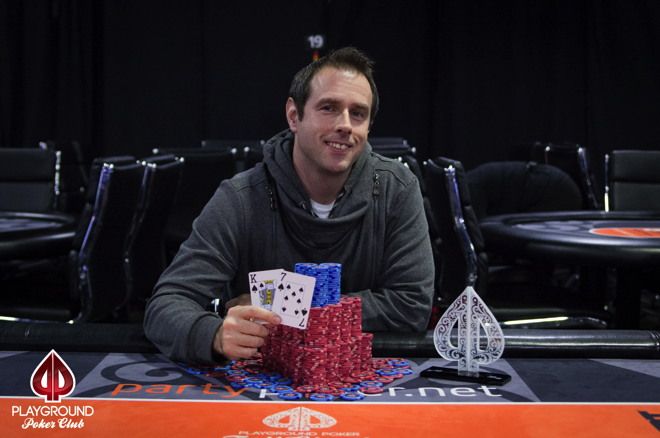 Final table results:
| Place | Name | Prize |
| --- | --- | --- |
| 1 | Jason Trottier | $8,196.00 |
| 2 | Mike Saragossi | $7,245.00 |
| 3 | Jean Luc Joseph | $7,245.00 |
| 4 | Martin Dyotte | $4,160.00 |
| 5 | Gianfranco Giordano | $3,140.00 |
| 6 | Nectarios Lazaris | $2,360.00 |
| 7 | Bob T | $1,780.00 |
| 8 | Malawai Hoyer | $1,340.00 |
| 9 | Ian Tang | $1,010.00 |
| 10 | Paul Dalrymple | $760.00 |