Kevin Martin Takes Poker to New Audiences With Twitch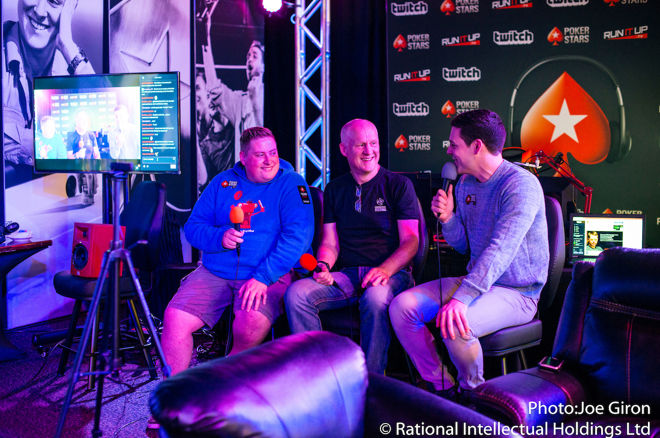 Team PokerStars Online Pro Kevin Martin isn't an online poker tournament wizard with a slew of results in big events. He doesn't spend his time taking on the best in the world at nosebleed stakes.
He's no live tournament phenom with millions in earnings or a lengthy list of titles either. He doesn't have a World Series of Poker bracelet. In fact, he's only got one WSOP cash on his resume from this year's Colossus II and his live tournament earnings are still measured with just four figures.
What Martin can lay claim to is the fact that he is a former rock-radio DJ from Lethbridge, Alberta turned Calgary-based small-stakes pro who took a turn as a reality show contestant on Big Brother Canada 3 before finding growing success in what many people now see as the future of poker broadcasting: Twitch streaming.
It's in its infancy right now...Is poker on Twitch 'the' future? I would say it's just part of the future. There's a lot of stuff that can happen.
"It's in its infancy right now," Martin said of poker on Twitch. "We have had a lot of people start streaming all different stakes and skill levels and I think it will be a platform that people use in the future for sure, because it's relatable and it's easy. Somebody can log on and be playing poker in front of other people in minutes. So yeah, it's definitely the future and it's definitely going to grow for sure. Is poker on Twitch 'the' future? I would say it's just part of the future. There's a lot of stuff that can happen."
Martin got into streaming through fellow Team PokerStars Online Pro, Twitch streamer and good friend, Jaime Staples, following the path he paved to a spot on PokerStars Team Online and growing his audience organically. Team PokerStars Pro Jason Somerville's Run It Up Twitch stream seemed to prove there was a market and he continues to lead all viewership numbers. However, the number of streamers, the Twitch audience for poker on the platform, and in particular Staples' and Martins' stream, seem to be growing every day.
Martin said he can see why.
"It's immediate and it's live," Martin said. "People want live. Sure you can go on YouTube and you can watch tournaments from a couple of years ago, but you don't get that feeling of being in the moment. Whereas, on a Sunday on Twitch, when somebody is deep in a big tournament, word gets around and it's kind of a cool little community where they'll all go and watch whoever is making a run. It's immediate and it's live."
A large part of the growing success for poker on Twitch is due to the ability of viewers to interact with streamers. The Twitch chat is certainly live, following a streamer's every move and Martin says that has some ups and downs to it.
"It's good and it's bad," he said. "Because if you make a bad play there is nowhere to hide, right? How do you explain to 1,500 people that you bluffed off your stack making a bad play deep in a tournament? Yes, it's good that you can interact with people right away, but also, it's bad in that you, as a streamer, are very vulnerable. You really put yourself out there and people get to see all of it. One-hundred percent."
A week and a half ago, Martin played a $215 satellite for a seat in the PokerStars Festival New Jersey Main Event, streaming the qualifier live on his Twitch channel. Although he planned to attend anyway, he won the package that included eight nights accommodation at Resorts Casino Hotel and $900 spending money.
He fired away in Atlantic City Wednesday, but before sitting down, he and Staples held a Q&A session live on the PokerStars Twitch channel.
Staples told the Twitch audience he got into streaming as a way to improve his own poker game.
"I just saw a post about it on a poker forum and I thought it would be cool; it would help me play a little more frequently and explain my thought process, so I'd play better, " he said. "It sort of took off. I saw the potential and I figured this might be a thing in my life."
Staples saw Twitch's potential to be a new, more interactive way to broadcast poker.
"What's different about Twitch and streaming than conventional forms of media like TV is that, think about your favorite sports team, and imagine you had all of the fans of your favorite sports team being able to chat in real time on the side, and not only chat, but chat directly to the broadcasters, the people that are talking about the game," he said. "They can influence the show a little. They are a part of the show. A stream and its community are sort of the same thing."
Despite the session's early hour, the two appeared to be having as much fun talking about streaming as they usually do on their own streams. Martin said making poker look like fun on Twitch is always a goal of his and something he believes will undoubtedly help grow the game, no matter what the platform.
"People need to see that the game is enjoyable," Martin said. "A lot of people that stream on Twitch are great players, but they can be kind of robotic behind the computer. They're long-time professionals and I never pretend to be that. When I hit a flush on the turn, I'm going to fist pump because I'm happy I hit a flush. I find poker entertaining and enjoyable. That's how I got into poker in the first place. I just love this game. I bleed this game."
I find poker entertaining and enjoyable. That's how I got into poker in the first place. I just love this game. I bleed this game.
"As we grow the game we need to attract new recreational players and new professionals and we have to show them all that it's fun. Otherwise it's going to be a very short term thing."
In the end, as he prepared to play the Main Event at the PokerStars Festival, and ultimately return back to Canada and get back on Twitch, Martin appeared to be genuinely enjoying himself, like he often does on the stream. It's not something you can fake and it's clear he doesn't.
"It's great to be in America," he said. "I was just at Jason Somerville's Run It Up Reno and now I'm here in New Jersey. This event looks awesome and I can't wait to play some poker and meet some more people."
---
Get all the latest PokerNews Canada updates on social media. Follow us on Twitter and like us on Facebook!