Action Clock, Protection Poker Creator Trying to Change the Game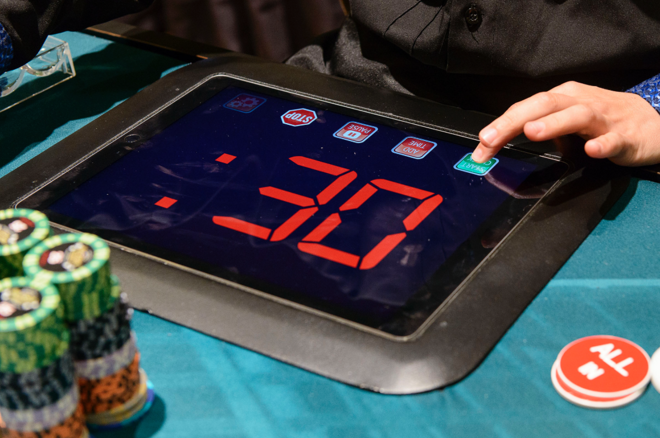 Everything changes over time, even a game as old and steadfast as poker.
The game may have been around in some form or another for centuries, but it has undergone constant change in that time. Even in the past 100 years or so, the evolution has been plain to see. The game has moved from draw and five-card stud played in shadowy back rooms of Texas bars to $10,000 world championship no-limit hold'em events televised by major networks with the accompanying glitz and glamour.
Although it may seem hard to fathom right now, it's a pretty safe bet that in 100 years, poker will look drastically different than it looks today.
That idea is one to which Cavin Quintanilla certainly subscribes.
Quintanilla is CEO of Gaming Advancement Marketing Entertainment, LLC (G.A.M.E.), and the future of poker is something he and his company are constantly trying to visualize and realize.
Though the company is in its infancy, GAME has already made some waves in the industry, introducing the Action Clock for this year's first World Poker Tour Tournament of Champions. The Action Clock, a 30-second timer meant to speed up the game and make it more viewer friendly, debuted at the ToC to mostly positive reviews, proving easy to both operate by the dealers and work with by the players.
The Action Clock is but the first of what Quintanilla hopes is many innovations introduced by GAME, and he recently spoke with PokerNews about GAME's past and future, uses and features of its products and how those products came to fruition.
Industry Beginnings
Quintanilla, who is now 44 years old, was born and raised in Los Angeles. Gambling was a part of his life from practically the very beginning.
"I've been going to Vegas since before I could gamble legally," he said with a laugh, recounting spring break drives across the desert on I-15 with high school friends. "I've been going back ever since."
Las Vegas felt like a second home to Quintanilla given all of the time he spent there. Casino games and poker had a natural pull for him, as he had always been drawn to video games and strategy games. By the time Quintanilla reached college, he had already hatched his first business plan: owning and operating a casino.
As Quintanilla didn't have millions of dollars at his disposal, that wasn't exactly an option. So, he got started working for a nonprofit organization, serving as a tournament director for the group as they held charity poker events. They qualified a number of players for World Series of Poker and WPT events. At the same time, they also raised money for the purpose of enriching the lives of kids, treating them to everything from museum trips to athletic events.
"We took these kids to things they normally wouldn't get to do," Quintanilla said. "These kids have never seen Staples Center; they've never seen Kobe play."
That gig led eventually led to a job as a tournament host with Hawaiian Gardens, a table games casino located in the L.A. metro. There, Quintanilla got started on trying to improve the live poker experience. Seeing how popular the double-or-nothing Sit & Go format tournaments were online, Quintanilla convinced his bosses at Hawaiian Gardens to implement what they called "double-up sit-n-goes" — the nothing was omitted because "we wanted to take the negative connotation out."
The Gardens built a marketing campaign around the special Sit & Go tournaments and watched them gain popularity. Quintanilla had a firsthand look at the evolution of the game, however small the sample.
The Action Clock
Ten years on in the casino industry and Quintanilla had made some connections. Using those connections, he formed what would become GAME in 2014 along with a group of industry heads that included entrepreneurs, casino marketing experts and other individuals steeped in the poker and gaming worlds.
They started with an initial portfolio of gaming concepts and services they hoped to make realities. The 2015 American Poker Conference saw an important step in translating those ideas into reality.
"We met Mike Sexton and showed him some of our products," Quintanilla said. "He loved them. He just said, 'These are phenomenal,' and he really wanted to be a part of that."
The legendary WPT announcer and poker ambassador soon signed on as a spokesman and helped get the ball rolling on the very first product from GAME, the Action Clock. Sexton used his influence at the WPT and The Action Clock debuted on one of the biggest stages in poker. It was hardly a soft launch, so extensive prep had to be done.
GAME testers ran a number of trial demos in private settings and communicated constantly with WPT reps to tailor the product to the WPT's specifications. Quintanilla and his people were confident they had done their due diligence and things would run smoothly despite the product never seeing the light of a casino floor until it was unveiled for the first hand of the ToC.
The Action Clock proved to be a hit with many players, with the likes of Antonio Esfandiari, Tyler Patterson and Dietrich Fast voicing enthusiastic approval. And implementation, long a major question mark with the concept of a poker "shot clock," proved a breeze.
"By Day 2, it was as if it was always there," Quintanilla said. "And the info we received from the WPT was it was their fastest final table ever. It saved them time and money on production."
Protection Poker
Quintanilla credited the WPT with being willing to take a risk on the introduction of the Action Clock. But the concept of a timer in poker is one that has been bandied about for years. It's a major change, to be sure, but not on the level of GAME's second concept, Protection Poker.
What if there was a change in the fundamental way the winner and loser of a hand was decided?
Grousing about bad beats is as old as poker itself. Most just shrug, chalk it up to bad luck and utter the old adage, "That's poker."
Not Quintanilla. As someone working in a poker room, one thing he noticed was the frustration from bad beats drove a number of players away from the tables. Hours or even days of work being wiped away in a single stroke of bad luck can send even seasoned veterans running for the hills and some players who took nasty beats wouldn't show their faces at the felt for months.
That's bad for business. Quintanilla's solution? Protection Poker.
Protection poker players are exactly like normal hold'em players until the following scenario arises:
At least one active player is all in
There is at least one community card yet to be dealt
All betting action is completed
One active player has a greater than 65 percent statistical advantage over another player
If those standards are met, and the player with the edge takes a bad beat to lose the pot, he or she is awarded 20 percent of the pot.
"It really elevates the game to more skill versus luck," Quintanilla said. "We're trying to create a good beat story. We're giving you more than a chip and a chair. You're still alive; you're still playing."
Of course, there are a number of potential issues with this idea. The very nature of poker dictates that luck must play a role. This isn't chess; if novice and lesser skilled players can't get lucky and win, the delicate balance of luck and skill might be tipped too far for them to enjoy the game.
Staying true to poker fundamentals was always a central consideration when Protection Poker was being developed, Quintanilla said. The team behind Protection Poker ran "countless scenarios" and arrived at the 65 percent and 20 percent numbers after much consideration and even those could be subject to change down the line.
"We didn't want to protect somebody in a race situation or if it was close, 60-40," he said. "It's not about babysitting or holding somebody's hand. It's not a cure-all for bad beats."
According to the math done by GAME, a recreational player in Protection Poker is going to walk away with 94 percent of the winnings they'd take in a six-month period playing normal hold'em.
"They're not going to see or feel or realize a difference on the money they didn't win," Quintanilla said.
But the times they don't?
"The 20 percent keeps them in the game without necessarily having to reload and reach into their wallet. What we noticed is that both players were actually happy. Happier players play longer and come back more often."
The Future of Poker?
Quintanilla understands that with something as time-tested and beloved as poker, there's going to be a resistance to any change. The way things have always been done has worked. Otherwise, millions of people worldwide wouldn't play and enjoy the game.
Quintanilla hears the naysayers with every product GAME introduces and even sees them initially use the products. But each time, he says, the resistance erodes until it disappears entirely. Players realize that GAME's innovations aren't attempting to pervert the game, they're attempting to improve it.
Technology has already altered the game. Many players reacted with horror at the introduction of hole card cameras, but they helped cause an explosion of poker popularity among the masses. Now, the proliferation of smartphones and tablets has allowed GAME to push things that were impossible or impractical a mere decade ago.
"The question is always, 'How do we grow the game?'" Quintanilla said. "Our point is, when people say, 'That's poker,' it doesn't have to be. It can be improved."
Quintanilla believes GAME has taken the first steps down that road with Action Clock and Protection Poker and more is on the way. The CEO understandably declined to divulge any specifics on what the research and development team at GAME is busy sculpting, but he did hint that at least three major products are in the works.
The question is always, 'How do we grow the game?'...When people say, 'That's poker,' it doesn't have to be. It can be improved."
"We're super excited about them," he said. "We're looking forward to the next steps and products and being a shot of adrenaline in the poker world."
Just over 100 years ago, another quintessentially American game underwent a radical innovation. After much resistance, football adopted the forward pass and the game changed forever. It's a model Quintanilla cites when discussing his goals with GAME and one he hopes to emulate.
"Everybody was like, 'What are you doing? This isn't football,'" he said. "Can you imagine the NFL today without the forward pass?"
---
Get all the latest PokerNews Canada updates on social media. Follow us on Twitter and like us on Facebook!