Canadian Poker Tour Now Owned by Network Promising to "Revolutionize" Poker Television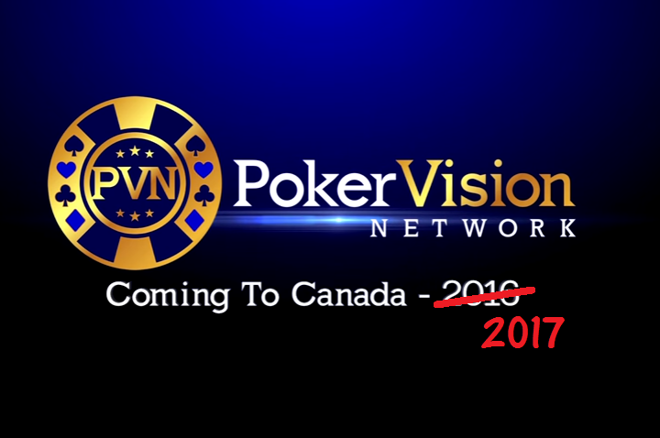 There are big promises being made in the Canadian poker landscape by a new company trying to make an impact. PokerVision Network (PVN) is being touted as Canada's dedicated poker channel with plans to launch in the first half of 2017.
On Wednesday, the new owner of PVN, ePlay Digital, issued a press release with the title "ePlay Digital's Acquisition of PokerVision Media Set to Launch New Poker TV Revolution." The plan includes the development of PVN as a "multi-platform digital TV channel that will bridge poker, gaming, esports, and sports content with previously unseen levels of interactivity."
PokerVision Network intends to provide live coverage of poker tournaments in Canada.
The network says they are currently acquiring studio space in cities across the country and that facilities are already operational in Calgary and Toronto. They intend to provide live coverage of poker tournaments in Canada and internationally with new technology that gamifies the experience for viewers and players. The network will also carry reality programming, sports handicapping, esports, and gaming shows.
When PVN released their promotional video (scroll down for the video) this spring, they were claiming a 2016 launch, but that has now been pushed to next year. Originally planned as a cable channel which received approval from CRTC, it's unclear whether there are still plans to distribute PVN through cable providers or just online.
There is a group of companies involved in the initiative. PVN is now owned by ePlay, but HeadsUp Entertainment previously owned PVN, and other companies like Fanlogic, Spriza Media, and Mobovivo are all involved in the PVN story.
The one person whose name keeps popping up as having a role in several of these companies is Lynne Kellner who followed a more-than-30-year career as a producer and director at CBC by getting involved in the poker world through her son, Kelly Kellner.
Kelly Kellner is best known for his part in creating the currently dormant Canadian Poker Tour, ran by HeadsUp Entertainment for which Kellner was the CEO up until a few years ago. Lynne Kellner had a part at HeadsUp Entertainment, was the CEO of PokerVision Entertainment, and is now listed as a Director at ePlay and PVN's VP of Television Production and Finance.
To best understand the background behind this new endeavour by PVN, it is best to start the story with HeadsUp after the Canadian Poker Tour was last seen in the summer of 2014.
That summer, Richard Keeley was named as the new CEO of HeadsUp to facilitate a "major new partnership" and to "accelerate the company's move into more television and media-focused revenue streams." Prior to that, Keeley was Entertainment Director at Grey Eagle Casino in Calgary where the two most recent Canadian Poker Tour events had been held.
Two years later (which brings us to the fall of 2016), HeadsUp announced that they had acquired all of the assets of Fanlogic which included proprietary software for fantasy (daily, weekly, and season-long) poker, esports, and other games. For the assets, HeadsUp issued 60 million restricted shares at a price of $0.06 per share for a value of $3.6 million.
Two weeks after that, Fanlogic founders Randolph Brownell III and Graham Webster were named as CEO and Director of International Operations, respectively, for HeadsUp.
Immediately after, Spriza Media joined the party when they signed a partnership with HeadsUp to provide their software to "plan, create, and execute digital marketing initiatives." Spriza offers software that drives marketing through tracking and analytics, and the partnership with HeadsUp was founded on a revenue-sharing agreement.
Meanwhile, a company called Network Life Sciences changed their name to ePlay Digital with plans to acquire two private companies and change their business to one that creates "interactive broadcast and live video platforms."
Canadian Poker Tour is now owned by a media startup called PokerVision Network.
Then, a little more than a month later on November 23, 2016, ePlay named Mobovivo Founder and CEO Trevor Doerksen as CEO of ePlay. Mobovivo is a company that helps broadcasters and producers with tools to market and distribute their content. It is also one of the companies in the process of amalgamation with ePlay.
Lynne Kellner came back in the picture a day later, being announced as a Director for ePlay. And then Mobovivo signed a collaborative sales agreement with Spriza (who was already in partnership with HeadsUp) so that Spriza and Mobovivo could provide ePlay with a "combined solution to a brand's online engagement needs."
Before the month of November was through, HeadsUp issued a press release that announced their selling of all shareholdings of PokerVision to ePlay in exchange for 15 million common shares of ePlay. A third of those shares were for HeadsUp's prior transfer of poker-related assets to PokerVision including Canadian Poker Tour, Canadian Poker Player Magazine, and their library of video content.
This final acquisition led to this week's press release promising a "revolution" in poker television via PVN.
What this means in simple terms for Canadian poker fans is that Kelly Kellner's Canadian Poker Tour is now owned by a media startup called PokerVision Network with his mother acting as VP of Television Production and Finance. The parent company, ePlay, is claiming they will be bringing a multi-platform digital poker channel to Canadians next year with media-rich live reporting of Canadian poker events as well as other shows.
PokerNews Canada will keep you up to date with any new developments on this project.
EDIT: A previous version of this article named Lynne Kellner as the current CEO of PokerVision Media, but the company has contacted us to clarify that Isaac Moss is the current CEO. The online sources we'd referenced are outdated.
---
Get all the latest PokerNews Canada updates on social media. Follow us on Twitter and like us on Facebook!