Editorial: Can You Still Make a Living Playing Poker?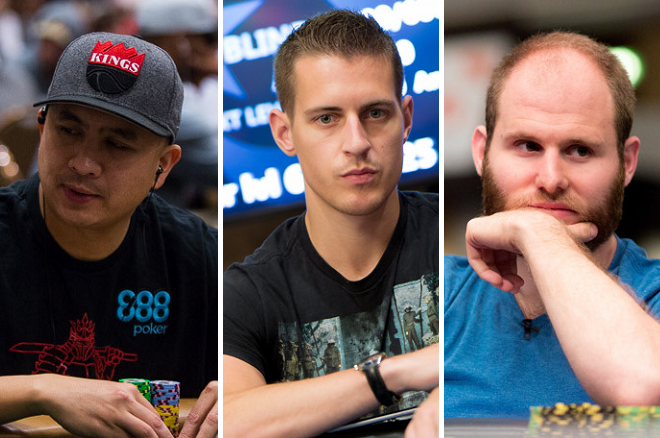 On Tuesday, JC Tran shared some advice for aspiring poker professionals on Twitter.
Big advice for anyone who wants to play poker for a living: Have a backup plan! Poker is tougher than ever before. Good luck!!!

— JC TRAN (@jctran23)
This is coming from the Californian with $12.5 million in tournament cashes, two World Poker Tour titles, two World Series of Poker bracelets, and a November Nine appearance on his resume.
Anyone who has been playing for more than a couple of years can attest to the fact that poker is more difficult than ever. But has it become so competitive that it's hopeless to pursue as a career choice? That depends how hard you're willing to work.
Another American pro chimed in suggesting that the career choice is more of a sink-or-swim decision.
Big advice for anyone who wants to play poker for a living: no backup plan. Poker is tougher than ever & backup plans ruin study/grind time.

— Leo Wolpert (@LeoWolpert)
It's true that nobody could hope to earn a living playing poker without dedicating a lot of time to constant studying and reviewing on top of the hours playing. If someone was truly dedicated to playing professionally, they probably wouldn't have time to maintain a backup career option.
One of Canada's best-known and most successful pros also had something to add.
Advice for anyone who wants to play poker for a living: don't. You missed poker's window of opportunity but keep yo… https://t.co/QIQC7qrb2q

— Mike McDonald (@MikeMcDonald89)
After winning more than $13 million in live tournaments plus a few million more online, Mike "Timex" McDonald believes the days of making a living at the game are gone for newcomers.
But perhaps the truest clarification to the conversation came from Ben Ludlow who doesn't play for a living.
@MikeMcDonald89 Feel like this should be amended to "Don't play poker for a living if you think it's going to be an easy way to get rich"

— Ben Ludlow (@Bloodlow)
And there's the truth of the matter. Yes, you can earn a living playing poker. No, you cannot earn money by the duffle-bagful effortlessly.
Of course there are still the random wins by non-professional players who get a windfall of life-changing money, and that's still possible for anyone new to the game. But to approach the game as a profession expecting to find those wins reliably is a concept that is years out of date.
Without question, there are many players (though probably less than you think) who are still earning a living by playing poker. But it requires a lot of study and discipline, a very tough skin, and players aren't getting rich doing it.
There are different breeds of the poker pro. Probably the most common is the live pro who plays low-to-mid-stakes cash games in brick-and-mortar poker rooms and the occasional tournament for a living. They're playing mostly local games with a few trips a year and they can get a bump in income if they get the positive side of variance in a big tournament, but their main income is from cash games. Playing $1/$2, $2/$5, and maybe some $5/$10 no-limit hold'em, most are earning an average of $20 to $35 an hour.
I don't know about $20 an hour, but $35 isn't a bad income. You'd be far from stinking rich, but it's a comfortable living for someone with modest wants. However, if I had to tolerate the stress of having losing weeks or months and trying to manage my way through the swings and the emotional stress, not to mention the unpaid hours of study and review on top of the time at the table, you'd have to pay me more than $35 an hour. There are easier ways to make an average income.
The story repeats itself for most of the players who prefer the digital felt. Many players (though, far less now that volume bonuses from poker sites have dried up) earn a meagre income by grinding the online games for many hours a day. The work is grueling and the rewards are moderate for most.
The other type of pro is the kind we write about the most here on PokerNews. They travel the world playing the biggest events and are seen cashing in for huge sums of money. But cash games on the side are largely offsetting the staggering costs of global travel. The many buy-ins (and reentry after reentry) that are hidden beneath those headline-grabbing wins mean that the seemingly wealthy globe-trotting pros are making significantly less than it appears.
At the elite level, there are a few players that have become very rich playing poker. But it was far from easy. Poker is not an easy living.
Instead of turning to poker to pay the bills, play poker for fun. Make poker a profitable hobby. Play poker on the side of a reliable career and keep taking shots in those big events to potentially earn a six-figure fortune. But it has been years since someone could take up poker and earn a large amount of money week after week.
Or don't listen to me. I don't want to crush your dreams. I'll echo the sentiment of Sam Greenwood.
Advice for anyone who wants to play poker for a living: I don't know you, it would be presumptuous to give you career advice.

— Sam Greenwood (@SamGreenwoodRIO)
---
Get all the latest PokerNews Canada updates on social media. Follow us on Twitter and like us on Facebook!