Playground Winter Festival Event #3: Awada Tops Day 1c; Boujaoude Best in Day 1d
PokerNews Canada Contributor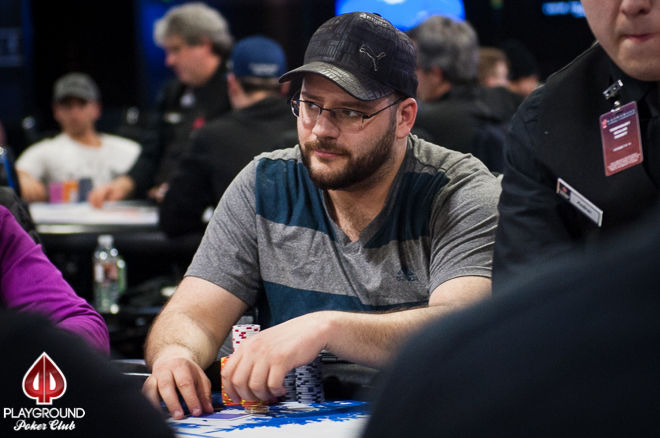 There were two more starting flights for Event #3: The $250 Frenzy featured at Playground Poker Club on Saturday. The $200,000 guaranteed event is one of the highlights of the Playground Winter Festival 2017, headlined by the upcoming World Poker Tour (WPT) Playground beginning Feb. 10.
Ali Awada took the top honors when play was halted after 14 levels on Day 1c. The Saturday morning session drew 166 entries. Awada led the final 34 players with a stack of 345,000, putting him just behind the leaders from Day 1b. Awada has found success at Playground before. With four cashes over the last couple of years, including an outright win in 2014 for over $7,000, Awada will be looking to top that with a deep run in this event.
A few others to top the Day 1c field were Gianfranco Giordano (250,500), Tania Marie Stephan (204,500), Jonathan G (175,500) and Stephane Bisson (160,000).
Day 1d got underway Saturday evening, attracting the largest field of this event so far with 209 entries. Another 43 players were able to secure a stack for Day 2. Ending play with the most chips was Andrew Boujaoude. Boujaoude bagged a stack of 240,000, well behind the current overall leaders but strong enough for a top-five stack.
Boujaoude has a strong resume at Playground. All but three of his 17 career-tracked tournament cashes have come at Playground, his best coming from a 68th place finish in the WPT Montreal for C$6,750, just a couple months ago. Boujaoude has yet to earn a win on his resume; 'The Frenzy' would be a worthy title to call your first.
Some other big stacks from Day 1d include Gaurav Arora (226,500), Roy Rochette (179,000), Mark Howie (172,000) and Leo Mantas Ragusa (162,000). The defending 'Frenzy' Champion Daune Fernandez also survived play, bagging a stack of 106,500. Fernandez earned a cool C$50,000 for the win back in November during the last festival at Playground.
Players who have yet to qualify for Day 2 will get their final two chances on Sunday. Day 1e is set for 10 a.m. followed by Day 1f at 6 p.m. Late registration for both flights remains open until the end of the break following Level 4.
The Playground Winter Festival runs through Feb. 15 and PokerNews will bring you daily updates of all the happenings throughout the festival. For full coverage and details, check out the Playground event blog here.