First Two Champions Crowned at Playground Winter Festival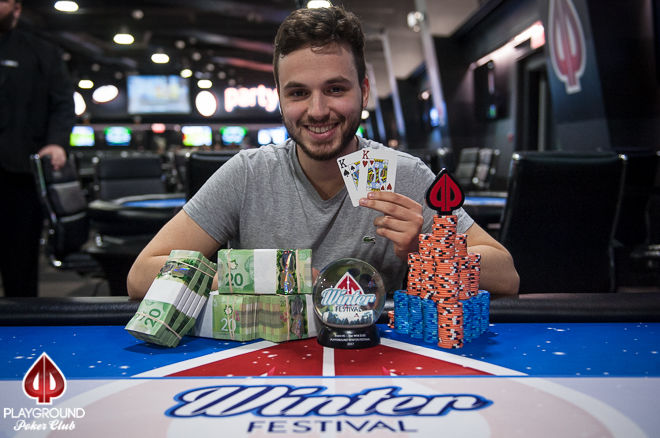 The first two champions have been crowned at the Playground Winter Festival 2017.
Thursday's action at Playground Poker Club saw the conclusion of Event #1: The Wild $150 where Karim Idrissi earned the win and a top prize of $21,482 after a three-way chop.
Across the room, Event #2: $220 NL Hold'em 8-Max Freeze played down to a winner with an eight-way deal that saw Charan Malhotra emerge with the champion's trophy.
Event #1: The Wild $150
Idrissi began the day sitting just outside of the top five but, by the time the final table was set, the Canadian had taken control of the chip lead. Astonishingly enough, this was just Idrissi's second recorded tournament cash ever. His previous live-tournament earnings sat at just $550, stemming from a cash at Playground back in 2014. Here is how the prize pool was shared at the final table:
| Place | Name | Prize (CAD) |
| --- | --- | --- |
| 1 | Karim Idrissi | $21,482 |
| 2 | Arnold Yaxley | $18,619 |
| 3 | Alexandre Gaudreau | $20,451 |
| 4 | Jean-Guy Larosilere | $10,600 |
| 5 | Tanvir Ahmed | $8,000 |
| 6 | Simon Pin-Disle | $5,800 |
| 7 | Daniel Campbell | $4,100 |
| 8 | Brent Mccue | $3,000 |
| 9 | Nimer Ltaif | $2,100 |
| 10 | Daniel Le | $1,750 |
The start of day chip leader, Daniel Le, was the first to depart. Adding to his lead, Idrissi found an easy spot picking up pocket kings to crush Le's pocket nines. No help from the board sent Le packing in 10th place. Nimer Ltaif soon joined Le when he moved all in preflop holding king-jack but could not improve to beat Simon Pin-Disle's pocket nines.
Idrissi extended his lead with the elimination of Brent McCue in eighth. McCue shoved with nine-eight of clubs and was in trouble against Idrissi's king-queen of clubs. Idrissi held and his chip lead grew.
Daniel Campbell hit the rail in seventh place running into Arnold Yaxley's pocket jacks, with his pocket fives. Yaxley then disposed of Pin-Disle in a classic race situation. Pin-Disle was all in with pocket tens, up against the ace-king of Yaxley. Two kings on the board spelled the end for Pin-Disle.
Idrissi got back into the action busting Tanvir Ahmed in fifth place. Ahmed put his tournament life at risk with king-five but found no assistance on the board and was bested by Idrissi's ace-jack.
Jean-Guy Larosiliere got caught stealing the blinds to bust in fourth place. Larosiliere open-jammed with king-eight and was met by a call from the ace-jack of Alexandre Gaudreau. Gaudreau paired his ace on the flop and took down the sizable pot.
Once three-handed, Idrissi, Gaudreau and Yaxley struck a deal that saw them all lock up at least $18,000, leaving $3,000 and the trophy to play for. Action picked back up and Gaudreau was knocked out first. Moving all in with his favorite hand, three-four offsuit, Idrissi found a call with ace-eight. Gaudreau was drawing dead on the flop as it swept out ace-ace-eight, giving Idrissi the nuts.
Yaxley and Idrissi played heads-up for about 90 minutes before the final hand was played. With a deuce-five-six board, Yaxley raised all in and Idrissi quickly called, tabling pocket kings. Yaxley was in trouble, holding just ten-jack. A six fell on the turn and left Yaxley drawing dead.
Event #2: $220 NL Hold'em 8-Max Freeze
The second event of the winter festival got underway Thursday evening at 7:30 p.m. A total of 272 runners took a seat in the event. The event lasted for 10 hours, and even then, received a huge boost in time from an eight-way chop at the final table. Outlasting them all was Charan Malhotra. Malhotra earned $5,000 and the champions trophy for the win.
Final Table Payouts:
| Place | Name | Prize |
| --- | --- | --- |
| 1 | Charan Malhotra | $5,000 |
| 2 | Francois Gagne | $4,313 |
| 3 | Leo Hackenbroch | $6,825 |
| 4 | Simon Tremblay | $5,650 |
| 5 | Francesco Presta | $4,745 |
| 6 | Richard Sysko | $4,165 |
| 7 | Pierre Andre Prevost | $3,015 |
| 8 | Stuart Taylor | $5,720 |
| 9 | Martin Peltier | $1,095 |
Leo Hackenbroch took the chip lead into the final table but, the pace of play and the frequency of all ins meant it was anyone's title. Francois Gagne scored a triple up early on with just ace-queen high, besting an opponent's ace-seven and Martin Peltier's queen-eight. Unfortunately for Peltier, Gagne had him covered and he was eliminated in ninth place.
Talks of a deal sparked up and the clock was paused. The remaining eight players discussed ICM numbers and reached an agreement that saw them all lock up a sizable cash. A prize of $1,080 was left aside for the eventual champ and play resumed.
What happened next was a barrage of all ins and calls that saw the field reduced to four within a couple hands. Two hands later, the only players left were Malhotra and Gagne. On the final hand, Gagne was all in preflop with pocket deuces up against Malhotra's pocket eights. Malhotra's snowmen held and the trophy was his.
Friday's action at Playground features the first two of six starting flights for the $200,000 guaranteed Event #3: The $250 Frenzy. Day 1a kicks off at 10 a.m with Day 1b getting underway at 6 p.m.
The Playground Winter Festival runs through Feb. 15 and PokerNews will bring you daily updates of all the happenings throughout the festival. For full coverage and details check out the Playground event blog here.