Playground Winter Festival: Jeremy Galin Tops Deepstack Turbo
PokerNews Canada Contributor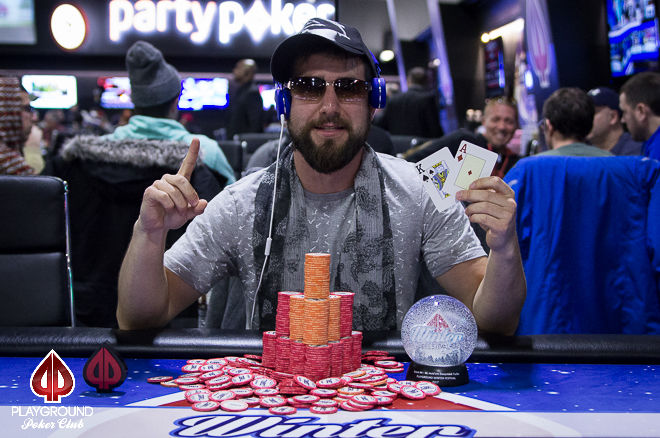 The $250 Frenzy is down to just three tables as 24 survive Day 2 at the Playground Winter Festival 2017. Jonathan G leads the pack with Philippe Belley, Michael Malm and Jason Conforti still in the mix. The fourth event of the series also played out on Monday with Jeremy Galin getting the best of a three-way chop.
A total of 224 players remained when Day 2 of Event #3: The $250 Frenzy kicked off Monday evening. Randy Khalil had the lead, front lining a small pack of players that were way ahead of the rest of the field. The money bubble loomed with only 108 spots getting paid.
Defending Frenzy champion Daune Fernandez's bid for back-to-back titles came to an unfortunate end a few hours into play. With hand-for-hand action in play, Fernandez made a move on Conforti and found himself drawing slim. He was eliminated on the bubble.
The chip lead stands with the 2,510,000 stack of Jonathan G, the only player to cross the two million mark. Benoit Lord (1,915,000), Jean Allan Christine (1,405,000), Jordan Saccucci (1,230,000) and Said Michailidis (1,125,000) round out the top five.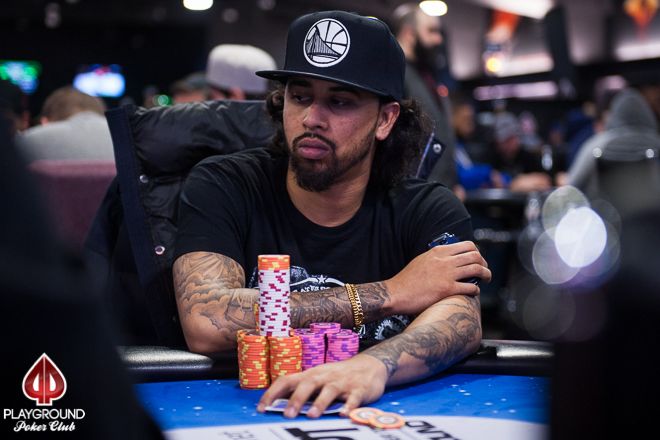 Saccucci slid into the top five on the very last hand of the night. In a hand against Santiago Plante, Saccucci was all in with pocket tens, covered and crushed by Plante's pocket aces. Fortunately for Saccucci, a ten hit the board and he scored a huge double. Plante is still healthy though, sitting just outside the top five with 1,010,000.
A few notables are still in the hunt as well. Belley finished play with an even 1,000,000 in chips. While World Series of Poker bracelet winner Malm has 945,000. Serial casher Conforti sits just behind Malm with 935,000 and Andrew Boujaoude has some work to do, bringing back 665,000.
Day 2 spelled the end for most of the field. Some to leave with a bit of consolation include the start-of-day chip leader Khalil (33rd - $960), June Jenkins (43rd - $810), Ian Modder (50th - $750), Marco Caza (52nd - $750) and Richard Figiel (67th - $640).
Day 3 will get underway at 7 p.m. on Tuesday evening when the remaining 24 players will play down to a champion.
Earlier in the day, Event #4: NL Hold'em Deepstack Turbo kicked off. The one-day event featured a guarantee of $7,500. When registration had closed, 175 entries had been received, generating a prize pool of $16,975. After a three-way chop at the final table, Galin walked away with the champion's trophy and a top prize of $3,525.
Final Table Payouts:
| Place | Name | Prize |
| --- | --- | --- |
| 1 | Jeremy Galin | $3,525.00 |
| 2 | Cole Spencer Neufeld | $2,730.00 |
| 3 | Patrick St-Laurent | $2,590.00 |
| 4 | Bianca Perron | $1,670.00 |
| 5 | Howard Kotchie | $1,255.00 |
| 6 | Quentin Frossard | $945.00 |
| 7 | Jonathan Shaoulan | $715.00 |
| 8 | Oroson Ernest Howard | $535.00 |
| 9 | June Jenkins | $405.00 |
| 10 | Bill Kontaratos | $305.00 |
With just the top 18 players making the money, once the bubble was reached, the remaining players agreed to pull $100 from the top two prizes and pay the bubble $200. From there, play quickly moved to a final table of 10.
Galin had a commanding lead when the final table formed, sitting with more than double that of his closest competitor. After Bill Kontaratos departed in ninth, Galin added to his lead with the elimination of Jenkins in ninth. A few quick eliminations later and the field was down to four.
With play slowing down, Bianca Perron three-bet an open from Galin, putting herself all in and Galin snap-called. Perron tabled pocket sevens but was way behind Galin's two kings. The board whiffed for Perron and she was knocked out in fourth place.
Once three-handed, the remaining players reached an agreement to chop up the prize pool based on ICM numbers. Galin, Patrick St-Laurent and Cole Spencer Neufeld all locked up a decent cash, leaving $330 and the trophy for the eventual champ.
St-Laurent would be the first to fall, leaving a heads-up battle between Neufeld and Galin. The two were evenly stacked but after a few hands, Galin moved ahead with a 3:1 chip advantage. On the final hand, Galin set a trap, turning trip aces and slow playing them until Neufeld jammed the river, giving Galin an easy call for the win.
More poker action continues on Tuesday at Playground Poker Club. Event $5: $550 NL Hold'em Freeze gets underway at 11 a.m., while Event #6: $220 NL Hold'em Survivor begins at 7 p.m.
The Playground Winter Festival runs through Feb. 15 and PokerNews will bring you daily updates of all the happenings throughout the festival. For full coverage and details check out the Playground event blog here.