Playground Winter Festival: Jordan Saccucci Ships the Bounty
PokerNews Canada Contributor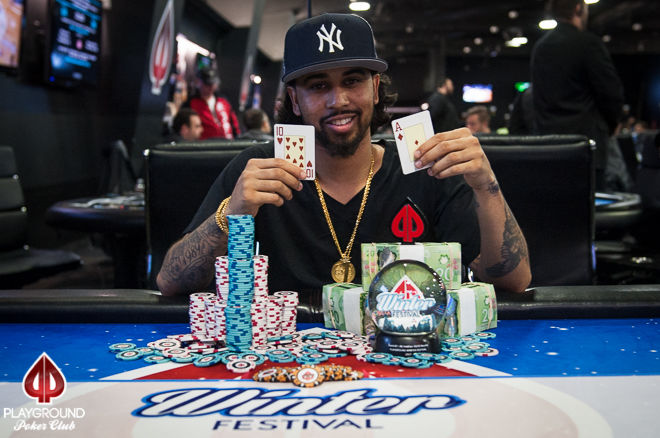 Just a day after bubbling the final table of The $250 Frenzy, Jordan Saccucci returned for action on Wednesday looking for a deep run in Event # 7: $1,100 NL Hold'em 50/50 Bounty. To everyone's delight, the event drew a field of 145 runners, creating a prize pool of $70,325 with bounties equaling that amount spread among the players.
It took a little over 13 hours of play for Saccucci to eliminate his final opponent and earn his winner's photo. For the win, Saccucci picked up the $17,000 top prize and 11 bounties worth $500 for an extra $5,500.
Final Table Payouts:
| Place | Name | Prize |
| --- | --- | --- |
| 1 | Jordan Saccucci | $17,000 |
| 2 | Omid Shahbazian | $12,925 |
| 3 | Dustin Melanson | $9,500 |
| 4 | Mounzer Awada | $7,200 |
| 5 | Pierre Paul Paulin | $5,400 |
| 6 | Paul Mohorea | $4,000 |
| 7 | Jimmy Setna | $3,000 |
| 8 | Daune Fernandez | $2,300 |
| 9 | Andrew Forest | $1,700 |
| 10 | Carlos Mora | $1,350 |
The higher buy-in attracted some notable players that have been absent from the festival so far including Kevin MacPhee and Maria Ho. Unfortunately, neither made it to the money.
A few others joining them on the rail before the business end of the tournament began were Event #5 champ Ruben Perceval, who busted just before the bubble, Jason Conforti, Philippe Belley, Jeffrey Cormier, Joey Boczek, Chanracy Khun and Laurence Grondin.
Paul Mohorea controlled the chip lead when play at the 10-handed final table began. Things got off to a booming start at the final table with a double elimination at the hands of Mounzer Awada. Andrew Forest and Carlos Mora moved all in preflop only to see Awada come over the top and put them both at risk. Both players were in bad shape against the pocket queens of Awada and as a queen fell on the flop, the field was reduced to eight.
Daune Fernandez saw another deep run end when his ill-timed river bluff shove got picked off by Saccucci. Moments later, Saccucci picked up another bounty sending Jimmy Senta to the rail. Mohorea had seen his stack dwindle since the start of the final table and got his chips in the middle with king-queen against Awada's ace-eight. The board brought no aid and Mohorea fell in sixth.
Short-stacked Pierre Paul Paulin was the next victim of the eventual champ, relinquishing his bounty to Saccucci. Awada was the next player to see himself at risk. Tabling two sevens, Awada needed some help running into the pocket nines of Omid Shahbazian. The board bricked and Awada departed in fourth.
After multiple fades of elimination throughout the final table, Dustin Melanson finally got his chips in good against Shahbazian. Shahbazian had open-jammed from the small blind with king-five and Melanson put himself at risk, calling off with ace-ten in the big blind. A king fell on the flop pairing Shahbazian and it held through the turn and river to set heads-up play.
Shahbazian began with the chip lead but a quick double up for Saccucci turned the tables. Soon after, Saccucci put Shahbazian at risk, four-bet shoving with ace-ten and being called by Shahbazian's pocket kings. Shahbazian held through the flop but an ace on the turn gave Saccucci the lead and it was all he needed to take down the title.
Kicking off Thursday evening was another installment of the Survivor structure. Event #8: $330 NL Hold'em Survivor got underway at 7 p.m. to the delight of 116 runners. Originally paying just the top 14 players, with 17 remaining, negotiations were fired up and ultimately an agreement was reached to restructure the prize pool and pay the final 17. Two players, Shawn Daigle and Timothy Deering, held a sizable lead over the rest of the field and made out with a significantly larger prize.
The Survivors:
| Place | Name | Prize |
| --- | --- | --- |
| 1 | Shawn Daigle | $2,900 |
| 1 | Timothy Deering | $2,900 |
| 2 | Andre Pelletier | $1,864 |
| 2 | Andrew Molotchko | $1,864 |
| 2 | Ben Menache | $1,864 |
| 2 | David Bonneau | $1,864 |
| 2 | David Scott | $1,864 |
| 2 | Emile Haykal | $1,864 |
| 2 | Gaetan Perreault | $1,864 |
| 2 | Haitham Masri | $1,864 |
| 2 | Lindsay Larocque | $1,864 |
| 2 | Marc Saddik | $1,864 |
| 2 | Michael Tremblay | $1,864 |
| 2 | Mitchell Dredge | $1,864 |
| 2 | Neil Trahey | $1,864 |
| 2 | Rameez Saleem | $1,864 |
| 2 | Trevor Dixon | $1,864 |
The final event of the day kicked off at 7:30 p.m. local time. Event #9: $550 PL Omaha 8-Max Re-entry attracted a field of 48 entries, five of which needed to fire a second bullet, bringing the total to 53. The two-day event saw just 13 players remain when play was halted on Day 1. Leading the survivors was Manfred Gunther.
Gunther built a stack of 306,300 to earn the top honors with his closest competitor, Nicolas Le Floch, ending with 230,700. Also among the leaders are Ron Farber (141,300), Brian Birenbaum (137,400) and Randy Vermette (124,400).
The event has not yet reached the money with just six prizes up for grabs. A min-cash of $1,280 will await the sixth-place finisher with the eventual champ walking away with $9,240. A few players to fall on Day 1 include Michael Malm, Harley S, Aleeyah Jadavji and Kevin MacDonald.
Day 2 will resume at 7 p.m. on Thursday evening when the remaining field will play down to a champion.
In addition to the Winter Festival action on Wednesday, a special Champion's Freeroll was offered up to 16 players who had won recent titles at Playground. A $3,500 World Poker Tour (WPT) Playground seat was up for grabs for the winner. Only 13 of the players invited could make it and coming out on top was Dan Vigderhous. Vigderhous defeated none other than poker legend and WPT Montreal champion Mike Sexton, kicking him out in third to earn the seat.
Thursday is satellite day at Playground Poker Club. The much anticipated WPT Playground kicks off on Friday and Playground is giving players a bunch of opportunities to qualify for fractions of the cost.
The Playground Winter Festival runs through Feb. 15 and PokerNews will bring you daily updates of all the happenings throughout the festival. For full coverage and details check out the Playground event blog here.