8 Canadian Wins and 6 Runner-Ups at PokerStars Championship Panama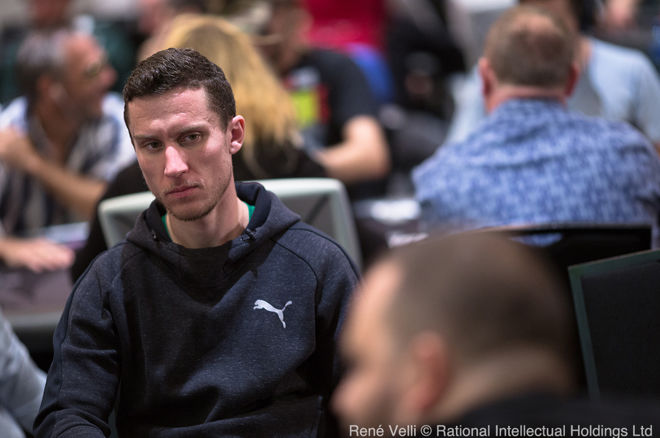 The inaugural season of PokerStars Championship has made its Latin American debut with a stop in Panama that just wrapped up on Monday, March 20.
The 11-day series featured 46 events that were highlighted by the $1,100 PokerStars National Championship, $5,300 PokerStars Championship Main Event, $10,300 PokerStars Championship High Roller, and $50,000 PokerStars Championship Super High Roller.
Canadians came out in droves for the series. In fact, according to this infographic by our live reporting team, 15 percent of entries to the Main Event were from Canada — the largest national representation. Americans made up 12 percent of the field.
Things kicked off with a great start for Canada as Event #1 was won by our own Jonathan Roy for $22,530. He topped 111 entries in the $1,100 tournament.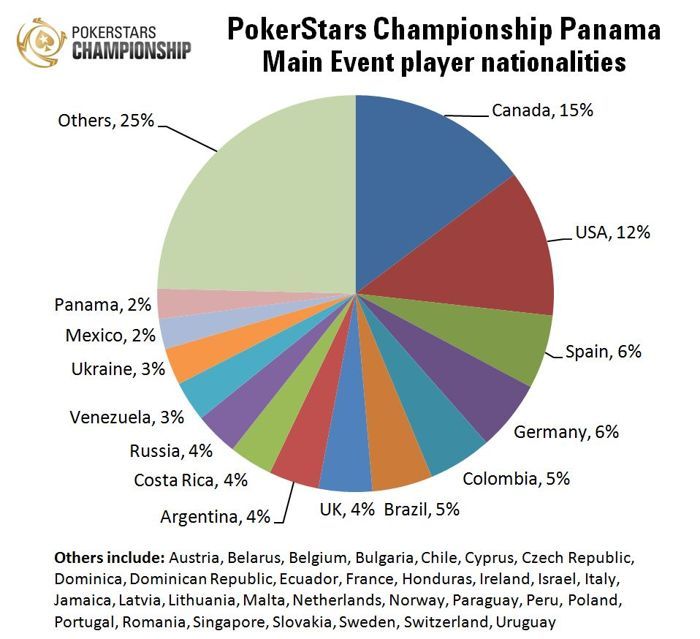 In Event #5: $50,000 Super High Roller, 27 entries saw six players collect a payout and two of them were Canadians. Collecting the min-cash, Timothy Adams was eliminated in sixth for $110,920. But Canada's Daniel Dvoress made it all the way to heads-up play before being eliminated. His runner-up result saw him pocket $372,360.
It didn't take long for another big Canadian finish as Kristen Bicknell won Event #7: $1,100 Win The Button Turbo. There were only four entries, making it a winner-take-all format, and Bicknell earned her spade and $3,880, further cementing her among Canada's top players.
In Event #10, Canada's Giancarlo Santolin came out on top of 285 entries in the $220 PokerStars Open, earning the trophy and $10,547.
In the $5,300 Main Event (Event #16 on the schedule), two Canadians found final-table appearances. After battling their way through a field of 366 entries, the final table saw Anthony Diotte and Harpreet Gill take seats. Diotte ultimately finished in sixth place for $65,520 while Gill went all the way to a runner-up result worth $217,860.
Event #19 was a $330 deepstack event and one Canadian made it to the final table in the field of 252 entries. Igor Kroujalov managed a fifth-place finish for $3,980.
The buy-in went way up to $25,500 for Event #21 and Timothy Adams found another min-cash. Coming in sixth out of 44 entries, Adams collected another $75,460 to add to his tally.
With a quick turbo structure, the $1,100 Event #24 saw the 85 entries reduced to a final table quickly and two Canadians were still controlling chips. Francois Lincourt finished in seventh for $3,500 while Daniel Dvoress was the runner-up for $14,280.
The $440 PokerStars Cup fit into the schedule as Event #28 and a Canadian came out on top of 408 entries. Richard Webb was the man to get the job done, collecting $31,652 for the win.
Event #30 was a $3,300 event and three Canadians finished within the top 10 out of the 114 entries. Marc-Andre Ladouceur finished 10th for $7,880 while Luc Greenwood went on to snag seventh-place money of $13,220. The winner was Canada's own Thomas Lefort, earning $69,460.
Another Canadian win came in Event #34. The $1,100 six-handed tournament saw 131 entries and Canada's David Ormsby was the first player eliminated from the final table, earning $6,460 for sixth place. But Canada-born Ari Engel was the winner, pocketing $26,270.
In the $10,300 High Roller, Canada was all over the payouts. A full one third of the 15 players who cashed were from Canada. Collecting the min-cash in 15th for $18,140 was Jean-Christophe Ferreira. Andrew Chen made it as far as 10th before he was eliminated to collect his prize of $22,400. Sam Chartier finished eighth for $37,880, leaving two more Canadians still in the running.
Those two Canadians made it all the way until play was three-handed, but then fell in third and second. Francois Billard cashed in for $123,780 for third while Sam Greenwood earned $223,149 for the runner-up result.
Another spade trophy came back to Canada in the suitcase of June Jenkins when she won the $120 Women's Event. There were just 18 entries, creating only three payouts. But two of those three were Canadian. Aside from Jenkins' win, Haven Werner finished third.
Event #42 was a $10,300 tournament that received 28 entries. Two of Canada's best Mikes were in the payouts. Mike Watson finished fifth for $25,800 while Mike McDonald did one better to collect $31,920 for fourth place.
One last Canadian win was found in Event #43: $440 Main Event Turbo Edition. Rising to the top of 86 entries, Ambrose Ng collected $7,628 along with the spade.
In the following event, the buy-in was $1,100 and 72 entries hit the tables. Nicola Basile represented Canada all the way to a runner-up finish worth $12,560.
The trend continued with Event #45 where another runner-up result came from Jeff Cormier, earning $51,100 in the $5,200 six-handed turbo.
The next PokerStars Championship will see the tour stop in Macau March 30 to April 9.
---
Stay connected. Follow us on Twitter and like us on Facebook!