Chino Rheem Falls Just Short of WPT History at Bay 101, Sam Panzica Wins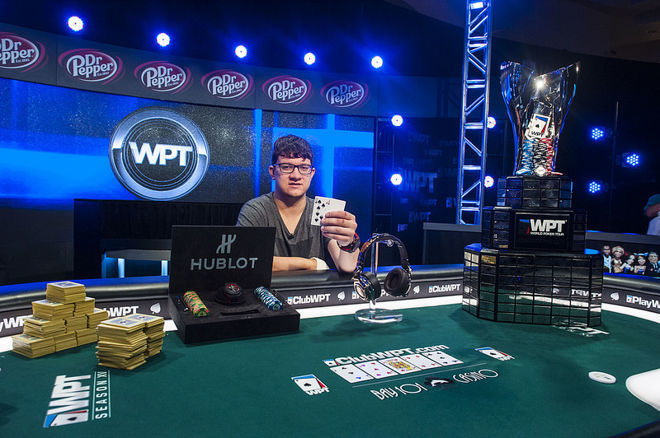 The second leg of the three-part California Swing by World Poker Tour (WPT) awarded more than $5.7 million in the $7,500 Main Event. Sam Panzica was the new WPT Champion, pocketing $1,373,000.
The annual event is hosted at Bay 101 Casino in San Jose and it ran from March 6 to 10 with several Canadians taking their shot at WPT glory. A total of 806 entries passed through registration across the two Day 1s.
The event WPT Bay 101 Shooting Star Championship also names several noteworthy players as "Shooting Stars" and a $2,500 bounty is placed on their heads, and the chip leader of each starting day receives a $10,000 bonus, creating a unique format to the prize payouts.
On Day 1a, Daniel Negreanu, Ema Zajmovic, Matt Salsberg, and Mike Leah, were the Canadians to try to run up a stack, but all fell short and were eliminated before the day ended. Californian Eddy Sabat finished the day with the chip lead, collecting the $10,000 prize for coming out on top with his 265,600 chips.
The following day, another chance to enter the field was offered and Sorel Mizzi (109,600) was the only Canadian to bag chips. Ari Engel, Ema Zajmovic, and Mike Leah also took a shot, but were eliminated before Day 1b concluded. Nevada's Stephen Graner collected $10,000 for finishing with a chip-leading stack of 332,700.
As the only Canadian to make Day 2, our nation's hopes fell square on the shoulders of Sorel Mizzi and he survived into the money. But his run came to an end in 49th place to earn $19,120.
The final table of six players saw the potential for WPT history to be made. Just two players, Chino Rheem and Sam Panzica, already held a WPT title. While Panzica won his first WPT title earlier this same season, Rheem has three. He is currently tied with Darren Elias, Gus Hansen, Carlos Mortensen, and Anthony Zinno for the most WPT wins. He had the chance to become the first-ever player to win a fourth, but was ultimately eliminated in third place for $521,660.
2017 WPT Bay 101 Final-Table Results
| Finish | Player | Prize |
| --- | --- | --- |
| 1 | Sam Panzica | $1,373,000 |
| 2 | Anthony Spinella | $786,610 |
| 3 | Chino Rheem | $521,660 |
| 4 | Paul Volpe | $349,610 |
| 5 | Dennis Stevermer | $243,090 |
| 6 | Rainer Kempe | $188,460 |
The third and final leg of the California Swing is at Thunder Valley Casino Resort in Sacramento and is already underway. We'll have a report of the event when it concludes, focusing on the Canadians in the field.
Photo courtesy of WPT.
---
Stay connected. Follow us on Twitter and like us on Facebook!